Days of our lives…exercise time!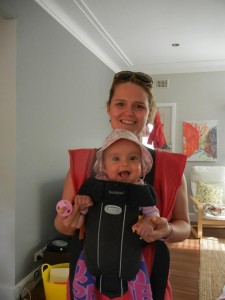 The other day one of the 'likers' of the Facebook page asked me what it is like after having two kids and how that has affected my weight loss the second time, especially in regards to an exercise plan.
In regards to my weight loss program and exercise plan it has definitely been less 'structured' after the second baby. With specifically my exercise plan, the plan is basically just to do some exercise each day.
Sometimes it is difficult to find a full hour or so with two kids to complete a proper session. Especially since my 3 year old does not sleep anymore during the day and she wants a lot of attention now the baby is around.
With my weight loss program, I was more conscious while pregnant this time so put on a few less kilos, but in saying that, it has been slower to budge as I have less time to focus on myself, even though food and nutrition is my background.  This is how I came across Lose Baby Weight, specifically the 28 day weight loss and exercise plan and the Healthy Mummy as everybody, even me, needs some inspiration sometimes.
My little one is 7 months now and for me personally I had the  saying with my first and now with my second, 9 months on, 9 months off. Of course as Rhian always says, and I completely agree, losing weight whether after a baby (or at any point) you need to be ready within your mind and your body. So I still have a couple of kilos to go but I am not overtly fussed at the moment as I am more focused on eating well and exercising frequently while spending time with my family.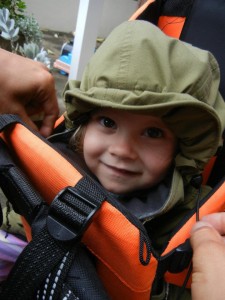 My daily exercise plan alternates. One day I get a good walk in with some hills for at least 40 minutes. Sometimes that is with one child (if my 3 year old is at preschool) and sometimes it is with the double pram, which my goodness, is a workout! My triceps after pushing the double pram are burning the next day. I always try and do this in the morning to try and get it over and done with and it gives me a heap of energy for the day. I also make sure it is done near a coffee shop, so I can get a cappuccino, my little treat.
On the other days when I cannot get out, whether it is because someone is sick, it is raining or the house looks like a bomb site, I incorporate all random types of exercises. I would video them for you, but here are some examples (plus some more information here) of exactly what we often get up to. I break it up throughout the day.
Before breakfast I often do some stretches and yoga with some floor work like push ups and sit ups. I find this helpful especially bending all the time with the girls and breastfeeding I get a lot of pressure on my upper back and neck (about 10 minutes).
During morning play time we often have a dance off. My 3 year old loves to dance and my little one thinks it is quite the performance. We probably only do 2-3 boppy songs as the girls are over it after that (approx. 10 minutes).
Around 3 o'clock boredom hour before I get dinner on, I try to fit a wee dog walk in with Ziggy for at least 10 to 20 minutes most days (approx 15 minutes). This is at a pretty slow pace as Isadora normally walks and Maya is in a baby carrier. We all need to get out in the afternoon if it is fine, in winter we rug up and even actually when it is wet, I wear a mac and the girls are in the pram with the cover.
This all combined with a couple of random star jumps after I complete some chores or some twisties (see Rhian's video here) randomly through the day (about 5 minutes) my exercise tallies to 40 minutes. Pretty good considering I have not spent any money and did it all with the kids.
Next week I will go through a random day of my diet too. What does a nutritionist eat?!