Deb's 11kg Weight Loss Transformation
Let's all give a huge well done to Deb Daly who has lost over 11kgs following the Healthy Mummy weight loss plans!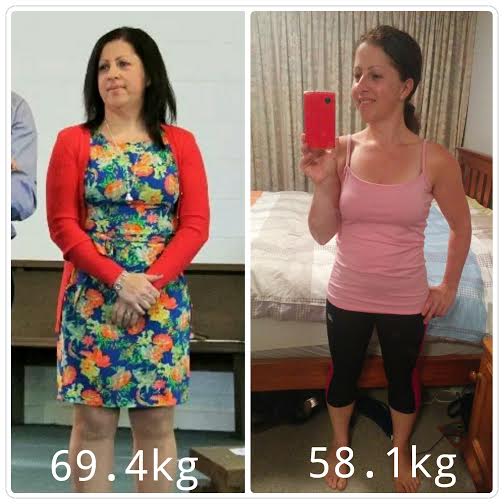 Hi everyone
My name is Deb, I started my weight loss journey and to date I have lost 11.3kg!
At first, my goal was to be able to stick to a healthy lifestyle and lose my bloated stomach. Not only did I meet my initial goals I exceeded them, my whole body has changed and my knowledge of food has changed.
Once I got the hang of my new healthy lifestyle, (and got through the holiday festivities!) I was ready to step it up a level and take on the 28 Day Challenge. I loved it!! There are literally hundreds of new and ridiculously easy recipes to make for the family and they taste so yummy, you just have to marvel at how they can be healthy!! The challenge exercises really get the job done in about 20 minutes each day, and that suits so many of us busy mums!!
Along the way I have found the The Healthy Mummy & Lose Baby Weight Support Group to be one of the biggest motivational tools to keep focused, accountable and committed to becoming a healthier version of myself no matter how slow the progress at times. It is also in this group that I met my 'buddies' – without a doubt buddies make the journey so much more enjoyable!
I also try and keep things simple. I have my favourite Healthy Mummy Smoothie if I need breakfast on the go  and I make meals in bigger quantities – for the family to have a couple nights in a row or for lunch the next day. Planning ahead means less chance of slipping up and eating unhealthy.
The Healthy Mummy has helped change not only my physical appearance but also my mindset. I no longer dwell on the past and see my flaws; instead I choose to see the positives! Whilst my weight loss is slowing I am still motivated to maintain my healthy lifestyle and enjoy the best version of myself I've achieved in my adult life.
I hope I am able to help others realise their achievements they may not have known and empower others to keep moving towards their goals – be it at a cracking pace or slow and steady (like me) because any step forward is worth the effort.
Deb x
Need to stock up on Healthy Mummy Smoothies? Then see our shop here
And join our 28 Day Weight Loss Challenges here