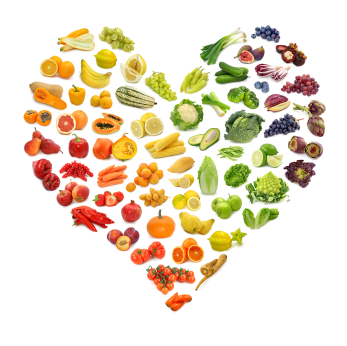 My grandma use to say to "Eat a rainbow". Very simple nutritional advice actually.
To eat a rainbow of fruits and vegetables will give you a great start to a healthy eating plan simply and effectively.
Today I wanted to run through some of the nutritional properties of each colour of the rainbow so we can put some science behind my grandmother's advice.
Green fruits and vegetables
Green fruits and vegetables are high in two compounds lutein and indoles. They are researched as being great for your eye health and vision and protecting against certain cancers, respectively.
The best sources for lutein and indoles are from peas, kiwifruit and green leafy vegetables, broccoli, Brussels sprouts, cabbage and cauliflower.
Red and Pink fruits and vegetables.
These bright babies are full of lycopene and anthocyanins.
The potential benefits of lycopene are that is can lower the risks of some cancers and is linked beneficially to your heart health.
Anthocyanins are also linked to the reduction in certain cancer risk and heart health but also in healthy ageing properties and improving our memory.
What foods are great sources of these nutritional superpowers: tomatoes, watermelons, red apples, beetroot, raspberries, strawberries and even red cabbage.
Orange and yellow fruits and vegetables.
Orange and yellow fruits and vegetables are high in beta carotene (think vitamin A) and also bioflavonoids.
Beta carotene has long been linked with eyesight but is also linked to the reduction in cancer and heart disease. It is also beneficial to our immune system and the best point…can slow the ageing process.
Bioflavonoids help strengthen our bones, can heal wounds, and keeps our skin healthy and revitalised.
Both of these nutritional compounds are found in sweet potato, pumpkin, mangoes, apricots, carrots, peaches, grapefruit, oranges, peaches, pears, and yellow capsicum.
Purple fruits and vegetables
Fruits and vegetables which are purple in colour are often high in anthocyanins (like red fruits and veggies) and phenolics.
Both nutritional compounds are linked to improved memory function, healthy ageing and decreasing the risk of certain cancers.
The foods which contain high amounts of anthocyanins and phenolics are blueberries, blackberries, black currants, purple grapes, eggplants, plums and prunes.
So as my grandmother use to say, "Eat a rainbow of foods". And if you do, you will be easily covering  a range of different nutritional compounds which are beneficial for a spectrum of healthy outcomes including eyesight, brain health, memory, reduction in certain cancers, heart health and even reducing the effects of ageing. Do you need any more convincing to eat well?
Join the Healthy Mummy 28 Day Weight Loss Challenge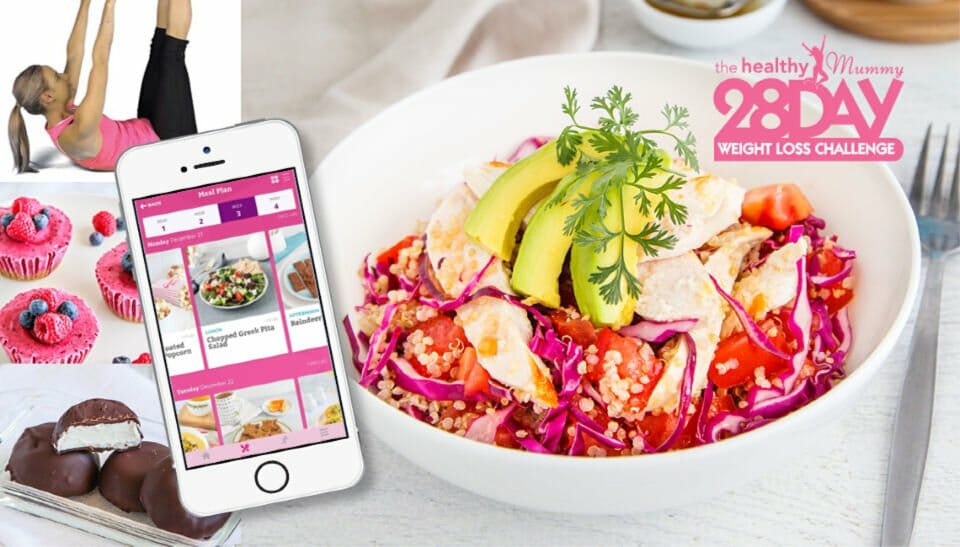 If you are wanting to lose weight and improve your energy – not to mention – help improve your overall health and well-being – our 28 Day Weight Loss Challenge is an awesome program to check out.
Our 28 Day Weight Loss Challenge includes:
28 days of at-home exercise routines (no gym needed) – with video instruction
Customisable and breastfeeding-friendly meal plans (including 7 Day Cleanse)
Time-efficient exercises for busy mums – under 30 mins
Challenge combines Pilates exercises with interval and circuit training (HIIT)
Suitable for basic to advanced fitness levels
Home to thousands of EASY-TO-MAKE recipes!
To learn more about our 28 DAY WEIGHT LOSS CHALLENGE CLICK HERE or purchase our Smoothies.