I am very happy to report that I  have lost 39kg using the Healthy Mummy Plans and products in just over 5 months and I love using the healthy mummy smoothies.
My updated photos are below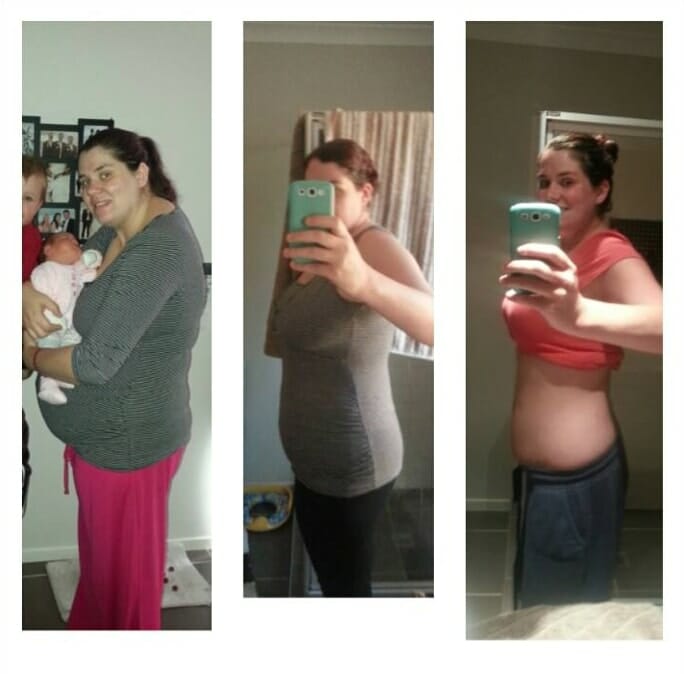 My next goal is to see the magic number 7 at the start of my weight number! 13kg to go to Ultimate goal!
I started the healthy mummy smoothies at 5 weeks post birth and loved that they are safe in breastfeeding. Eating healthy and having the smoothie are like second nature to me now…though i do still have the sneaky ice cream!
I say it every time and will say it again…THANK YOU THANK YOU THANK YOU!!! I feel like it will be no time before i'm writing to tell you that 52kgs is GONE! Thats a whole person!
I have been telling absolutely everyone that asks to try your healthy mummy smoothies and your weight loss plans!
I am yet to find anything on the website that my hubby, my 3 year old and myself don't like!
Thank you so much again for bringing such a fantastic resource and support system to us Mummies who once thought all hope was lost!
P.S – Hubby has lost around 12kg and my 3 year old LOVES the meals from the website! Its incredible to know i am teaching him great eating habits from a young age
Hope to have an "under 80kgs" checkin in soon.
xxxx
Special Offer & 10% Discount
If you are ready to lose weight then The Healthy Mummy plans offer a healthy and safe exercise and diet routine that are safe if you are breastfeeding and you can use code LOYALTY for a 10% DISCOUNT at the checkout