Normally I write about food in my posts but today I would like to touch on exercise plan. More specifically, trying to fit in exercise with older then wee bub children.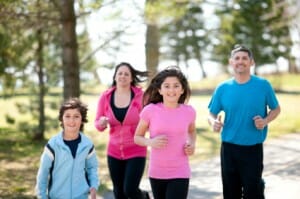 My two kids are 14 months and almost 4 years old and I am struggling to find time to 'fit' in an actual exercise session.
Neither of them want to stay in the pram, and if we walk to the park, my eldest wants to play "Postie" and pop letters in every mail box and my toddler wants to pick flowers. There is no real heaving of breathe or real cardiovascular work.
Having read other mother's testimonials, I feel that this is a point in life where we need to be creative with our exercise and that incidental exercise and the breaking up the exercise sessions are the only way it will be achievable.
Of course you can take a class at the gym or a centre but sometimes that is not affordable or there is no partner to look after the kids or crèche at the gym.
Here are some options for incidental exercise tips for mums who can't pound the pavement anymore. What do you do at home with the kids around? Please lend us your tips as well.
Dancing with the kids.
Put on some bopping music and dance with the kids. Even if it is for 10 minutes (my children's attention span) you will burn 60 odd calories.
Jump on the trampoline. My kids love it when I jump with them. Just make sure to tighten your core otherwise you will feel like your pelvic floor will fall out!!! You can burn around 40 calories doing this.
Play tip in the garden will also bring joy to the kids and around 90 calories over 10 minutes.
Play tip at the beach will be great for a whole body workout. Have you not seen the beach volleyball players. You will burn around 120 calories at the beach.
Make an obstacle course with high and low obstacles. This will be fun for everyone. Climb over tables, under chairs, over the couch, through a makeshift tunnel, down the stair, around the back and through the fence and repeat it. For around 10 minutes you will be up 100 calories.
Break up the exercise. 10 minute jog in the morning at the park. 10 minutes of dancing in the afternoon. 10 minutes of floor work in the evening after the kids are in bed. As you can see by some of the calorie outcomes above for 10 minutes of exercise, you can build it up.
Group exercise with friends. In this one I do not necessarily mean you exercise together, I mean you have a central group where the kids play and each person or couple take turns going for a run, surf, swim or whatever while the other parents look after the groups kids. It is a great way to do an exercise you cannot normally do with kids.
Special Offer & 10% Discount
If you are ready to lose weight then The Healthy Mummy plans offer a healthy and safe exercise and diet routine that are safe if you are breastfeeding and you can use code LOYALTY for a 10% DISCOUNT at the checkout