Depending on the age of your kids, school holidays can be a little more challenging to fit in your exercise plan.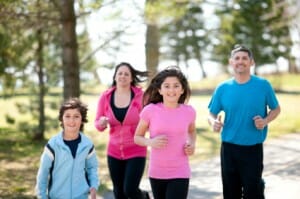 Here are five simple ways to achieve some exercise during the day, with the kids so you can stay on your weight loss plan or healthy lifestyle plan.
Take them to the park or playland and do what they do.
You might look a little crazy or it might be quite difficult to climb up the rope or ladder, but if you try to do it and keep following your child/children's lead you will get an all body workout.
Parks are the perfect place for a workout. There are:
Swings to localise your core
Steps for step ups
Rope/ladders to climb
Slides to run up
See saws to localise your core and use your quadriceps
Benches for pushups and dips
Grass to chase and run
2. Take them to the beach
This is one of the most beautiful places to get some incidental exercise and really break into the sweat. Get down onto the sand, tell the kids to run and then you can chase them.
Soft sand running is perfect for your core, you legs and the all important butt. Sand running is such a great and tiering exercise that you might only get 15 minutes done before you are EXHAUSTED.
3. Hire some bikes
Even if you have little kids, bike hire places have either seats to attach to the bike or you could pull the little ones behind in a caboose. Or if you children are a little older, their bike can be attached to your bike or of course they could ride a bike all by themselves.
Bike riding is an enjoyable and relatively relaxed way to obtain a little exercise with the whole family. It is a great leg work out as well.
4. Obstacle course
If the weather is not so great in your neck of the woods, create an obstacle course around the house that the kids have to achieve and you also. Similarly to the park, this will obtain an all body workout.
Some ways you could achieve an obstacle fitness course are by:
Pulling the bed out from the wall and using it as an option to climb over
Cleaning the kitchen table down and using it as an object to climb over and climb under
Place kitchen chairs on their side and use them to climb or hurdle over
Turn some toy boxes over and use them to either climb over or as a turning point
Place some skipping ropes on the ground that you have to run either side of
Tie up a skipping rope so that it is around 30 cm off of the ground and use it as a place you have to crawl under
Place pillows on the ground, separate them and jump from pillow to pillow.
Try doing 10 laps and you will be in sweat and giggles of laughter.
5. Dance
Dance dance dance. Make up a performance together or separately and perform it to each other. Your kids will love it, especially the girls (if you let them dress up in your clothes and makeup). If your kids are a little young, take turns of doing short dances or play musical statues or just dance to them!!! have fun while you are also doing your exercise along with the exercise for kids
Special Offer & 10% Discount
If you are ready to lose weight then The Healthy Mummy plans offer a healthy and safe exercise and diet routine that are safe if you are breastfeeding and you can use code LOYALTY for a 10% DISCOUNT at the checkout