Healthy eating can be done with style. You can turn anything you like into something that is a little exotic shall we say. Use nice spoons, special bowls or glassware and dress it up.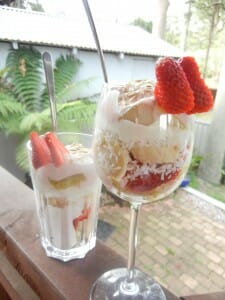 At home you think your ham on toast is pretty boring. At a cafe they make the same thing jazzy. They make prosciutto on sourdough, cost you $15.
Tonight I wanted to show you my little treat this evening with my hubby after the kids are in bed. A bit summery, a bit tropical and every bit part of a healthy eating plan without feeling like it.
Ingredients
Whatever you have in the fridge or in the fruit bowl.
I used per glass:
½ pear
4 strawberries
½ banana
2 tbs of reduced Greek yoghurt
2 tbs of reduced fat raspberry yoghurt
2 tbs of coconut
1 tbs of rolled oats.
Directions
Dice and chop and spoon and layer it in different glasses so you can see the fruit and yoghurts.
And voila!!
Per serve 280 calories
Can't wait to tuck in. I made a little one for my daughter too, but it wasn't in a pretty glass so didn't make the photo cut.
For more recipes from our site, check them out here.
Get Your Discount
If you are ready to lose weight then The Healthy Mummy plans offer a healthy and safe exercise and diet plans that are safe if you are breastfeeding and you can use code LOYALTY for a 10% DISCOUNT at the checkout.
Plus we have Cookbooks, Calorie Bibles, Exercise DVD's, Meal Replacement Smoothies and Our 28 Day Plan in our shop.