With shop shelves currently lined with hundreds of colourful Easter eggs of all shapes and sizes, it's easy to get sucked into the chocolate-buying frenzy.
If you're not keen on feeding your kids up with sugar and dealing with the associated crash and burn that inevitably follows, why not gift them something a little different this year.
Here Are Five Easter Gifts That Don't Resemble Chocolate
1. A Pot Plant Or Flower
You don't have to be a green thumb, just visit your local nursery, florist or hardware chain and you'll find plenty of options.
Keep in mind the age of your child and consider that a nice flowering plant might look edible to a toddler so maybe opt for a leafy variety. For something different why not get a furry or spiky cactus? This is a great way to teach kids about taking care of something in order for it to thrive.
Hint: For a plant or flower that won't make a mess, why not buy a fake one!
2. Hat Or Sunglasses
While buying your child a new pair of pyjamas to suit the change of season is a practical idea, so is finding a funky hat or pair of sunglasses.
It's a great way to introduce little ones to the concept of sun safety but also a smart way to remind older kids and teens to protect their eyes and skin from the harmful sun.
3. A Fancy New Toothbrush
It's a tough gig on the best of days convincing children to brush their teeth so why not make it interesting with a talking or singing toothbrush.
From super heroes to Disney characters there's a huge variety out there, my boys recently got a Star Wars lightsaber toothbrush and are ridiculously excited about brushing their teeth!
4. A Pet 
So if you've been thinking about a cat or dog then why not use Easter as an excuse to finally get one?
If you're not ready for the commitment that comes with four-legged friends, then consider a fish, mouse or even a hermit crab. Not only will you be the best parent in the world but it's a good way to teach kids about animals and responsibility.
5. Plant Seeds Or A Tree 
A fun and educational idea is to get your kids to choose some vegetable, herb or flower seeds to plant.
Check the packet to see when is the best time to sow seeds or get a small planter box for inside and start this way. Most children are impatient so for quick results try varieties that sprout quickly or will have beautiful flowers. If you have space, you could also plant a tree in your backyard and give it a special name or meaning.
Hint: Help your child suspend an avocado pit in water and watch it grow roots or cut the top of a pineapple and put it in a shallow tray for a crazy spiky plant.
Well, there you have it! Five awesome Easter gifts the kiddies will LOVE that are NOT chocolate!
Easter is nearly here and if you are worried about sugar overload this Easter then NEVER FEAR – The Healthy Mummy is here!
Be sure to check out our Healthy Easter Cookbook eBook!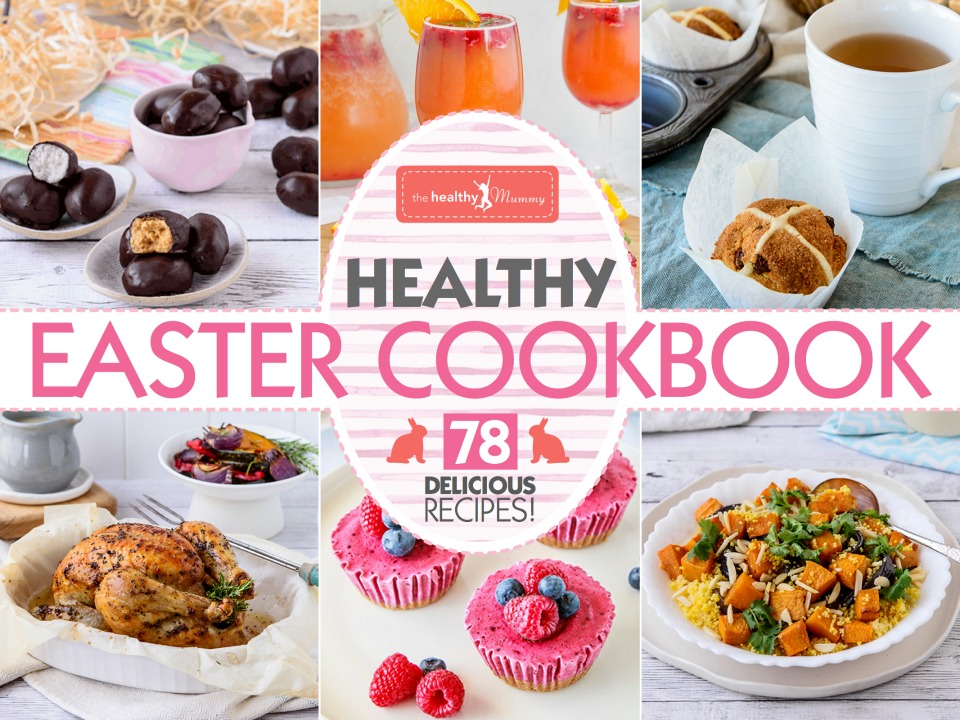 With ideas for main meals and sides for family lunches or dinners, healthy chocolate recipes so you can indulge in sweet treats, while still following your healthy lifestyle goals, plus homemade gift ideas so you can pass on your healthy ways to friends and family.
Just because there are chocolate Easter eggs everywhere at this time of year, it doesn't mean you have to miss out on all the fun. Eating healthy, fresh foods and spending time with your family is what an enjoyable life is all about.