Somedays start a little sluggish and this Healthy Mummy Smoothie combo is great to lighten the load on your digestion.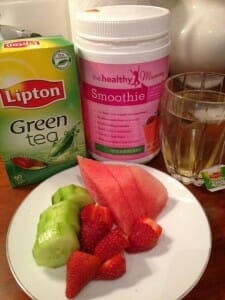 It is perfect for Spring, full of flavour, fibre and freshness.
We have used green tea in this one, but you could use any flavoured tea or even fresh juice if you like.
A healthy lifestyle does not need to be boring or dull!
What you need:
2 tbs of strawberry Healthy Mummy Smoothie mix
1/2 cup of watermelon chopped
4 chopped fresh strawberries
1/3 telegraph cucumber skinned and chopped
200ml of green tea cooled
Blitz altogether, for a little longer then usual because of the cucumber.
Enjoy the freshness!
If you are ready to lose weight then The Healthy Mummy plans offer a healthy and safe exercise and diet routine that are safe if you are breastfeeding and you can use code LOYALTY for a 10% DISCOUNT at the checkout