Fruity Fresh Fish Burgers
Just because burgers do not have the best reputation, doesn't mean we cannot include them in a healthy eating plan or even a weight loss diet.
We need to think smart.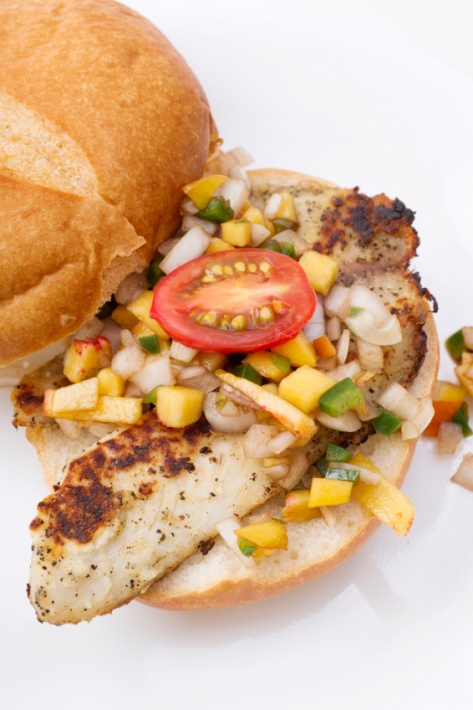 Fresh Fish Burger recipe
This healthy, fruity, fresh fish burger is delicious and a perfect addition to any eating plan, even a pregnancy or breastfeeding weight loss diet one due to the omega 3 fatty acids you will get from the fish.
Prep time: 10 minutes
Cook time: 15 minutes
Serves 4
Ingredients
4 wholemeal or wholegrain burger buns
4 firm white fish fillets
Paprika spice
Chilli spice rub (optional)
Salt and pepper
½ red onion diced
1 peach diced
½ apple diced
½ green capsicum finely diced
1 lemon for juicing
1 tbs of oil
2 tbs of natural yoghurt
½ handful of coriander
Oil spray for pan frying fish
Directions
In a bowl, dice up the onion, peach, apple, and green capsicum. Stir it around and add the lemon juice and the oil. Season with salt and pepper and leave the salsa to sit while preparing the fish.
In another small bowl add the chopped up coriander and the yoghurt. Season a little with salt and pepper and some lemon rind from the squeezed lemon skin. This will go on top of your bread rolls.
Spray a pan with oil and heat it up. Once hot, place the fish onto the pan. Sprinkle the paprika and chilli onto the upside. After a few minutes, flip the fish over and sprinkle the other side.
While the fish is cooking, cut the buns in half and toast if you like. Spread on the yoghurt dressing.
Serve with the fruity relish on top of the fish and add some greens if you like.
420 calories per serve
If you are ready to lose weight then The Healthy Mummy plans offer a healthy and safe exercise and diet plans that are safe if you are breastfeeding and you can use code LOYALTY for a 10% DISCOUNT at the checkout.
Plus we have Cookbooks, Calorie Bibles, Exercise DVD's, Meal Replacement Smoothies and Our 28 Day Plan in our shop.