We all know how incredibly important it is for our little ones to receive all the nutrients they need for for growth, development and overall good health.
And nutritionist Nikki Boswell says the best way to receive these essential nutrients is by eating from the five main food groups. That is, grains and cereals; vegetables; fruits; milk, cheese and yoghurt; and, lean meats (and alternatives) each day.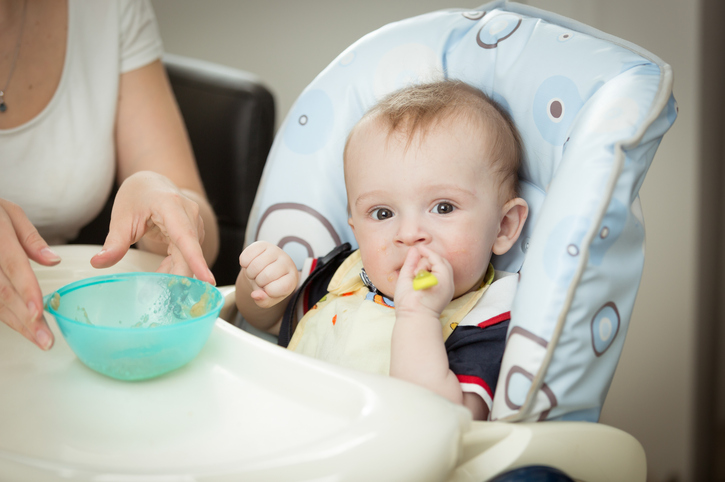 The below information was supplied by nutritionist Nikki Boswell to go in hand with The Healthy Mummy Fussy Kids Cookbook eBook. 
How Much Of Each Food Group Should little One's Be Eating?
Nikki Boswell explains that how much of each food group your kids should be eating is dependent on various factors. This includes the child's age, gender and level of physical activity.
The table below may be helpful for parents.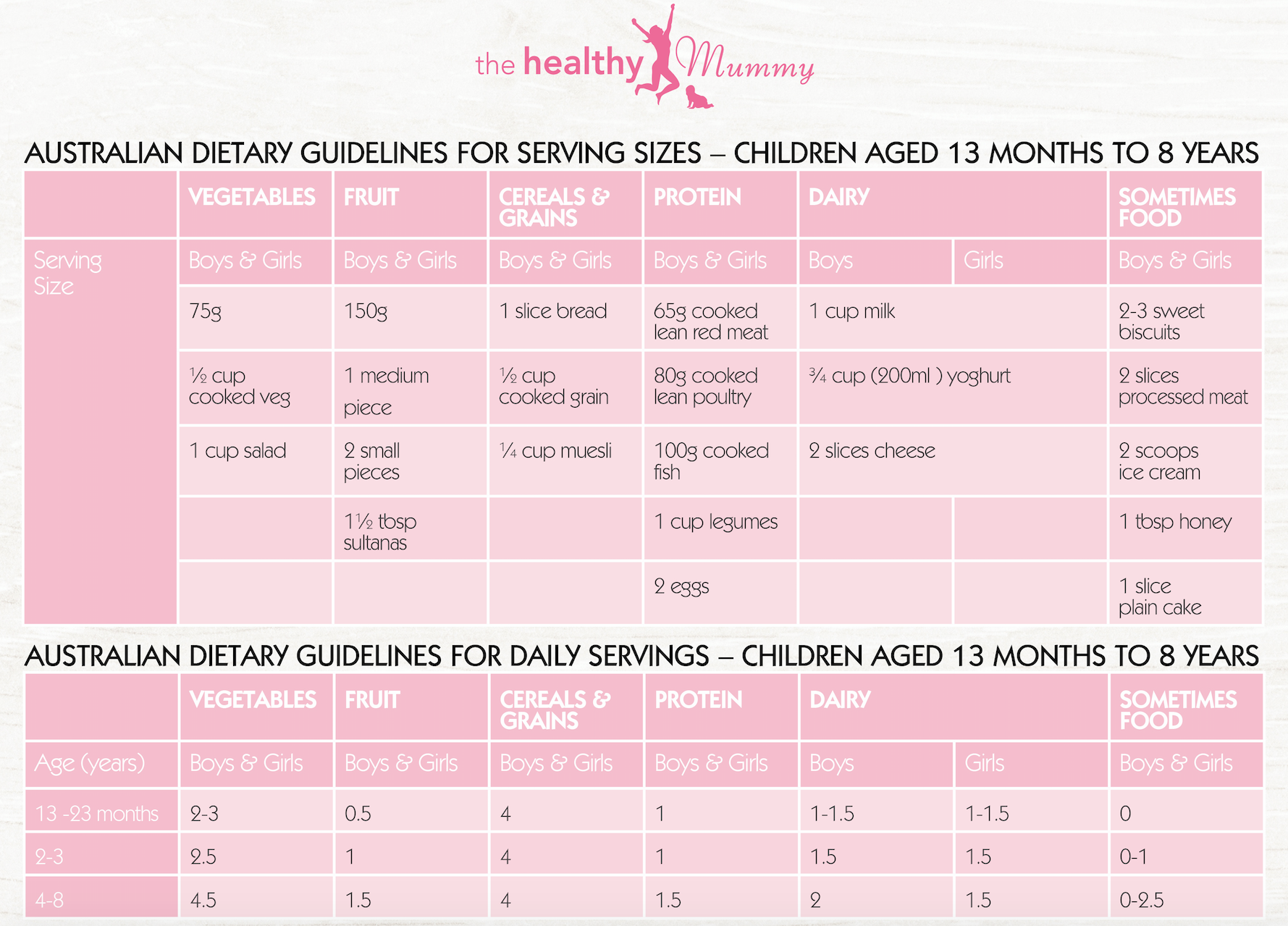 Meeting these recommendations (each and every day) can be tricky, ESPECIALLY if you have a fussy eater.
However, by not consuming food from one (or more) of these food groups, your child may be missing out on key vitamins and minerals which are integral to health, wellbeing and development.
THE GOOD NEWS IS, each food group offers a WIDE VARIETY of food options. Therefore, if your little dislikes a particular type of food – there are PLENTY of substitutes out there that the meal/snack can be swapped with.
5 Food Substitutes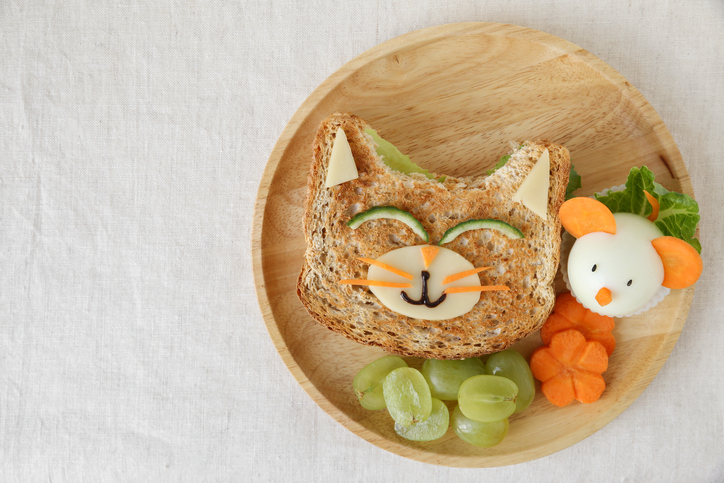 1.Substituting Fruit And Vegetables
There is no doubt fruit and vegetables are INCREDIBLY important for kiddies (and us grown ups).
Fruit and veg are jam-packed with essential minerals, vitamins, antioxidants and phytochemicals which are KEY for good health and wellbeing.
According to Nikki, "Unlike processed foods, fruits and vegetables are nutrient dense and contain fibre, to help regulate bowl movements and promote a healthy body weight."
When it comes to encouraging your little one to eat (and try) fruit and veg, Nikki says GO FOR COLOUR!
"When choosing foods from within these food groups it is good to encourage colour – ask your child to choose a rainbow of fruits and vegetables, as different coloured fruits and vegetables contain different nutrients. Get creative with this message, while increasing your child's exposure to different fruits and vegetables," says Nikki.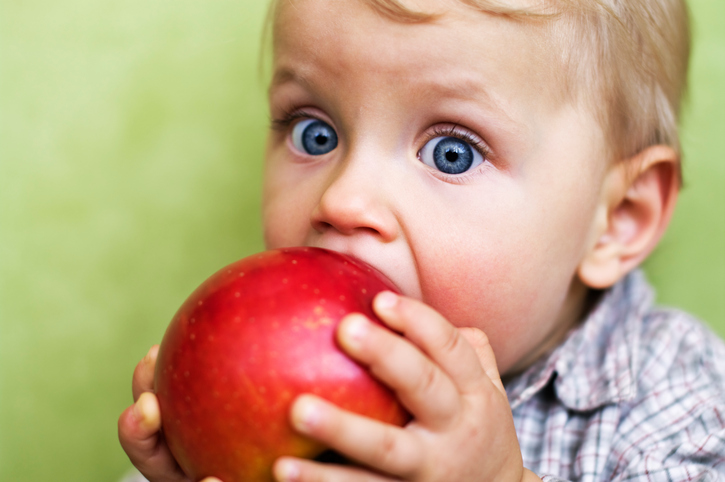 Nikki reiterates the importance of making snack time FUN!
"Ask your child to choose different coloured fruits and vegetables at the shops; arrange fruits and vegetables from your fridge into a colour wheel; talk about the colour of different objects by comparing and matching with fruits and vegetables; cut up grocery catalogues and construct a rainbow out of the different coloured fruits and vegetables; quiz your child to name different coloured fruits and vegetables (or get your child to quiz you!); or make rainbow fruit or vegetable skewers," she says.
"Fussy eaters can be particularly resistant against sulphurous vegetables like cabbage, broccoli, cauliflower, brussels sprouts, and bok choy, as these have strong bitter flavours. You can reduce these flavours though by not over-cooking sulphurous vegetables (cook until they are brightly coloured and just tender) and adding a small amount of olive oil or butter when serving."
2.Substituting Lean Meats And Alternatives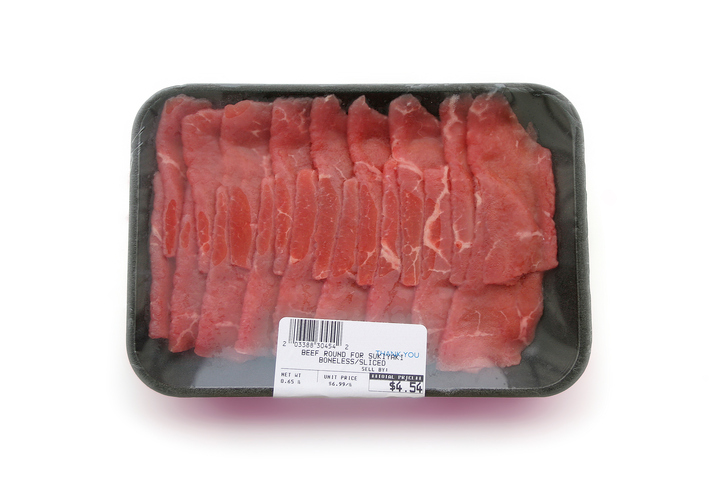 Lean meats (and alternatives) play a pivotal part in providing our bodies with much needed protein for growth, repair and development.
However, Nikki says, "Of even more importance however, lean meats and alternatives provide a host of other nutrients, including iodine, iron, zinc and vitamin B12.
"While most Australians (even the fussy eaters) get sufficient amounts of protein, iron deficiency is a common concern for young children, particularly if they aren't fond of meat.
"Meat is a common food for fussy children to avoid, particularly if they are sensitive to smell, fortunately however there are many alternatives within this food group that can be substituted to provide almost equivalent nutrients."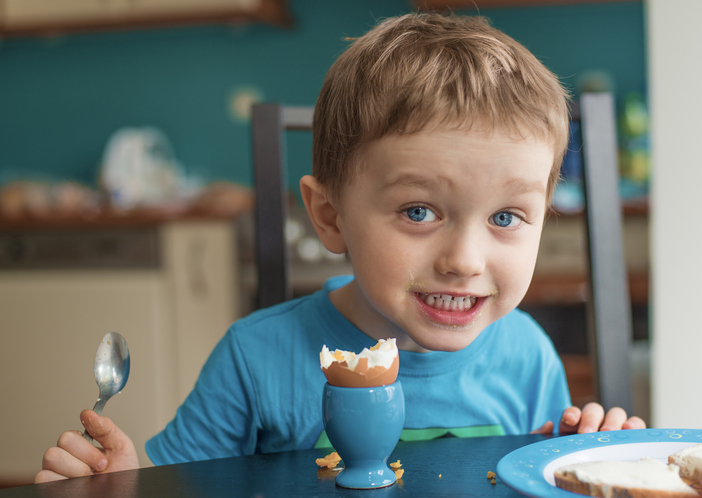 If your kids aren't fans of meat – try eggs!
"Eggs make a great alternative to meat; they can be served in their traditional 'boiled' 'scrambled' or 'sunnyside' forms or be used as a nutritious base for dishes such as the crustless quiches or zucchini and bacon slice, both from the April 28 Day Weight Loss Challenge.
"Non-animal sources of protein are also a good option for kids who are not fond of meat, but remember to boost the availability of important nutrients like iron, always partner plant/non-animal sources (non-heme sources) with vitamin C.
"Nuts and seeds can be added to dishes such as stir-fries, added to muesli, yoghurt, muffins or used in sauces such as pesto. Legumes and pulses give you more 'bang for your buck' counting as both a vegetable and meat alternative – try beans on toast for breakfast, in a toasty for lunch or serve hummus on crackers and with vegetables as a snack."
3.Milk, Cheese And Yoghurt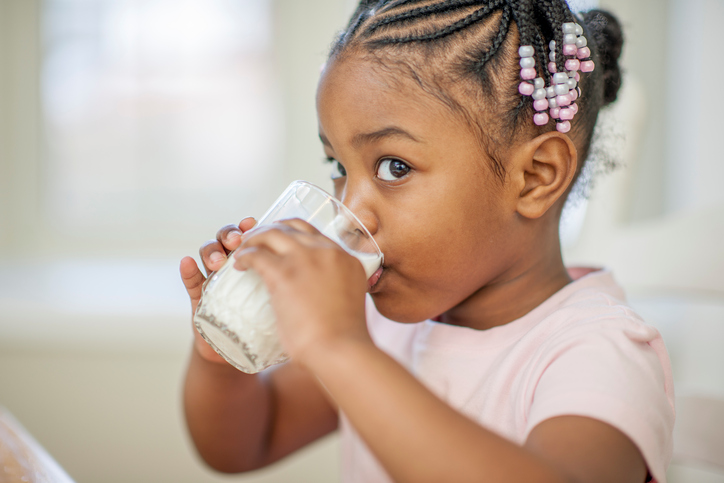 Milk, cheese and yoghurt are also great sources of protein. However, they have the added bonus of being an incredible source of calcium, which is key for bone strength.
"Although milk is highly nutritious and a favourite for many kids, when trying to manage fussy eating it is important that milk doesn't replace the consumption of other foods.
"On the other hand if kids dislike milk, it can be replaced with other sources of calcium such as yoghurt or cheese.
"If plant based sources of milk are used, be sure they provide at least 100mg of calcium per 100ml. Salmon with bones also provides a readily absorbable source of calcium (try the salmon cake recipe from the April 28 Day Weight Loss Challenge) and makes a good alternative to milk," says Nikki.
4. Grains And Cereals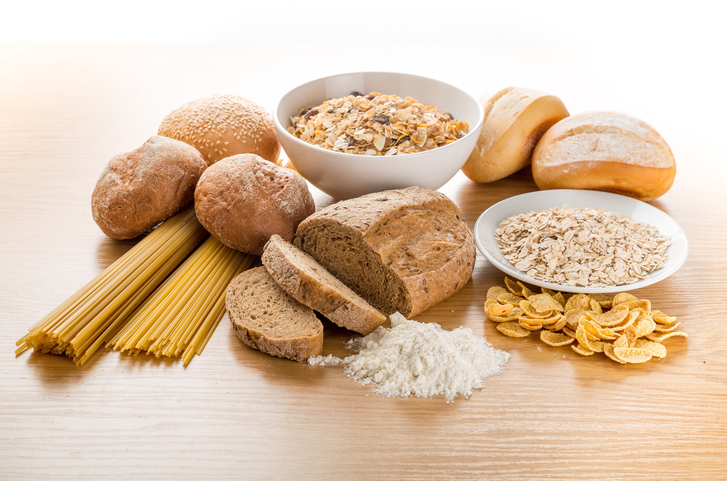 Nikki advices that parents choose wholegrains when possible.
"There are a huge variety of grains and cereals within this food group. Choose wholegrains where ever possible; wholegrains are higher in fibre, B-group vitamins, including folate, and minerals including iron," she says.
"Kid friendly wholegrain options could include breakfast wheat biscuits, brown rice and oats, (oats can be used in sweet and savoury dishes, as well as in baking or ground into flour).
"After wholegrains, the next best option is wholemeal (bread, grains, crackers, pasta), or high fibre varieties with 'invisible' fibre options are a good alternative for fussy eaters.
"Whichever option you choose, aim for options that provide 4g of fibre per serve and make the other components of the dish also add nutritional value."
5.Water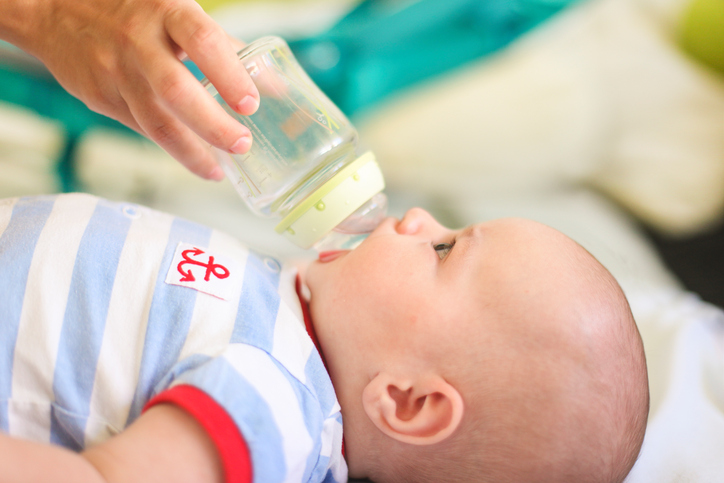 Although not a food group, apart from milk, water should be the drink of choice. If your child doesn't like the taste of plain water, dress it up without adding sugar.
"Try adding slices of fruit (lemon, lime, orange, pineapple, strawberries), to add a little extra flavour as well as some fun colour. Offer water in fun drink bottles or cups; use fun, novelty straws; or make water available in a bench top water dispenser or jug that kids can help themselves to,"  says Nikki.
There you have it! There are five incredible tips for helping your kiddies get the right nutritional balance.
28 Day Weight Loss Challenge – It's All About FUSSY EATER TIPS!
The April 28 Day Weight Loss Challenge is all about family-friendly meals which will not only keep mum happy, but the rest of the family happy!
While The Healthy Mummy's 28 Day Weight Loss Challenges are strictly for mums, the recipes are PERFECT for the whole family to enjoy. Here's to cooking one big, delicious meal your entire family will love!
To find out more about the 28 Day Weight Loss Challenge CLICK HERE and discover healthy  meals that the entire family (including the picky eaters) will love.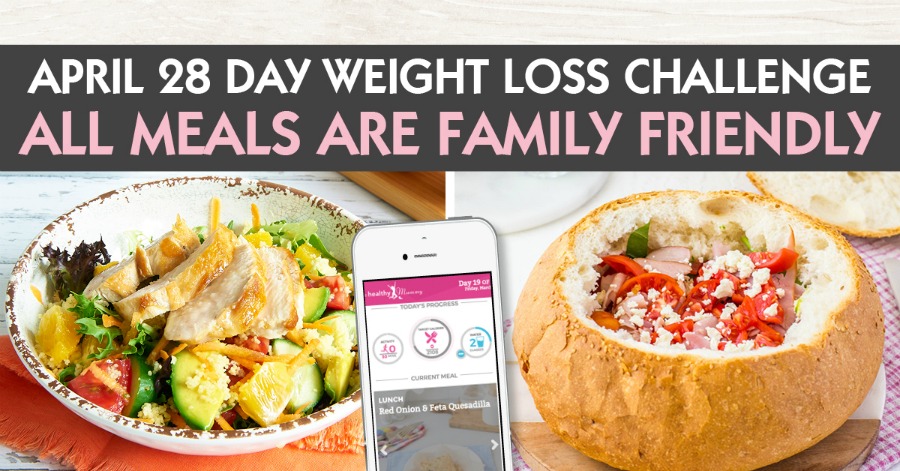 The Healthy Kids Cookbook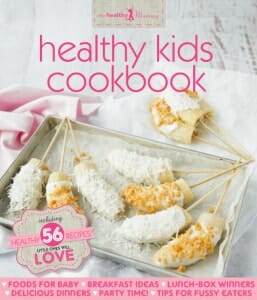 As well as helping mums lead healthy lifestyles with our amazing range of smoothies and our incredible 28 Day Weight Loss Challenges, we are also very much focused on helping kids eat healthy too!
This is why we launched our Healthy Kids Cookbook it comes in a hard copy and an ebook and it's JAM-PACKED full of healthy recipes that even the fussiest eaters will LOVE!
To purchase yours, click here.