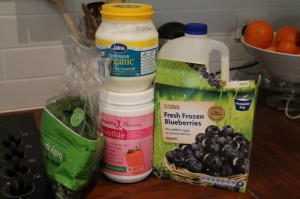 Last week we talked about how to get additional vegetables into your healthy eating plan. One way to achieve that is by adding some to your Healthy Mummy Smoothie.
This creamy delight does just that.
If you are nervous about adding vegetables, the best way to start is by adding some fresh baby spinach.
Blend it for a little longer to ensure there are no 'bits' and drink away. You won't notice a difference, but your insides will.
What you need is:
2 tbs of strawberry Healthy Mummy Smoothie mix
1 cup of blueberries
1 handful of baby spinach
2 tbs of yoghurt
200ml of milk
As mentioned, blitz it a little longer than usual and tada! A healthy eating breakfast with a side of veg and you didn't even notice.
Special Offer & 10% Discount
If you are ready to lose weight then The Healthy Mummy plans offer a healthy and safe exercise and diet routine that are safe if you are breastfeeding and you can use code LOYALTY for a 10% DISCOUNT at the checkout