Hayley's 22kg Transformation
Hayley Lloyd has lost over an amazing 22kgs with The Healthy Mummy weight loss plans and today shares her weight loss goals for January.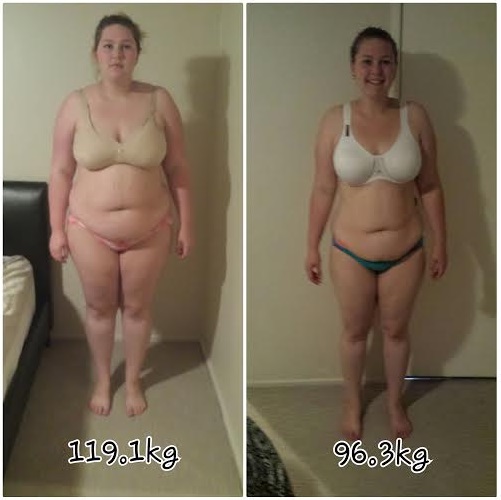 HAPPY 2015 BEAUTIFUL MUMMAS!!
I cannot believe that it is 2015 already. This year is going to be amazing. I want to wish everyone good luck and good fortune for the year ahead, to those both already on their journey and to those just starting. I am so excited to say I have been now following The Healthy Mummy plans for 6 months and I am so happy to be starting this year with the 28 Day Challenge, I cannot think of a better way to start the New Year! It is the perfect way to start fresh (if you need to) after the festive season.
Just a little recap for those who are just joining us and haven't seen my previous blogs to know my journey. I am a 20 year old stay at home to a bouncing 6 month old baby boy. My partner and I have both been following the weight loss programs for 6 months and I have lost 22.8kg and 152.5cm off my entire body. My goal weight is 75kg, so I am over half way with 21.3kg to go!!
I currently use a combination of the Healthy Mummy products. I do my meal planning using the 28 Day Diet and Exercise Plan, the Spring and Summer Cookbook, the 28 Day Challenge – both past and present, and the free recipes on the website. All the recipes are delicious and easy to prepare!!
I especially love the challenges and how you can customise your meal plan for the week and how so many new and exciting recipes are released!! I also use the Guiltfree Cookbook on a regular basis to make yummy and healthy snacks. I use the Healthy Mummy Smoothie for breakfast and have been for the past month, I love how easy and quick they are and that they keep me full.
In regards to exercise I use the Healthy Mummy DVD three times per week, I love it!! It is easy and simple to follow but it is such a good workout and always makes me sweat so much! I just completed the 28 Day Tone Up Challenge in December, I loved it! During the Challenge months I complete the HIIT exercises. I love how all the exercises on the plans are able to be done at home with no special equipment. It makes it so much easier to exercise especially when having a tough and busy day.
I have been on my journey for a fair while now and I have definitely learnt the importance of goals and rewards. Goals and rewards are fantastic for motivation, they keep you moving forward and keep you accountable. Set yourself goals, both scale and non-scale related and assign a specific reward for each goal. You must ensure that your goals are SMART (specific, manageable, attainable, relevant and time bound).
My first main goal for this year is to get to 85kg by my engagement party in March, and my reward for this will be buying myself a beautiful outfit to wear at the party. Another goal of mine in January is to complete the Challenge exercises every day and for my fitness to test to have improved – I don't mind how much I improves by as long as I improve. They are just a couple of my goals, I still need to find some time to sit down properly and figure out what else I want to achieve this year. So ladies take some tight to yourself and think about what you want and how you are going to get it.
Hayley xx
Need to stock up on Healthy Mummy Smoothies? Then see our shop here
And join our 28 Day Weight Loss Challenges here