If you're looking for a healthy eating salad that you can enjoy in the cooler months as well as in the hot weather then the Healthy Eating Roasted Warm Lamb Salad is for you. It's a healthy eating recipe from our Comfort Eating Weight Loss Plan – for a warm lamb salad.
It is delicious and healthy and you can easily use different meat if you are running low on lamb as well as add different vegetables you have in the cupboard
calories per serve – 450 & serves 4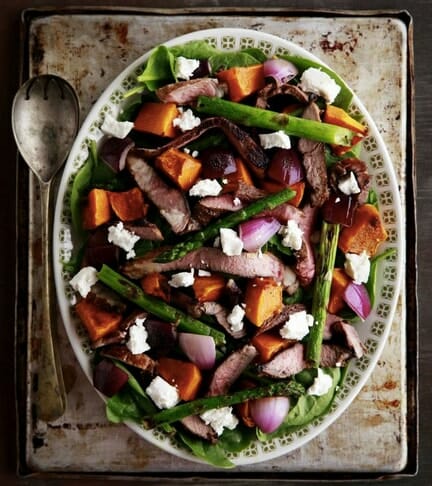 Roasted Warm Lamb Salad Recipe
Ingredients
• 400g butternut pumpkin, roughly chopped • Olive oil cooking spray
• Salt and pepper
• 1 tbsp olive oil
• 1 tbsp balsamic vinegar
• 600g lamb backstrap, fat trimmed
• 1 bunch asparagus
• 1 large red onion, chopped
• 60g baby spinach leaves
• 40g low-fat feta cheese
Method
Preheat oven to 200°C. Place pumpkin on a baking tray, spray with oil and season. Roast until golden and tender. Transfer to a large bowl. Whisk oil, vinegar, salt and pepper in another bowl.
Add lamb to the marinade, cover and refrigerate.
Heat a pan over medium-high heat.
Lightly spray asparagus and onion with oil and season.
Cook for 3 to 4 minutes or until tender. Set aside.
Remove lamb from marinade.
Barbecue for 3 to 4 minutes on each side for medium or until cooked to your liking.
Transfer to a plate and cover with foil.
Stand for 5 minutes, then thinly slice.
Add spinach, feta and pumpkin to onion mixture. Toss gently to combine.
Place salad on serving plates.
Top with lamb and serve. For more  Lamb and roasted recipes try our delicious leg of lamb recipe! and our roast pork recipe!
Cooking tip: Feel like a change? Swap out the lamb for chicken, beef or firm tofu.
This recipe is from our Comfort Eating Weight Loss Plan that you can see here
GET MORE RECIPES LIKE THIS Or give a try to our delicious crumbed lamb cutlets recipe
If you are ready to lose weight then The Healthy Mummy plans offer a healthy and safe exercise and diet plans that are safe if you are breastfeeding. Plus we have Cookbooks, Calorie Bibles, Exercise DVD's, Meal Replacement Smoothies and Our 28 Day Plan in our shop.