Healthy Family Weekend Ideas
When you decide to lead a healthier lifestyle, it might have something to do with your weight status which is fine.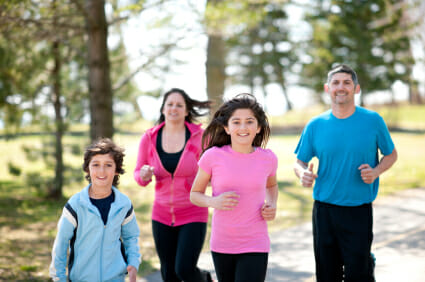 But, one of the best parts of leading a healthier lifestyle, is that your whole family takes your lead and starts to as well.
A healthy lifestyle is not just about a weight loss diet or healthy eating plan, it is about the practice of doing activities for your body and mind both through food, exercise and being with the environment.
Here are 6 ideas for a healthy family weekend
1.       Get active on the bikes
Bike riding is a perfect way to be able to get some cardiovascular exercise for yourself but also get the kids out to burn off some energy. It is also a great way for your children to learn to love having fun while exercising.
2. Get into the garden
Surprisingly garden is a great exercise idea as squatting, standing, racking, mowing, pruning and weeding involve a lot of up and down action. You might actually work up a sweat.
3. Get in the garden with the kids
Plant some seed like the photo above or plant some seedlings. Spring is a perfect opportunity to teach your children about the beauty and respect of nature. You kids can also learn a little about where food comes from as well. Growing food or vegetables is a great way to teach your children a passion about fresh fruits and vegetables.
4. Go to the beach and actually play with the kids in the sand
They will love you for it, even if you are just making an enormous sandcastle or digging a huge hole, the kids just want you to be there. BUT you will also get some exercise by doing this. Digging is a little bit like a rowing action and if you race the kids while doing it, I promise, you will break a sweat.
5. Pack up a picnic.
Pack up a healthy picnic with sandwiches, veggie based dips, cheese, fruits, veggie sticks and sit on a rug and munch and crunch your way through the meal together. By eating veggies together, you child will more likely enjoy them or at least try them. You are the biggest motivator for them.
6. Cook together
Take the relaxing weekend opportunity to get in the kitchen with your kids. Our new Spring and Summer book has some easy recipes to get into the kitchen with the kids. They can do any small task for you. By getting them in the kitchen you are teaching them about food, nutrition and the respect the family meal. They might actually try something they wouldn't normally eat!!!
If you are ready to lose weight then The Healthy Mummy plans offer a healthy and safe exercise and diet routine that are safe if you are breastfeeding