Healthy Mummy Q and A Summary – Nikki Boswell
As part of the Healthy Mummy Pregnancy Support Group, we have a fortnightly live chat on our Facebook page with an expert to discuss relevant topics for a healthy pregnancy.
This week we had nutritionist and pregnancy fitness guru Nikki Boswell answering questions live for our members.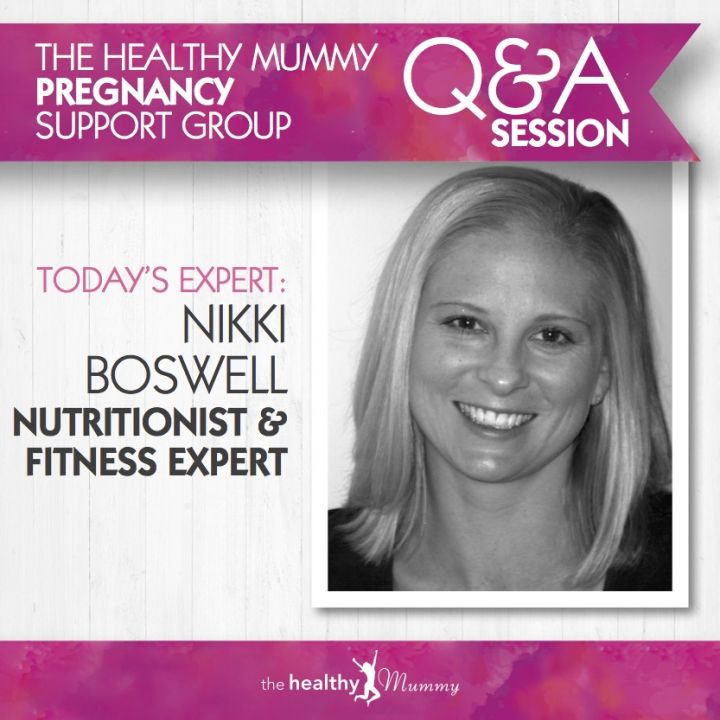 Here is a summary of the session from June 17th 2015.
Q. Any tips, exercises or stretches for relieving pelvic pain? Do the tights help?
A. Any pain should be discussed with your health care team. But with 'normal' pelvic pressure the cause can range from everything from gastro-intestinal upset to yoga so it really is going to vary.
If you are finding the weight is simply getting too much when exercising it might be worth looking at aqua-based fitness to help take the weight while still allowing you to work out.
Tights are definitely a good option, I think they really help.
You could also include a range of yoga exercises. Things like bird-dog, from the neutral or hand-knee position are going to help release some tension from your pelvis. This will also strengthen your back to help support the extra weight and the change to your center of gravity.
Q. Any tips for relieving aching ankles?
A. Aching ankles can be caused by a lot of things. It could be simply to do with the increasing weight or it could be to do with swelling. If there is swelling be sure there is no underlying issues like blood pressure. Other then that is sounds like it is time to put your feet up! Rest as much as you need, try not to spend too long on your feet, make sure you are having some good omega 3 a few times a week and maybe a nice foot rub.
Q. Is it safe to do standing abdominal exercises? For instance standing on one leg and crunching as you lift your right knee to meet your right elbow
A. Something like a side crunch is probably OK. Just be sure to concentrate on your side abs, rather than coming forward. Also you could just drop it back to a leg lift if you feel more comfortable with this.
Q. I'm 25 weeks pregnant but I've been walking lately pushing two toddlers and find I get a pain like a muscle tear in belly…would a support help? Bubs is fine.
A. Tights might help but it sounds like you are straining a lot and it might be worth cutting this back if you can.
Q. What exercises do you recommend to help when it comes to labour? Second time around and so nervous this time!
A. I was more nervous the second time too (I think you know what you are getting into!). As you found out, it is hard work so if you can maintain your cardio fitness this is a good start – continue what you have been doing if you can; including walking, water walking or aerobics.
Yoga is also great as it helps maintain muscular strength while still being gentle during pregnancy – attend a prenatal yoga class if you can. Also include lots of pelvic floor exercises too.
Q. Is losing weight during pregnancy an issue? I'm 6 weeks and have been pretty sick with morning sickness through the day and have lost 2 kg in the past fortnight. I'm struggling to hold down much more than 1 to 2 small meals a day.
A. Make sure you let your healthcare team know. If you were underweight to begin with there maybe some concerns but as you are in the early stages and if you are within normal weight or above a small weight loss in the short term won't put the bub at any immediate risk provided it is not ongoing. But please make sure your doctor is aware.
Morning sickness is the worst! Just try and keep down what you can, these early stages are important for nutrients but not so much energy. Try small regular meals, avoid smells that set you off. B6 can help (check with your doctor first though) and try foods like wholemeal toast and dry crackers; ginger or peppermint tea can help. Just try to have it between meals/snacks to help avoid bloating which can trigger sickness.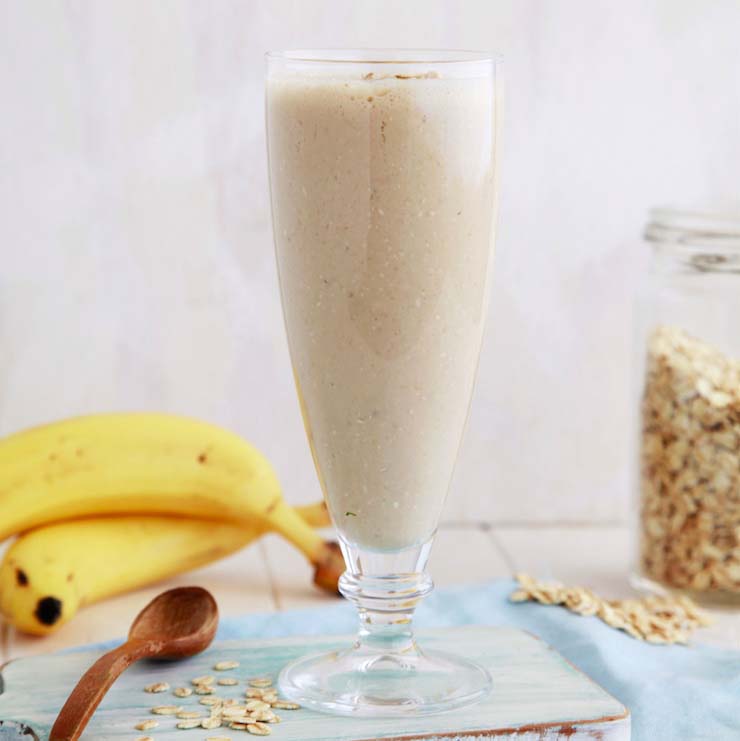 A lot of mums have found that the Healthy Mummy Pregnancy Smoothies have been helpful for morning sickness. You can tailor them to whatever you can or can't stomach at the time. Here is a good recipe.
Q. Can you help us out with the Big C – constipation. What can we be adding in to our diet to help keep us regular?
A. You can add products like 'gentle fibre', flaxmeal, or chia seeds to a smoothie for instance. They are packed with fibre but if you go with these options, build slowly and be sure to add lots of water to your diet too. Regular exercise is also important to help push everything along. As always a wide range of fruit and veg too.
The other thing with the Big C may be iron supplements – if this is part of the issue, again make sure your doctor knows and they may be able to adjust your dose or find a more suitable supplement.
Q. I have been having a lot of pain down the right side starting somewhere in my lower back and every now and again it will seize and I can't move properly . I am 22 weeks with no 2 bub. Any good stretches I can do to help this? Have been doing walking.
A. Try stretching your hamstrings as these can add stress to the lower back.
Straight legs, roll one vertebra at a time down and let your hands hang to the floor, don't bounce
Lift one foot up onto a chair or step and reach for toes
Sit on the floor, with a tall back and good posture. Leave your arms resting to your side and slowly tip your torso forward, maintaining that good posture so as your chest moves towards your knee.
You can also try to strengthen the pelvis or core to relieve lower back pain:
Bird dogs, kneeling raise alternate arm and leg, extend out from the body – add gentle pulse if you like
Donkey kick: kneeling, draw knee up under stomach then gently push the leg back, maintaining a bend in your knee so that the sole of your foot pushes flat towards the sky. Squeeze your butt as you push towards the sky
Q. What would you recommend for motivation regarding healthy eating/exercises in early stages of pregnancy?
A. In terms of motivation, it is personal but finding a support network is key for most. The Healthy Mummy support group is a great place to start.
Q. Could hair loss during pregnancy be due to lacking something from the diet?
A. It would be difficult to say either way – it could be due to some sort of intolerance but it would probably be more likely be to do with hormones and even genetics.
Q. What is too much exercise while pregnant? Will I be able to maintain my bum through pregnancy with regular squats?
A. The general rule is that pregnancy is a time for maintenance not setting personal bests. You should aim to keep your heart rate below 75% of your pre-pregnancy max and adjust your weights to 40-60% 1RM and aim for about 12-15 reps (so lighter weight, higher rep). You should certainly be able to get a good 'burn' doing this, without over doing it. Don't forget to get plenty of rest. And yes to squats!
Click here to view our pregnancy products page.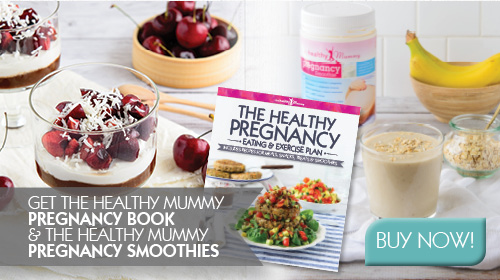 Disclaimer: Always speak to your doctor before changing your diet,taking any supplements or undertaking any exercise program in pregnancy. The information on this site is for reference only and is not medical advice and should not be treated as such, and is not intended in any way as a substitute for professional medical advice..
Our plans promote a health weight gain in pregnancy to benefit the mother & baby and you can read more on this here 
The owners of The Healthy Mummy do not make any representations or warranties, express or implied and shall have no liability or responsibility to any person or entity with respect to any loss or damage caused or alleged to be caused directly or indirectly by the information contained herein and nothing in this disclaimer will limit or exclude any liability for death or personal injury resulting from negligence, limit or exclude any liability for fraud or fraudulent misrepresentation, limit any liabilities in any way that is not permitted under applicable law or exclude any liabilities that may not be excluded under applicable law.