10 Healthy Eating and Weight Loss Pledges to Make to Yourself in 2013
To help you along your weight loss journey, The Healthy Mummy has come up with 10 healthy eating and weight loss pledges that we think will give you the motivation needed along the way to help you stick to your weight loss goals.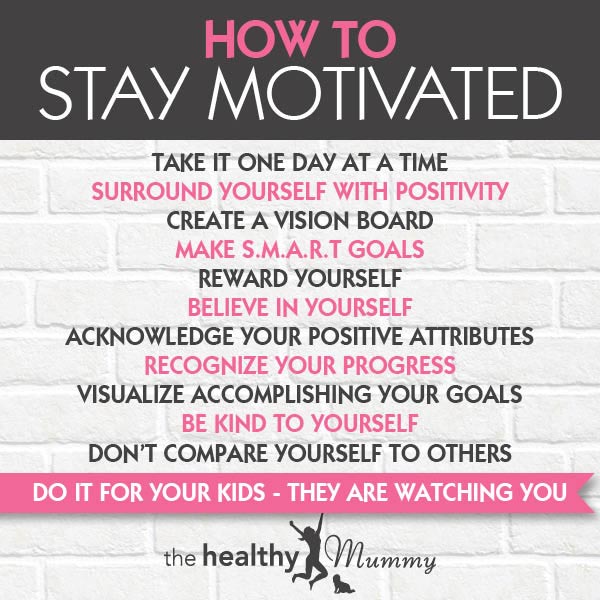 I will start exercising for at least half an hour a day
The exercise that we most recommend? Walking. It's super easy and all you need is a pair of trainers – and anyone can do it. Get your children, baby, spouse or dog involved and pound the pavements for half an hour a day. It will help you burn off the calories, tone up, slim down and it will also boost your metabolism. Studies have also shown that walking can make you feel happier, which is an added bonus.
I will not try to do everything at once
Sometimes, getting the motivation to actually start your weight loss regime can feel like the biggest decision you have to make. And once you get that motivation, it can be tempting to change everything straight away – to really cut down on your calories and to add lots of exercise into your regime. If you're new to healthy eating or exercise, this can be incredibly overwhelming – instead, change one thing at a time. Don't do everything at once, as you'll be setting yourself up for failure.
I will include treats in my eating plan and I will enjoy them
It can be tempting to cut everything you love out of your diet in an effort to lose as much weight as possible – but if you cut out all of your treats, you'll only be miserable. Instead, include treats in your diet, but just make sure to include them in your daily calorie count. And when you eat them, make sure that you enjoy them – all you need to do is learn how to enjoy them in moderation.
I will respect what my body does for me
Diets and intensive exercise regimes can be punishing on your body, especially if you are completely new to healthy eating. Don't punish your body – give it a break ocassionally. Respect that without your body – no matter how lumpy or bumpy – you wouldn't exist. You wouldn't have the life that you have without it, so show it some respect!
I will drink plenty of water every day
Water has zero calories, which many people forget, making it the ideal drink for anyone on a healthy eating kick. Drinking plenty of water will also help you to understand the difference between feeling thirsty and feeling hungry, and this is very important in the fight against fat loss. If you think water is a little boring, try sparkling water, or water with fruit juice or a slice of lemon.
I will look after my body by giving it plenty of nourishment
Weight loss shouldn't just be about becoming as skinny as possible as fast as possible. Instead, you should look after your body by making sure that it is as healthy as possible – by taking in as many vitamins and nutrients as you can. Eat plenty of healthy foods and focus on health, rather than the numbers going down on the scale. You'll feel better for it.
I will enjoy everything that I eat
Dieting shouldn't be boring – and it shouldn't be something that you get bored with. Diet food can be interesting, and it's important that you don't fall out of love with food, cooking and eating when you're on a diet. Instead, change the way you cook. You can still enjoy spaghetti bolognese, for example, just pack it with veggies, lean mince and serve with a smaller amount of spaghetti and a sprinkle of parmesan rather than a handful of cheddar. Add high flavour snacks into your diet, such as olives and smoked ham, and add plenty of spice into your diet to up the flavour of your dishes.
I will only weigh myself once a week
Some people get into bad habit of weighing themselves every day – and this just spells disaster. It will give you a fixation with the number on the scale, rather than how you feel and the size that you are. Your weight fluctuates naturally every day, so instead of weighing yourself daily, weigh yourself once a week so that you can better see how your weight loss is progressing.
I will take my measurements every few months
Sometimes, we get so fixated with the amount of kilos that we are in weight, we forget to actually look at our measurements – how we fit into our clothes. Measure your hips, thighs, waist, bust and the tops of your arms every two months or so – it's very likely that every two months, you'll see those numbers go down and you can truly see how your shape is changing.
I will love me for me
When we're overweight, we can fall out of love with ourselves and we can attribute all sorts of negative connotations to the way we look. Because we don't like the way we look, we can start to dislike ourselves in other ways – and this is a truly, truly sad way to think about yourself. Learn to love yourself for who you are – warts and all – and you'll be a happier, more confident person.
Special Offer & 10% Discount
If you are ready to lose weight then The Healthy Mummy plans offer a healthy and safe exercise and diet routine that are safe if you are breastfeeding and you can use code LOYALTY for a 10% DISCOUNT at the checkout