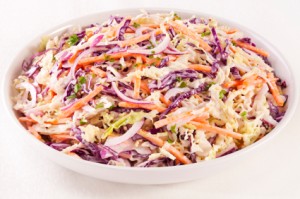 Who said you couldn't have salads during Winter?
This coleslaw salad is delicious and will not stay a lifetime on the hips either. It is fresh, crunchy, filling and flavoursome and a perfect addition to some grilled fish or chicken with a few roast potatoes. Mmmmmm. Yummo
Prep time: 15 minutes
Serves 4
Ingredients
4 large carrots, washed, peeled and coarsely grated
½ red onion, finely sliced
½ red cabbage, shredded
2 apples, peeled, cored and finely sliced and tossed in juice of ½ lemon
½ lemon (for the apples)
½ cup of chopped grapes
2 sticks of celery
¼ cup of slivered almonds (for top)
For the dressing
3tbsp reduced fat Greek yogurt
1 tbsp apple cider vinegar
1 tbsp balsamic vinegar
2 tbsp Dijon mustard
Directions
1. Chop all the ingredients for the salad and place in a large bowl.
2. Mix all the dressing ingredients and pour over the salad. Toss to combine.
160 calories per serve
Special Offer & 10% Discount
If you are ready to lose weight then The Healthy Mummy plans offer a healthy and safe exercise and diet routine that are safe if you are breastfeeding and you can use code LOYALTY for a 10% DISCOUNT at the checkout