Hi Healthy Mummy Team, I am just sending in my baby weight loss story after using the Healthy Mummy Plans and products
A few months ago a light bulb turned on in my and I decided to do something about the weight I was carrying
But the idea of it did seem a bit hard as I didn't have any energy for exercise let alone finding time to eat a healthy diet
Then I stumbled across your weight loss and healthy eating plans and I decided to give the Healthy Mummy smoothies a go as well as the 28 Day Diet & Exercise Plan and I have never looked back!  The healthy mummy smoothie is delicious and I got all the flavours.
I had one healthy mummy smoothie for lunch and eventually changed what I cooked for dinner. Hubby still wont eat salad so I cook up spuds or something for him and use the same protein in a salad for me. The kids get a mixture of both.
I eat so much better, I have so much more self control – I don't think I'm on a diet more that I have finally changed my life for me to make the life of my family better for the long hall.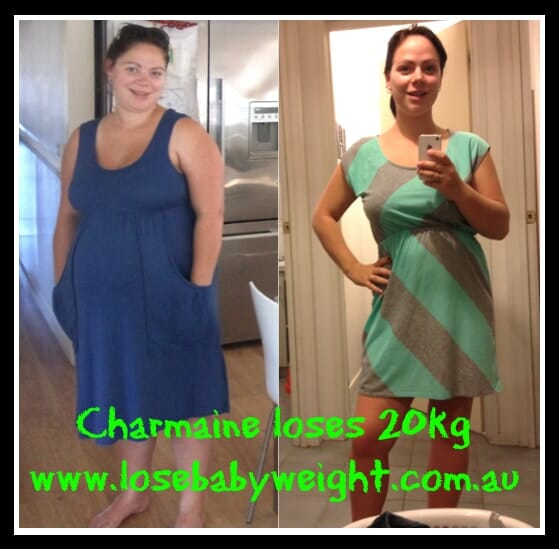 My son was born in January 2012 at my heaviest I was about 90kgs going into a size 16, I purchased the Healthy Mummy Smoothies mixture sometime in August and its now December and I'm 70kgs and fitting into a size 12 and still going.
My goal is 65kg but I think I might aim for 60k –  which I'm so excited about! 😀
Thank you so much! I'm healthier and so much happier and my husband said its nice to have the happy Charmaine back 🙂
So many people ask what I'm doing and of course I tell them because its a great product that works and it's safe with great support but in the end you need that light bulb to switch on, do it for you; no one else.
If you are ready to lose weight then The Healthy Mummy plans offer a healthy and safe exercise and diet routine that are safe if you are breastfeeding.
And don't forget to check out our current promotions and discounts page to see what specials we have on this week on our Healthy Mummy product range