I wanted to send in my post baby weight loss story after being on the Healthy Mummy Smoothie plan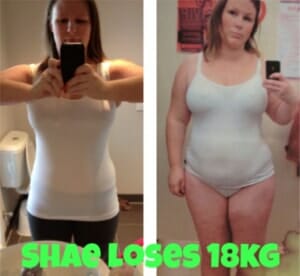 My journey isn't completed yet, but I'm nearly there..
My name is Shae Jovan and I'm 30 year old a mum of 4 children – my youngest is 7mths old.
When I became pregnant I gained a very big 50kg and I was the biggest I had ever been.
Over the past years, my weight has fluctuated, staying around the 83kg-89kg except in pregnancy I'd get to 95kg again.
After my last baby, I found you on Facebook & have never looked back!
I joined up in April and weighed 94kg, I have the Healthy Mummy Smoothies twice a day (and I absolutely love them) they are just perfect for energy whilst you are breastfeeding and now I find them so handy on the school runs – now I never miss breakfast.
I find information is everything, and the Healthy Mummy team make sure we have all the information we need to help us stay healthy and lose weight. I am now 77-76kg I've lost a massive 18-17kg, my goal is 65kg – YAY!
The before shot was me at 94kg and I am so proud of what I have been able to achieve. Thank you so much  – I can only hope my story can help others 🙂
Shae Jovan