Gestational Diabetes (GDM) only occurs during pregnancy. Here Ali Pickles, Registered Midwife provides some information about this pregnancy condition.
There are many risk factors for GDM including obesity, polycystic ovaries, family history of Type 2 diabetes, older mums, ethnic backgrounds (Asian, Polynesian), and previous large baby.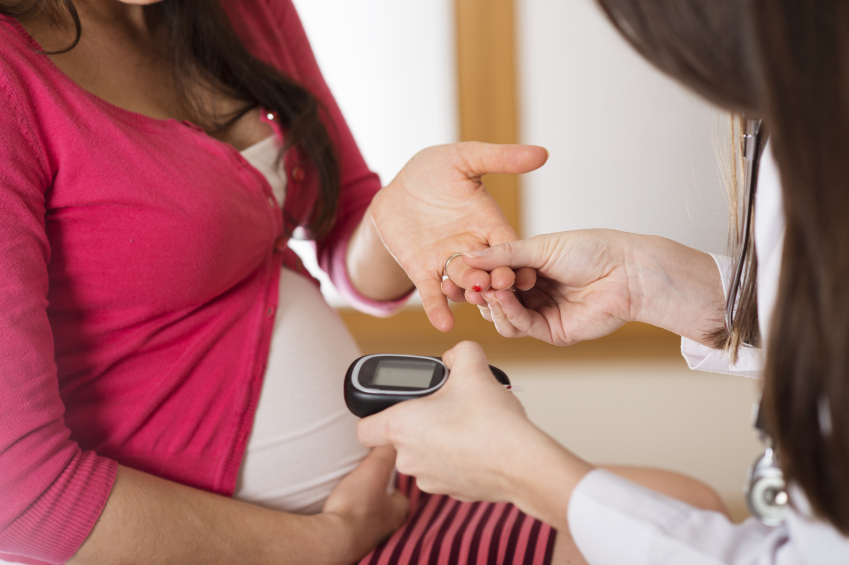 It is not your fault nor is it something you have done wrong. If you have GDM relating to obesity don't beat yourself about it. 3-8% of pregnant women have GDM and it goes away after the baby is born.
The Healthy GDM Pregnancy Mummy Diet:
Keeping a good healthy pregnancy diet is the key to managing GDM. Many women can avoid having to start insulin and other diabetic medication if they manage their diet keeping their blood sugar levels within target.
The Healthy Mummy Pregnancy Eating & Exercise Guide is GDM friendly as women with GDM are encouraged to eat regular meals, eat small amounts more regularly and have a diet including carbohydrates.
Meals should be enjoyable, limiting saturated fats and high in fibre. High sugary foods like cakes, biscuits, soft drinks, juices etc. should also be avoided. Eating low glycaemic foods such as basmati rice, quinoa, pasta, legumes and multigrain breads are recommended and incorporated into the Healthy Mummy Pregnancy Eating Plan.
Other foods to incorporate into a healthy pregnancy diet:
Calcium (e.g. milk and cheese)
Iron (e.g. red meat, chicken and fish)
Folic acid (e.g. dark green leafy vegetables lightly cooked)
Low in fat, particularly saturated fat (e.g. use oils such as canola, olive and polyunsaturated oils and use lean meats such as skinless chicken and low fat dairy foods)
Nutritious foods that will not cause excess weight gain or cause your blood glucose levels to go up can be eaten freely. These foods include fruits such as strawberries, passion fruit, lemons and limes and all vegetables (keep potato, corn, sweet potato and taro to a minimum). Try to include at least 2 cups of vegetables each day.
Important Facts with GDM
Speak to your doctor and a diabetes nurse/specialist for more information.
Subsidies can be available for blood sugar monitors etc.
Remember to monitor your blood sugar levels as discussed by your medical professional.
After bub is born make sure you have a follow up appointment with your doctor.
50% of mothers who have GDM will develop Type 2 diabetes however this risk can be decreased if obesity is the major risk factor.
Exercise is important!
To help maintain healthy blood sugar levels it is important to include exercise into your daily routine. 10,000 steps or 150 minutes per week is recommended during pregnancy. Any exercise should slightly increase your heart rate and not be too intense unless you are already a fit person.
Main Foods To Avoid When You Have GDM:
Sugars
Learn to read labels! Some low fat foods are actually high in sugars to give them taste. Sugars come in many names including fructose, lactose, honey, sucrose, sugar, raw sugar, invert sugar, glucose syrup, malt, malt extract, dextrose, treacle, golden syrup, corn syrup, molasses, maple syrup, brown sugar, disaccharides, monosaccharides, polysaccharides, maltose, mannitol, sorbitol, xylitol.
When reading labels look for the sugar content. Aim for a sugar content being less than 10 grams per 100 grams (10 percent).
In foods containing fruit aim for less than 25g per 100g (25 percent).
Ideal blood sugar readings:
Before breakfast less than 5.5mmol/L
2 hours after each main meal less than 7.0 mmol/l
Why Is A Low GI Eating Plan Recommended?
It will prevent large fluctuations in blood glucose levels.
It will help you feel fuller longer and reduce hunger.
It will help you to manage your weight.
It will help you manage your blood fats.
It will lead to lower insulin levels.
Include at least one low GI food with each meal and snack.
Use lemon juice or vinegars as dressings/sauces as the acidity lowers the GI of carbohydrates.
Include protein in your meals and snacks. Protein foods include lean meat, chicken, fish, eggs, reduced fat cheeses and legumes.
Include legumes (peas, beans and lentils) like baked beans, kidney beans, butter beans, chick peas.
Include lots of non-starchy vegetables and salads.
Simple Food Substitutions:
HIGH GI FOODS
white or wholemeal bread
processed breakfast cereals
plain biscuits and crackers
canned fruits in syrup
potatoes
white or jasmine rice
commercial puddings, custards and ice cream
CHANGE TO LOW GI
wholegrain breads, "grainy" made with whole seeds
traditional rolled oats or low GI cereals based on bran, barley and oats
biscuits made with fruit, wholegrain and oats
fresh temperate fruits (apples, pears, plums)
Charisma potatoes, wholegrain pasta or legumes
Basmati or cauliflower rice
plain yoghurts, diet flavoured yoghurts (check sugars), homemade custard and ice cream
Ali Pickles, Registered Midwife
Click here to visit our pregnancy products shop.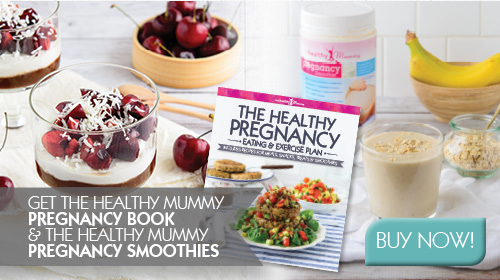 Disclaimer: Always speak to your doctor before changing your diet,taking any supplements or undertaking any exercise program in pregnancy. The information on this site is for reference only and is not medical advice and should not be treated as such, and is not intended in any way as a substitute for professional medical advice..
Our plans promote a health weight gain in pregnancy to benefit the mother & baby and you can read more on this here 
The owners of The Healthy Mummy do not make any representations or warranties, express or implied and shall have no liability or responsibility to any person or entity with respect to any loss or damage caused or alleged to be caused directly or indirectly by the information contained herein and nothing in this disclaimer will limit or exclude any liability for death or personal injury resulting from negligence, limit or exclude any liability for fraud or fraudulent misrepresentation, limit any liabilities in any way that is not permitted under applicable law or exclude any liabilities that may not be excluded under applicable law.