How To Strengthen Your Back
It's reported that between 50 – 70 per cent of prenatal mums experience back pain which can often continue for many months after the birth of your little one.
The hormone 'relaxin' which helps a new mums ligaments become more flexible is the main contributor to back pain especially if you have a weakened core and pelvic area.
To prevent back pain and strains see our Healthy Mummy exercise tips, taken from our Post Pregnancy Exercise DVD that will ensure you stay pain free and strengthen your back too.
Top Tips For Preventing And Managing Back Pain.
1. Bend your knees! It doesn't matter if you're picking a small toy off of the floor or lifting your baby out of their cot you must bend your knees to reduce the stress on your lower back as you bend.
2. Whenever you're standing with your baby keep them close to your chest. Holding your baby away from your body puts a much greater strain on your back.
3. Follow a safe and effective exercise routine. The best way to alleviate back pain is to strengthen it and prepare it for the challenges of being a busy Mum. The Superman (mum) exercise shown above is one of the best upper back strengthening techniques as featured in The Healthy Mummy Post Pregnancy Exercise DVD
4. Avoid twisting at the hips. If you need to turn around try to turn your whole body starting with your feet.
5. Try to avoid carrying your baby on your hip. This can feel like a comfortable position for carrying your little one, but the stress put upon an unstable pelvic area is large enough to cause long term problems.
6. Try to maintain correct posture. This can be hard to remember when it's 3am in the morning, but small changes such as using a nursing pillow instead of hunching over your baby when feeding will greatly improve your posture.
Watch the clip below to get some a great back strengthening exercises.
Our Post Pregnancy Exercise DVD Is PERFECT For Busy Mums!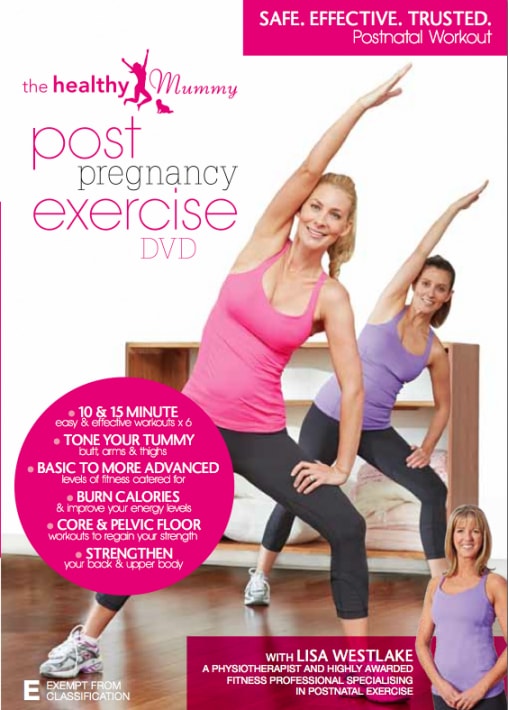 Trying to fit exercise into your day when you are a busy mum can be a challenge. At The Healthy Mummy we understand this, and this is why we have created The Healthy Mummy Post Pregnancy Exercise DVD. The DVD contains safe and effective workouts that you can do in the comfort of your own home.
The workouts burn approximately 450 – 550 calories per hour and will help tone up the key areas of your body such as your tummy, hips and thighs.
The DVD can be followed by all mums (for example: new mums or mums with older children) and can be followed by someone with a basic or a more advanced level of fitness.
Buy your copy here!