Exciting News – Healthy Mummy IMMUNE is HERE!
The Healthy Mummy IMMUNE has landed. Healthy Mummy Immune has been specifically designed for busy mums. It has been created to help BOOST mum's immune system naturally. 
It is a supercharged blend of real food and organic sources packed with vitamins and zinc to assist immune function and help keep you healthy.
IMMUNE is high in Vitamin C, Vitamin D, Vitamin A and Zinc which support and nourish the immune system naturally.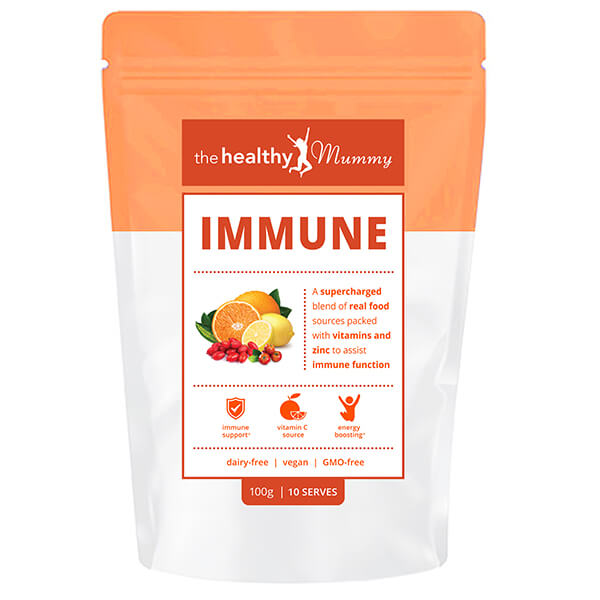 Exciting News – Healthy Mummy IMMUNE is HERE!
Healthy Mummy IMMUNE is a very unique product. There are very few products that compare or are of similar purpose.
Just check out the table below!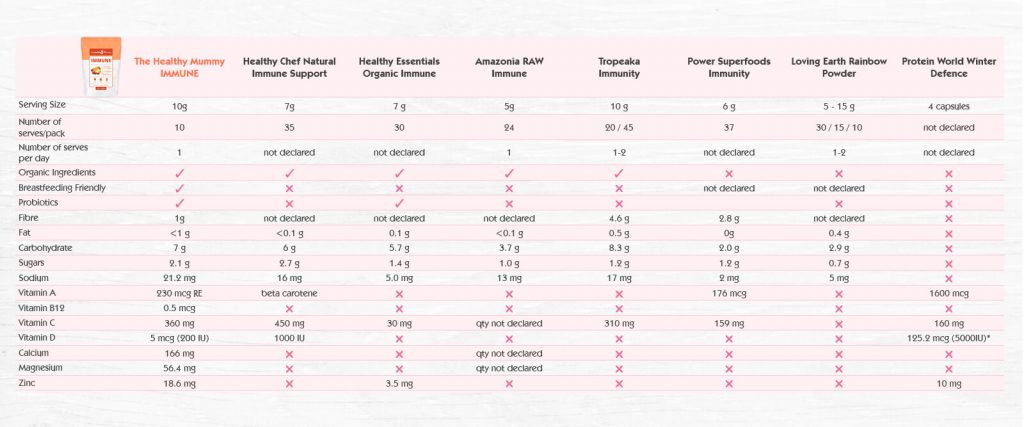 Vitamins and benefits of Immune
Vitamin A
Immune is an INCREDIBLE source of Vitamin A. Vitamin A is great for the following:
Normal vision
Skin and mucous membrane structure and function
Cell differentiation
Contributes to normal growth and development in children
Contributes to normal iron metabolism
Contributes to normal

immune

system function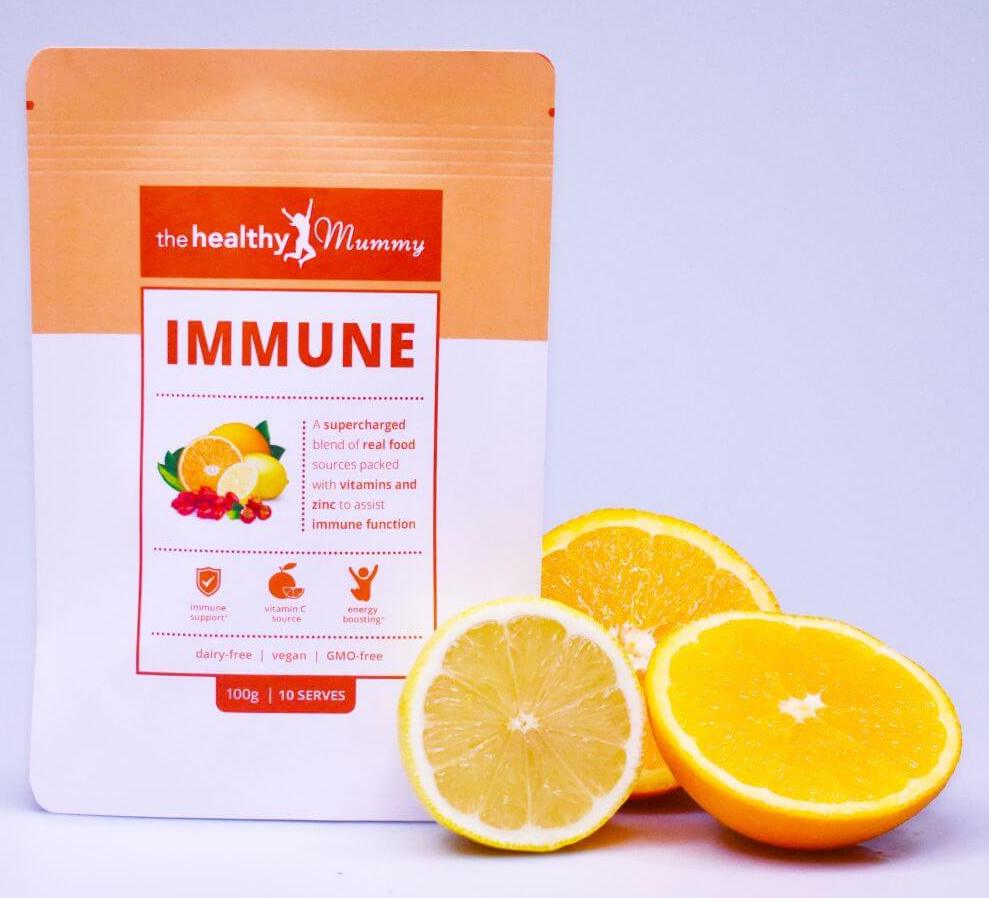 Vitamin C
Immune is also an amazing course of Vitamin C. Vitamin C is great for iron absorption, normal neurological function, collagen formation for the normal function of skin and normal energy metabolism (just to name a few).
Vitamin D
Immune also contains 5mcg of Vitamin D per service. Vitamin D is necessary for maintenance of normal muscle function, immune function and normal cell division.
Calcium
Calcium is FAB for nerve and muscle function and normal energy metabolism.
Magnesium
Magnesium contributes to normal energy metabolism and is great for both normal protein synthesis and reduction of tiredness and fatigue.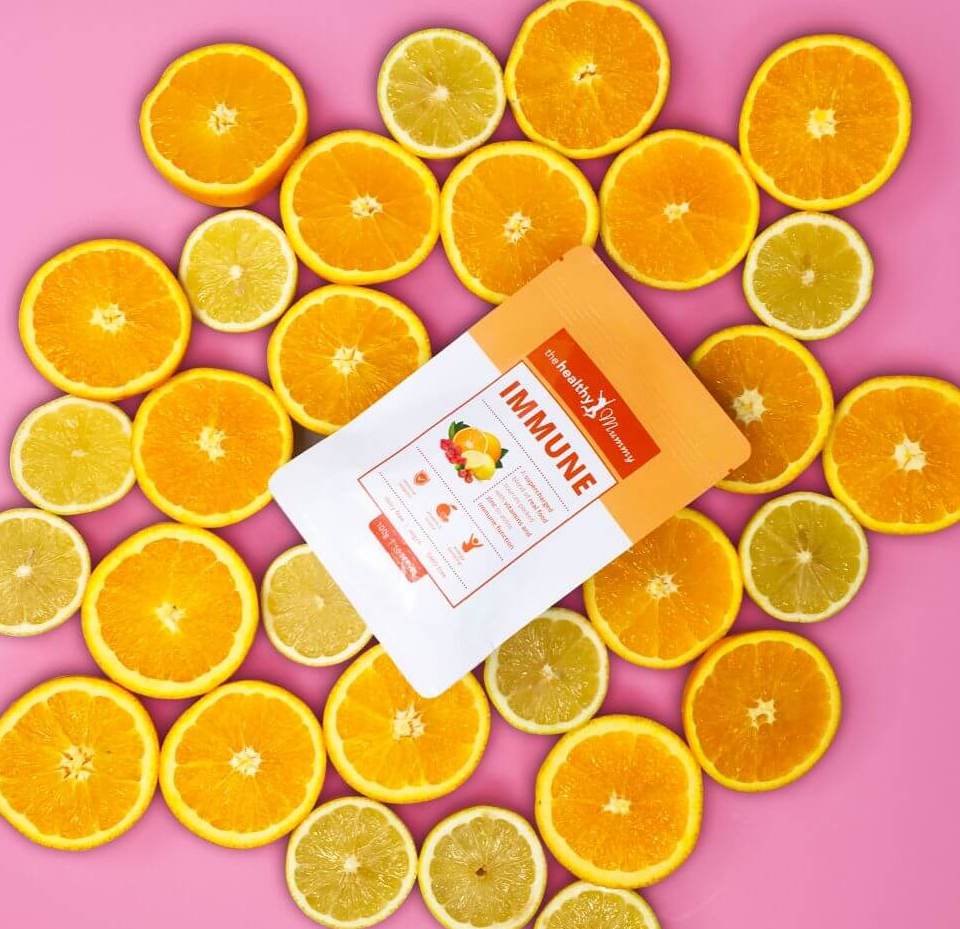 Why is our IMMUNE supplement different?
It has been specifically formulated for BUSY MUMS
It nourishes your immune system NATURALLY (includes organic ingredients)
It is safe for use whilst BREASTFEEDING
A VEGAN-friendly product. Free from dairy and preservatives
Contains PROBIOTICS  – With good gut function you can absorb your nutrients better, so you are better primed to fight off winter colds and other nasties.
Contains no gluten ingredients
Helps to BOOST your Immune System
Tastes GREAT with a berry flavour
How to use it?
Mix 10g per day in a glass of water or juice or add as a booster in your Healthy Mummy Smoothie. Take once daily.
For more FAQ'S on our amazing new product, click here.