Indian Pork Curry
Are you looking for an Indian pork Curry Recipe? Find some of the best and easiest recipes for your Indian delight. Try this Delicious curry recipe today!
Commercial Indian dishes can have a bad reputation for being high in calories and fat, however this is not the case in the traditional culture. Making your own curry at home ensures you retain the aromatic flavours of the spices you use, while maintaining your healthy eating plan.
This Indian curry recipe uses 'cauliflower rice' to decrease calories while increasing nutrition. This technique is very simple and does not reduce the flavour or texture of the meal in any way.
In fact, cauliflower is very high in vitamin C and K, protein, folate and vitamin B6- all of which are important nutrients for weight loss. This technique may be used to replace all of the rice in any recipe to further reduce calories, particularly useful if you have indulged a little too much during the day (for a special occasion for example).
Turmeric is another key component of this tasty dish, which gives its bright yellow colouring. Turmeric contains powerful anti-oxidants providing excellent health benefits plus it's also very high in vitamin C, vitamin K and folate! It further benefits weight loss by stimulating the bile that helps digest fat and has even been shown to help regulate our blood sugar and insulin levels.
Note: This is a mild-medium spiced dish. If you prefer your curry extra spicy, add an extra chilli or do not remove the seeds.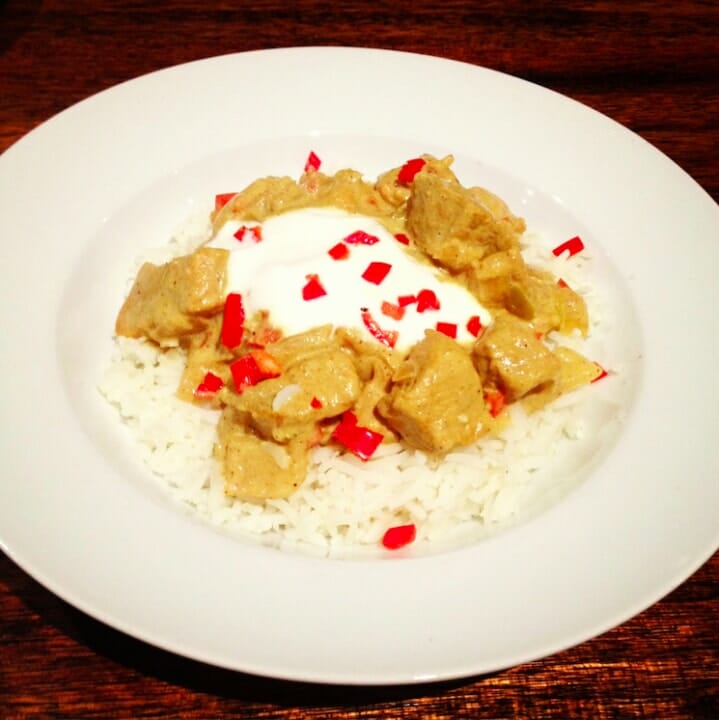 For more healthy recipes like this Indian pork curry recipe, Join Us here at The Healthy Mummy and start your healthy lifestyle TODAY!
Ingredients
1tbsp rice bran or coconut oil
400g diced, lean pork
1 tsp turmeric
1 brown onion
2 cloves garlic
1 tbsp fresh grated ginger
1 large red chilli, deseeded and finely chopped
2 tsp garam masala powder
¼ cup malt vinegar
1 ½ cups boiling water
2 cups grated cauliflower
1 cup low GI rice (such as Brown, Black, Red or Basmati)
20ml natural Greek yoghurt
Method
Sprinkle turmeric over pork, stir well and set aside.
Add the oil, garlic, ginger and onion to a saucepan and sauté until softened. Add pork and cook for a further 5 minutes while stirring.
Add chilli, garam masala, malt vinegar and boiling water and simmer for 30 minutes.
Meanwhile, after a short time, bring water to boil in a medium saucepan.
Add rice and cook as per packet instructions. 1 Minute before the rice is ready, place a steaming pan or basket to the top of the saucepan with grated cauliflower.
After one-two minutes turn off the heat, rinse and strain the rice, Stir through steamed cauliflower and place evenly into dinner bowls.
Remove pork curry from the heat and stir Greek yoghurt.
Spoon pork curry mixture over the cauliflower and rice to serve.
For more curry recipes try this delicious Thai fish curry recipe!
Serves 4
390 cal per serve