Successful long-term weight loss and healthy eating is all about flavor and this meal has plenty of it! The healthy eating beef recipe is perfectly complimented by the flavors of cumin, cinnamon and even maple syrup.
The method of braising involves searing meat on high heat, before simmering with liquid over time to soften the meat and concentrate the sauce. It's the ideal technique for more affordable cuts of meat due to its tenderizing effect. While simmering, the liquid evaporates leaving behind a rich, concentrated sauce full of flavor and nutrition.
A flavoring vegetable in this dish is the parsnip, a vitamin-dense and tasty vegetable readily available at most supermarkets. Its health benefits include being high in fiber, anti-oxidants and B vitamins which all assist weight loss by increasing energy levels and filling you up.
Tip: You can add variety by using different vegetables such as carrot and beetroot.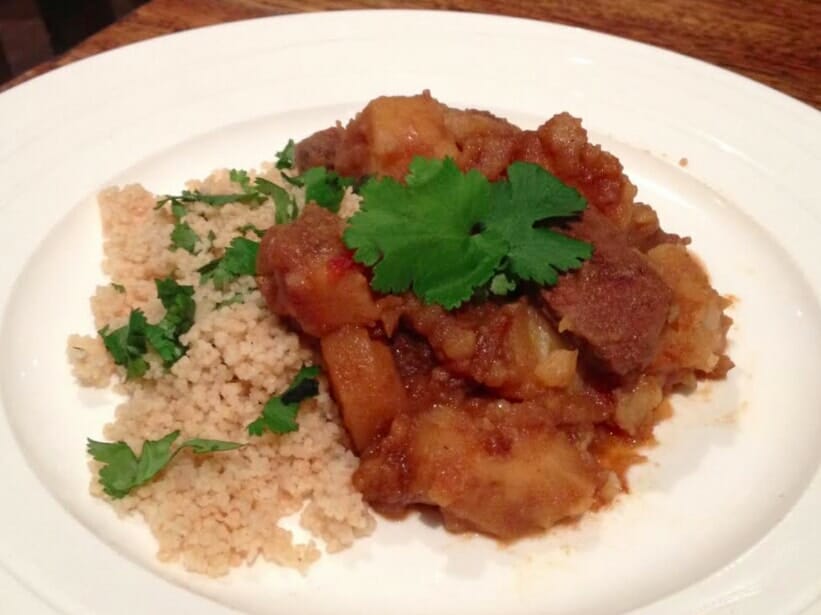 Ingredients
1 tbsp. rice bran oil
400g lean beef, cubed (2cm)
2 cloves garlic, crushed
1 brown onion, diced
1 tsp ground cumin
2 ½ – 3 cups reduced salt chicken stock
2 tbsp. tamari sauce
1 tbsp. pure maple syrup
¼ tsp cinnamon
1 tbsp. Worcestershire sauce
2 roma or vine tomatoes, chopped
2 potatoes, peeled and cubed
2 small parsnip, peeled and cubed
½ cup whole-wheat couscous
½ cup fresh coriander, chopped
Black pepper
Method
Cook oil, beef, garlic and onion over a high heat until the outside has just browned.
Add cumin, 1 ½ cups stock, tamari sauce, maple syrup, cinnamon, tomato and Worcestershire sauce. Bring to the boil and simmer 45 minutes, stirring occasionally and adding more stock if required.
After 45 minutes, add another 1 cup stock, tomatoes, potatoes and parsnip and simmer for a further 30-45 minutes, stirring occasionally and adding more stock if required- until vegetables have softened and sauce has thickened slightly.
Cook couscous and stir through coriander and black pepper to taste. Serve with braised beef mixture on top.
Serves 4
425 cal per serve
Protein: 42g
Fat: 5.5g
If you are ready to lose weight then The Healthy Mummy plans offer a healthy and safe exercise and diet plans that are safe if you are breastfeeding and you can use code LOYALTY for a 10% DISCOUNT at the checkout.
Plus we have Cookbooks, Calorie Bibles, Exercise DVD's, Meal Replacement Smoothies and Our 28 Day Plan in our shop.