We've got exciting news for anyone looking for a delicious and nutritious low-calorie Meal Replacement – The Healthy Mummy Pumpkin Soup is here!
This warming and yummy soup is perfect for anyone who is watching their weight* and wants a meal that is packed with nutrition without spending hours slaving over a hot stove. This soup literally takes the same time to prepare as a cup of tea!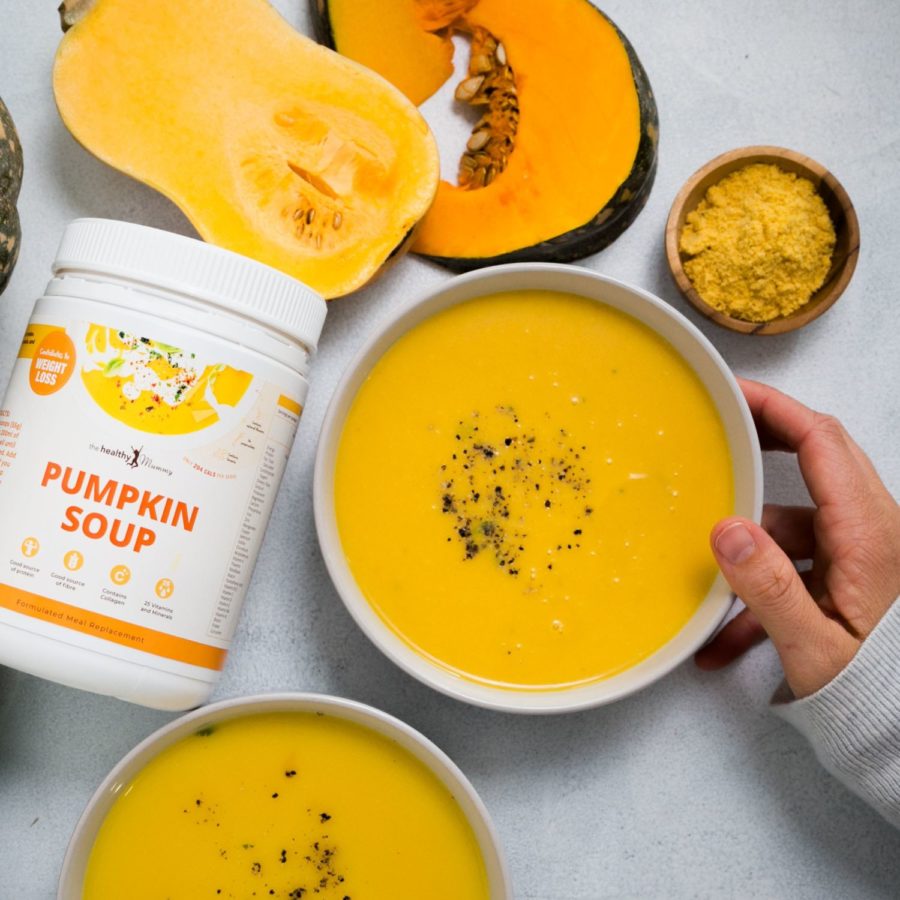 Meal Replacement for Busy Mums!
Let's face it, we all have those hectic days when we're super busy either running around after the kids, or working at home or in the office, or just racing around doing errands. Sometimes, we just don't have time to stop! This warming soup is perfect for those days. It's so convenient as it takes no time to prepare, and just like a smoothie, is a great meal to have on the go!
Low in Cals
One of the best things about this filling soup is that it is low in calories, and contributes to weight loss*. It's perfect to form part of your weight loss plan. One cup or bowl of soup is just 204 calories! This is a great meal to include as part of The 28 Day Weight Loss Challenge.
Full of Superfoods, Fibre & Protein
This soup packs a nutritional punch! Not only is it a great source of fibre and protein, which means that it will keep you fuller for longer, it also contains SUPERFOODS!!! Yes really! This soup contains Collagen, which is so good for our skin, nails and hair. Plus Turmeric, a known powerful anti-inflammatory and antioxidant. It has 25 vitamins and minerals so you can rest assured you're getting a super nutritious meal.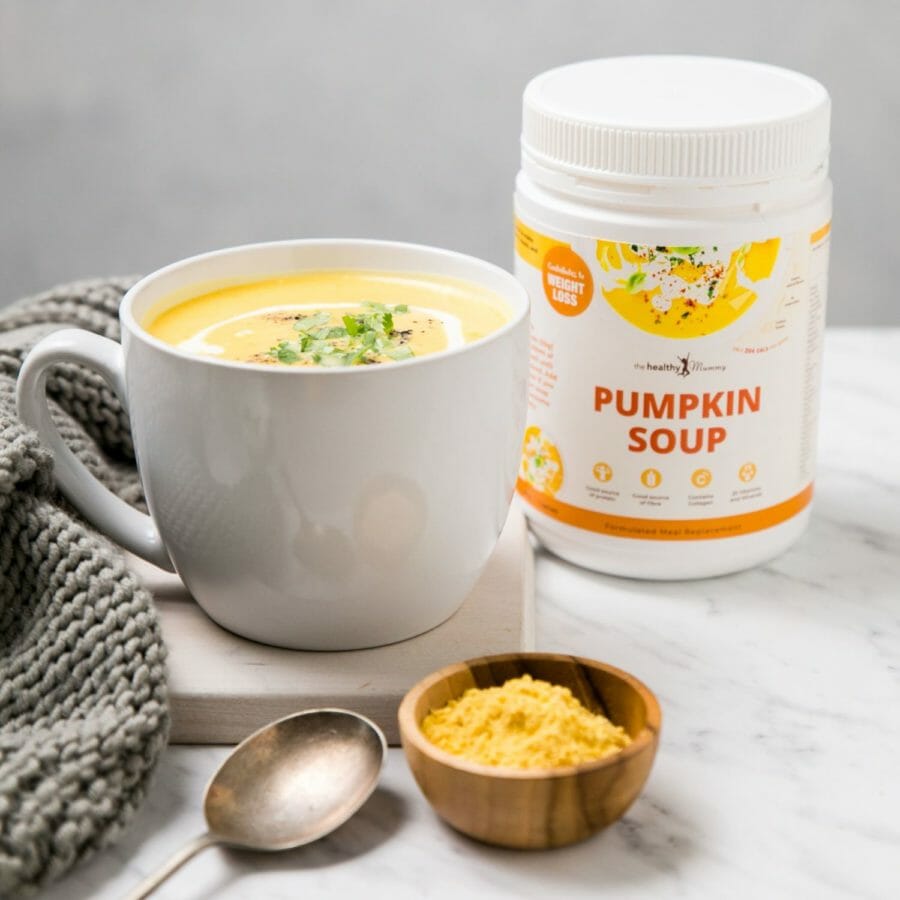 So Easy To Prepare!
It literally couldn't be simpler. Just add 2 level scoops of powder to 200 ml of hot water, stir until completely dissolved and you're good to go! For more soup recipes try this delicious minestrone soup recipe!
One 375 tub contains 7 serves.

The Reviews are in! Hear what Real Mums are saying.
"This one really hit the spot with the taste buds. It's full of flavour and smells amazing! It leaves a nice taste in your mouth afterwards as well. Perfect for a cold winters day." Amy from Tasmania
"AT LAST! I have been asking The Healthy Mummy to do a soup for ages! Thank you for listening! I was so happy to trial it – it is super yummy and perfect for winter!" Shantelle from Qld.
"Love the new soup. Filling tasty and love that I can now have this when I am too busy to cook" Alexia from SA.
Hear what our Nutritionist says
Our amazing Healthy Mummy Nutritionist Cheree Sheldon has given it the thumbs up!
Cheree says "This is perfect for all the super busy people who need a quick, nutritious meal on the go. It is literally as easy as adding hot water and stirring! It's a low cal meal that packs a big punch in terms of nutrients. The addition of collagen is great for gut health, while the fibre content will have you feeling satiated.
I really like that it is not single serve packaging, so the planet will be thankful as well! Keep it in your desk drawer at work for hectic days!" and also I highly suggest trying also our Thai pumpkin soup recipe ! 
What are you waiting for?!!
Click here to get yourself a Tub of Meal Replacement Pumpkin Soup TODAY!!!!
*when used in conjunction with a diet reduced in energy and an exercise plan.