Introducing Mandy our new Guest Blogger
Hi my name is Mandy and I have just jumped on board with Rhian and her team as a guest blogger for The Healthy Mummy. Firstly I am incredibly excited and am humbled to have this opportunity. I look forward to writing for you and also getting to know you all as we exchange ideas and conversation around how to be healthy mummies.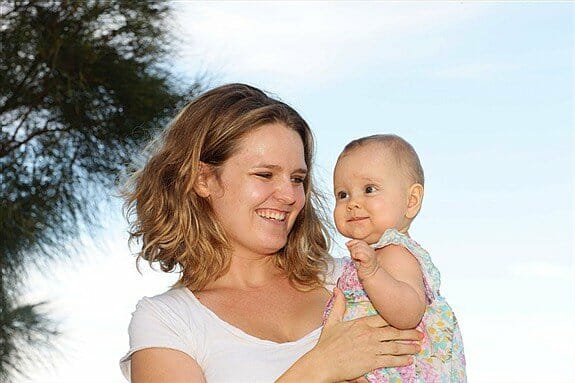 I thought it was important for me to introduce myself formally in this first post, but obviously you will get to know me better as the weeks tick along. I am foremost a mummy to two beautiful little girls, the eldest almost three and the youngest, just six months. These two have taught me a lot already and opened my eyes to how I would like to live my life in this world. I am married to a creative spunk who is incredibly supportive of all my wild and strange food adventures (and mess) in and out of the kitchen. We live a couple of hours north of Sydney, nice and close to the beach, lucky me!
Professionally I am a food scientist and nutritionist with a very slow Masters (in Human Nutrition) cooking while I raise our young family. I have worked with some large multinational companies in the past in varying roles around food and then out of nowhere a couple of years ago, we relocated with hubby's work and my professional life took a huge detour. It was then that I was introduced to the wonderful world of writing and communicating about food and nutrition to all different members of the community in person and online. This was a new beginning for me and a couple of dots and crossing of ts later I am here, on my computer writing for The Healthy Mummy!
It is incredibly important to me to try and be a healthy mummy every day. Not only for myself, but for my girls, my husband and our families. What does a healthy mummy mean to me? It means to care about food and nutrition, about what I fuel my family and our bodies with. It is not the latest fad with dieting, eliminating food groups unnecessarily or by no means starving yourself. To be a healthy mummy means to me to be fit and strong mentally and physically so I can tackle all that life throws and so I can enjoy what the outdoors have to offer. Being a healthy mummy I love to cook, read, walk, swim (not so much at the moment), dance, explore, drink, laugh, listen and eat everything that comes my way. I am obviously very passionate about food and nutrition but I also love to exercise by myself and as a family. Things obviously changed a lot for our family and myself when we had children and I am still learning how it all fits together and how we can all be happy and healthy together. Writing for The Healthy Mummy gives me the opportunity to help others but also myself on my own little journey as a healthy mummy.
I believe in Rhian and her site of The Healthy Mummy, as well as her fabulous new products. It is often very tricky as mums to eat well when we our juggling all our 'to dos' for the day. I believe that the Healthy Mummy range of products are a simple and easy way to be able to stay on track of your health without compromising on key nutrients such as omega 3s . It is way easier and healthier to have a quick smoothie blended with fruits than to have a drive thru bacon and egg something on your way to work or soccer practice. After my second babe, time has often been poor, and I have often resorted to a last minute smoothie to get me through the day, rather then snacking on biscuits and coffee relying on the sugar and caffeine.
I am so looking forward to raising discussion points about being healthy mummies. I say discussion points as although I am the one writing the initial point, it is the whole online community who are part of the conversation, and I do hope it will be a conversation. My personal and professional opinion is one, but every single  one of us has different experiences, backgrounds and challenges on our own roads to being healthy mummies. I would love to hear your voice too.
So hi, I am Mandy, I am a mum and I want to be a healthy one.