After the amazing 15kg weight loss result I achieved in April (you can read Janet's story here) by following the 28 day plan closely and having daily healthy mummy smoothies, I hit a bit of a plateau.
It was more mental than anything as I remained very active but found it hard to stay on track with my healthy eating.
My biggest challenge is having a very slim, active husband who is 6ft 5 and will regularly eat a whole packet of chocolate cream biscuits in a night and never gain a kilo! He loves sweet things so they are always in the house and of course he eats right next to me.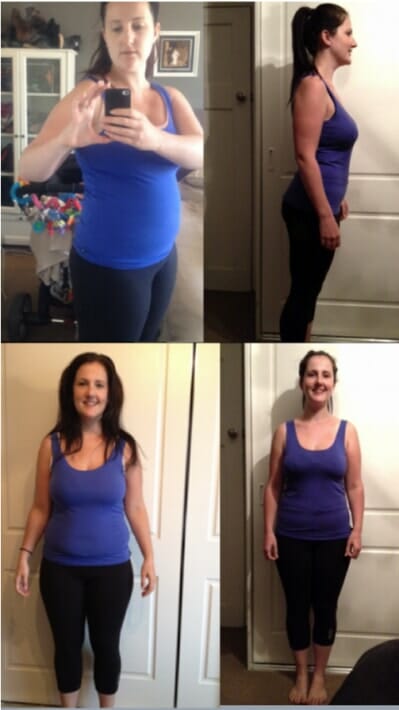 I have recently tried to counteract this by buying him treats that I am not tempted to eat such as jam doughnuts (I don't like jam), Turkish Delight or other treats that I don't like. I am also slowly transitioning him to healthier treats that I will be happy for my son to enjoy when he is older.
I still have the occasional healthy mummy smoothie and love the taste and convenience when I need to 'grab and go'. Plus I use the 28 Day Plan still and the recipes from the site. We had a weekend away for our 10 year anniversary recently and it was surprisingly easy to make healthy meal choices while eating out for 3 meals a day.  This proved to me this is not a diet- It's a way of life.
During this weekend away I had the amazing experience of buying my 'fancy' jeans that I had waited so long for. Throughout my weight loss journey I had in my mind that once I hit my goal weight (66kgs) I would buy some expensive jeans and it was worth the wait. I feel great in my Sass & Bides. Jeans have always made me feel chunky but now I feel strong, healthy and comfortable in my skin and can enjoy wearing nice clothes. I am actually 8kgs lighter than I was before I got pregnant so this is the best I have felt in a VERY long time!
Over the last few months I have been very active and even participated in my first ever running event which I loved. I have signed up to another one in November and can't wait! My next challenge is to increase my strength and muscle mass. I am starting to get back into the strength exercise from the 28 day plan which will help me tone my body even more- and really looking forward to the new DVD!
Thanks so much for your encouragement and support- I couldn't have done this on my own.
Special Offer & 10% Discount
If you are ready to lose weight then The Healthy Mummy plans offer a healthy and safe exercise and diet routine that are safe if you are breastfeeding and you can use code LOYALTY for a 10% DISCOUNT at the checkout
PLUS our BEST SELLING 28 Day Diet & Exercise Plan has now launched as an 84pg Printed Book and you can get your copy here