I wanted to say thank you for all your great product range. I cam across your site and Healthy Mummy Range when I was at my heaviest of 92 kilograms.
After my second baby, my first was only 14 months old. As I had them so close together, I had not lost all my pregnancy weight from my first daughter.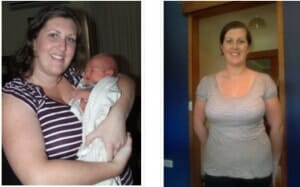 I had put on a huge 22 kilograms and with my wedding coming up this year I knew I had to find some kind of weight loss pan.
So thank you so much. I have been on your 28 diet and exercise plan for 12 weeks and after a massive effort and determination I have lost 12 kg. I have another 10 kilograms to go but I know I can get there now. I feel confident with the tools you have given me.
I am so grateful for coming across this and having you and other members there for support and I now know I can do it and get to my goal! Thank you, Jessica Seadon
Go Jessica. You look amazing and well done on your hard work, it is paying off!
If you are also interested in losing  a little weight, maybe our Healthy Mummy Range could help you too!