'I'm putting my health first!' TV personality Jo Casamento reviews The Healthy Mummy!
At the beginning of this year, TV personality Jo Casamento decided she was going to overhaul her lifestyle and looked to The Healthy Mummy for help and signed up to our 28 Day Weight Loss Challenge.
Since then, the respected entertainment and lifestyle journalist has been testing out our products on her social media platform and she's a HUGE fan!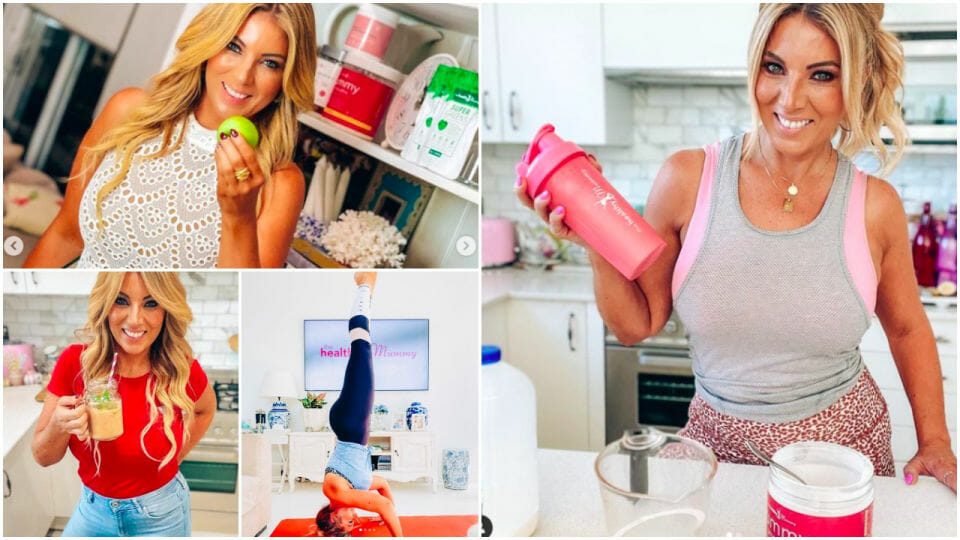 "2021!! I'm making it the year of NO EXCUSES," she wrote on her Instagram page.
"I'm kick starting the new year with @thehealthymummy #TheHealthyMummyNOEXCUSES Challenge and it starts Jan 4th. Why don't you join me?"
View this post on Instagram
REVIEW: Jo Casamento jumps on The Healthy Mummy bandwagon
Jo admits that her health has not always been her top priority.
"I can't remember a time it was! I always put it in the "one day" basket (you know the airplane mask theory?) and make a heap of excuses. But I realise it's super important to start looking after my health physically, mentally and internally," she says.
"So when The Healthy Mummy challenged me to put ME first in 2021 I thought WHY NOT!?
"For the next few months I'm actually going to put my health FIRST. The Healthy Mummy do a heap of products but I have chosen products in their range to suit me and my goals and I will be using their premium smoothies, their collagen powder, their SKIN anti age range and the fitness workouts in their app – and specifically the STRONGER  fitness workouts as my 2021 goal is to get STRONGER and healthier."
Jo has been following our 28 Day Weight Loss Challenge
View this post on Instagram
It's not easy changing your old habits! Jo says she has found that the 28 Day Weight Loss Challenge app is a terrific guide on what to nourish your body with and how much exercise you need to do to help you lose weight.
"One thing I have learned from the @thehealthymummy App is that while the 28 Day #noexcuses challenge provides me with a precise nutrition and exercise plan; their mind power program – which sets daily tasks including questionnaires, readings and goal settings – has been helping me maintain momentum to stick with the change so I don't slip into old habits!
"I'm learning that logging non-scale victories is just as important! PS. Their brand new PILATES Program is amazing."
Jo reveals she's feeling better thanks to The Healthy Mummy
View this post on Instagram
It didn't take long for Jo to start feeling better than she did before. The beautiful TV host admits she's a big fan of the Tummy Smoothies, as they're so easy to "drink on the run".
"Week 2 of @thehealthymummy #NOEXCUSES 28-Day Challenge & I'm feeling better already!" she writes.
"Loving the Tummy Smoothies! So easy to drink on the run. I just add two scoops & milk (this one is Vanilla) & I'm good to go! Perfect as a meal replacement or to stay fuller for longer & it's full of vitamins, minerals, nutrients & antioxidants PLUS it's 97% Sugar Free."
Jo loves our famous Carb-X
View this post on Instagram
Self-confessed carb addict, Jo, says that she found Carb-X a 'total game changer' as it slows down your carb intake.
"If you're like me and carbs are one of your weaknesses & you just can't give up biscuits, bread, rice, pasta and pizza then Carb X is just for you," she says.
"It's so easy to make on the run, simply mix 1 sachet with 100ml of water, 30 mins before a meal, up to three times per day. Or you can also add a sachet of Carb X to your smoothie. Its yummy vanilla and it's a total game changer!"
Falling off the wagon and getting back on again
View this post on Instagram
It's not easy staying on the healthy living wagon sometimes, and Jo shows she's just like the rest of us and has slipped up a few times.
She says, "I'm not gonna lie this week has been hard! I've fallen off @thehealthymummy wagon a few times! (I'm blaming my big sis and her weeklong fiesta of celebrations for her 50th!)
"So, while I've indulged in more pasta and Prosecco than I should have, I'm still making sure I focus on myself by looking after my skin from the inside and sticking to my new exercise routine."
Thankfully, The Healthy Mummy's facial roller made from real rose quartz was able to help her feel rejuvenated.
"This facial roller is fast becoming an essential tool in my skincare routine. It helps cool and soothe puffiness, improve blood circulation, promote lymphatic drainage, improve skin elasticity and relieve facial tension.
"Perfect after a big night out! I keep mine in the fridge for extra cooling benefits!"
Jo's top tips for living The Healthy Mummy lifestyle
View this post on Instagram
Jo shared a few of the easy and helpful life changing tips she's learned from The Healthy Mummy community, a group of hundreds of thousands of like-minded women supporting each other.
Physically split your meal in two and when you get to the second half pause mid-meal to reassess if you're still hungry!
No time for a full work out? Use your body weight to do 25 squats at your desk – it'll increase your blood flow.
If I'm hungry, I brew a cup of tea and it often stops me snacking! Extra bonus? Green tea 3 x a week has been linked to 25% lower risk of heart disease.
Do produce prep! Cutting up one veggie in advance to snack on through the day increases your intake of fibre, minerals and improves digestion
Add a squeeze of lemon to your greens! The Vitamin C in lemon helps absorb the iron
Before the end of your shower turn it to cold and stick to it for 30 secs. It helps boost your immunity and your metabolism!
Great tips! Thanks so much Jo for the wonderful reviews on our products. You're looking incredible and we're glad you've decided to join us to help put yourself and your health first this year.
Put yourself first this year. Join Jo on our 28 Day Weight Loss Challenge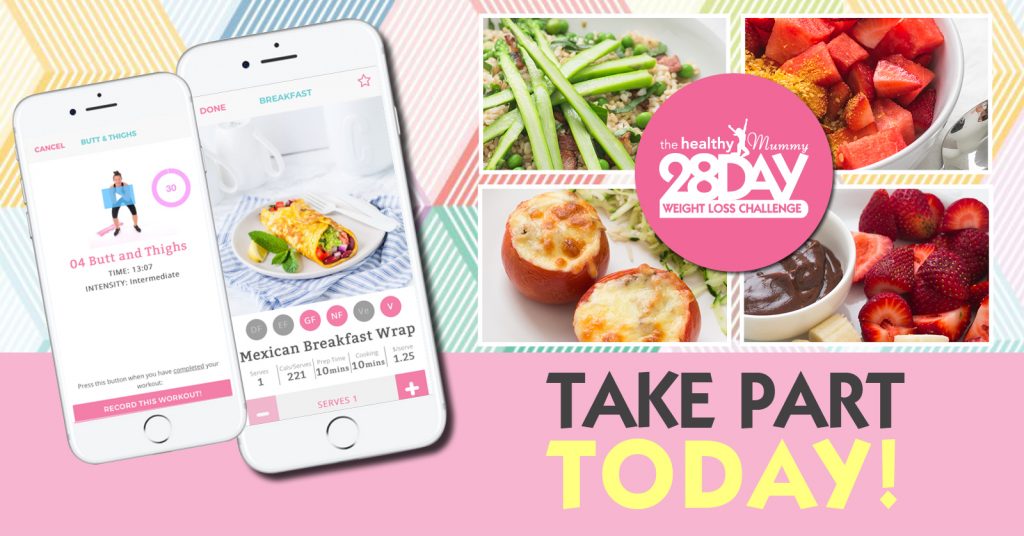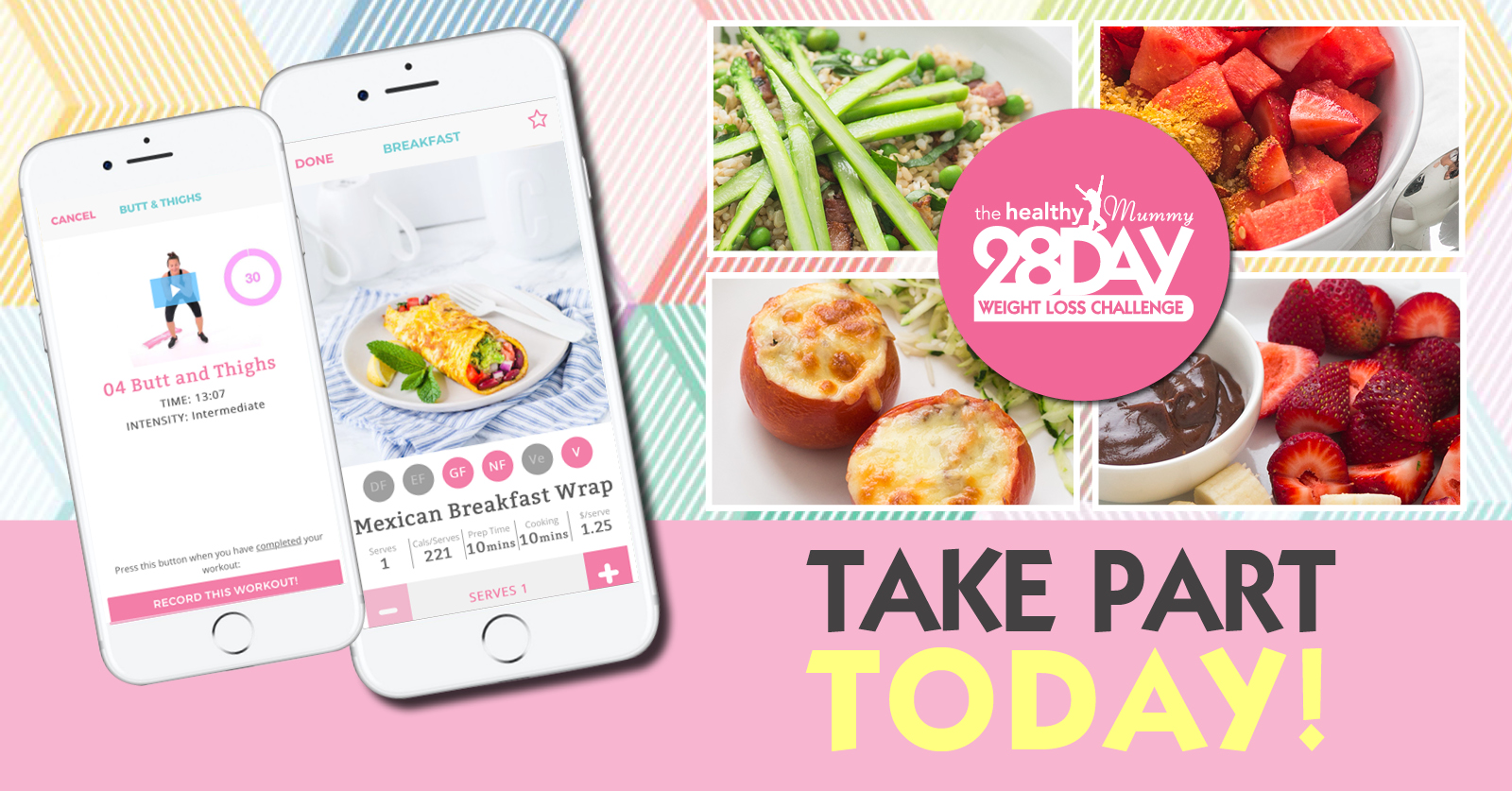 The Healthy Mummy exists to help tired, busy mums like you SHIFT THE BABY WEIGHT and REACH YOUR GOAL WEIGHT.
Join the 28 Day Weight Loss Challenge and have 4,000 recipes at your disposal!
The 28 Day Weight Loss Challenge is an affordable, breastfeeding-friendly and realistic program that helps mums tackle their diet and improve their overall health through weekly (and customisable) meal plans, at-home exercises and 24/7 social support.
Our Challenge entails:
28 days of at home exercise routines (no gym needed) – with video instruction
Customisable and breastfeeding friendly meal plans
Time-efficient exercises for busy mums – under 30 mins
Challenge combines Pilates exercises with interval and circuit training (HIIT)
Suitable for basic to advanced fitness levels
Home to thousands of EASY-TO-MAKE recipes!
JOIN THE 28 DAY WEIGHT LOSS CHALLENGE HERE!