Jodie's 20kg Transformation & Weight Loss
Hi Healthy Mummy, here are my updated weight loss photos as I'm so excited to share how far I've come since using the healthy mummy weight loss plans including the 28 Day Plan, the healthy mummy smoothies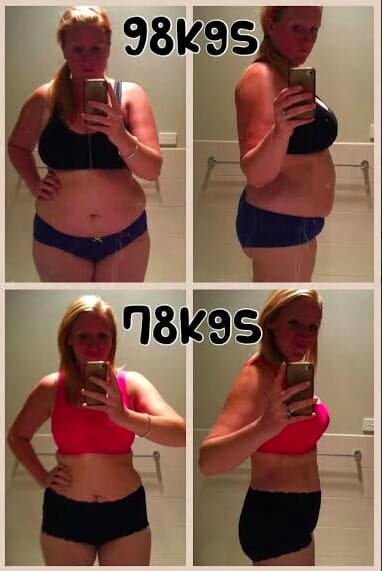 Late last year I weighed the heaviest I ever have – and that included when I was pregnant with twins! I used to miss breakfast, eating everything in sight, guzzling soft drink and doing no exercise. And to top it all off, I just wasn't happy with how I felt at all.
I had seen the Healthy Mummy ads in my Facebook newsfeed for about six months and kept thinking that it could work for me – and it has – I have lost 20kg
Now, I exercise daily, I'm conscious of what I eat and I'm fitter than I ever have been. I have so much energy to burn now, and I LOVE how I look now.
None of it would have been possible without the healthy mummy weight loss plans and products, plans and supportive team.
Thank you!
Jodie Koeleman
GET YOUR 10% DISCOUNT
If you are ready to lose weight then the Lose Baby Weight plans offer a healthy and safe exercise and diet routine and you can get a 10% discount by using code LOYALTY at the checkout
PLUS our BEST SELLING 28 Day Diet & Exercise Plan is available as a 200pg Printed Book and you can get your copy here