Each month, the Healthy Mummy team bring you Motivating Mums who are on our plans and are losing weight to bring you an extra dose of motivation to help you in your own weight loss efforts.
If you would like to be one of our Healthy Mummy Motivating Mums please see all information here
Today we meet Jacinta King who has lost 18kg on our Healthy Mummy Plans and over November will be showing us how she is staying healthy and motivated to reach her goal weight
Kathleen's Weight Loss Update
Well I am half way through the month and today marks the half way mark on my weight loss goal using the Healthy Mummy weight loss plans!
I am down 8.1kg and have 7.9kg to go.  It has been a bit challenging lately with an unsettled toddler (separation anxiety) and a sick family (all at different times!) but I have had a great month so far on the health mummy plan.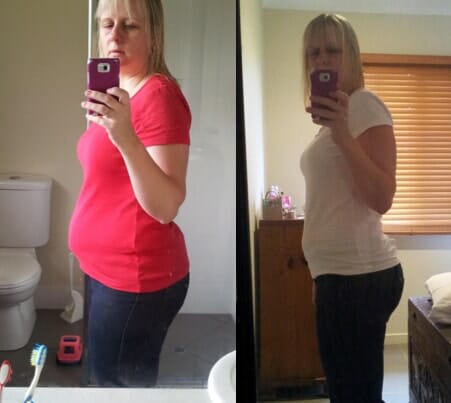 I have enjoyed incorporating the healthy mummy smoothie's into my diet and have been having one on almost every day.  When I am working I am making one and taking it in my cooler bag to work.  I am loving experimenting with the flavours and yesterday created my own with mango, pineapple and honey – YUM!
I have been incorporating some of my favourite meals from the 28 day diet and exercise plan book into our family meals.  They are so easy to prepare and the whole family benefits!  I have also made up the chocolate chickpea cookies and my 3 year old loves them!  I am next to make the muesli bar from the summer cookbook – looking forward to that.
One of the main things that I have been focusing on is trying to get in some exercise every day.  This can often be very difficult after a bad night with my youngest or a busy day with birthday parties and Christmas functions.  I am absolutely loving the health mummy exercise DVD and can already see small changes from using hand weights while doing the cardio sections.  The cardio toning is a real challenge and I can definitely feel it in my thighs and behind the next day!  I have mixed it up with some walks when weather and time permits.
The second half of December is all about planning for Christmas and New Year celebrations.  We have a big family lunch and I have put my hand up to make some salads this year so I am going to be looking through the 28 day diet book and the spring and summer cookbook, as well as the websites to get some ideas!
I have also signed up for the weight loss challenge for 2014.  My goal is to get to my goal weight, to start jogging/running and complete in a leg of a triathlon in June/July!
Kathleen Christodoulides
Special Offer & 10% Discount
If you are ready to lose weight then The Healthy Mummy plans offer a healthy and safe exercise and diet routine that are safe if you are breastfeeding and you can use code LOYALTY for a 10% DISCOUNT at the checkout