If you are pregnant and want to ensure that you are eating well for yourself and for a healthy pregnancy, a food diary may be a good idea for you.
It's a great way to see if there are any areas where you could be improving, as well as notice any patterns in your behaviour. For instance you might notice that you crave something sweet mid-morning, so perhaps you could up the protein content of your breakfast.
Here are some tips for completing the food diary:
Use our free download here for the Healthy Mummy Pregnancy Food Diary, it's a one page diary so it is easy to keep on he fridge or in your bag.
Try to make a time each day to write it all down, such as after dinner. Some people prefer to fill it out throughout the day – this is especially useful if you are suffering from baby brain and can't remember what you ate later on.
Tell the truth. This is only for you so there's no need to hold back. Honesty is the best way to notice any areas for improvement. Also note down what time you ate.
Get specific by noting how much of something you ate – for instance 250ml milk instead of just 'milk' as portion sizes can also be a pattern to keep an eye on.
Once you have kept the diary for at least two weeks it's time to sit down for some analysis.
Questions to ask yourself:
Am I leaving it too long between meals and snacks?
Are there certain times of the day that I make poor choices? How can I improve on that?
Are my portions the right size?
Am I getting a good variety of fruits and veg?
Am I getting enough water?
Do I ever eat out of boredom or stress? What else could I do instead?
Now it's time to take action to tackle any issues you have noticed.
Identify areas for improvement
Grab a copy of our Healthy Mummy Pregnancy Eating Guide – this way all the hard work is done for you.
Get a new water bottle to carry with you wherever you go to up your water intake.
Prepare some healthy snacks to keep at home (or to take out with you) to avoid buying less than healthy options from the shop or café.
Search for some new recipes from our site that suit you when you are tired or busy (this should reduce the desire for take away when you're too exhausted to cook).
Find some interesting snack options if you're sick of the same old thing and find yourself being tempted by convenience foods.
Try some new pregnancy smoothies as a way to ensure you always have a healthy breakfast.
Always keep some snacks in your bag so you never let yourself get crazy hungry or nauseous which can lead to a blowout on white bread or biscuits. Things like cashews or a healthy homemade muffin are great options.
Download the Pregnancy Food Diary here.
Click here to visit our pregnancy products shop.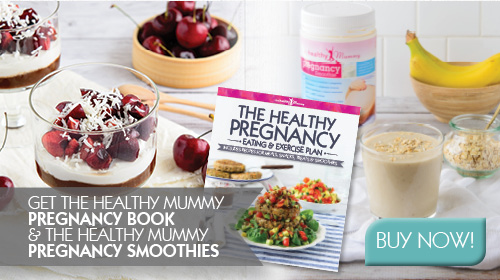 Disclaimer: Always speak to your doctor before changing your diet,taking any supplements or undertaking any exercise program in pregnancy. The information on this site is for reference only and is not medical advice and should not be treated as such, and is not intended in any way as a substitute for professional medical advice..
Our plans promote a health weight gain in pregnancy to benefit the mother & baby and you can read more on this here 
The owners of The Healthy Mummy do not make any representations or warranties, express or implied and shall have no liability or responsibility to any person or entity with respect to any loss or damage caused or alleged to be caused directly or indirectly by the information contained herein and nothing in this disclaimer will limit or exclude any liability for death or personal injury resulting from negligence, limit or exclude any liability for fraud or fraudulent misrepresentation, limit any liabilities in any way that is not permitted under applicable law or exclude any liabilities that may not be excluded under applicable law.