Krista's Weight Loss Results
HI, my name is Krista and I've been lucky enough to be chosen as one of the Healthy Mummy Motivating Mum's for April which is definitely the best way to lose weight by using the healthy mummy weight loss plans
I have a gorgeous 16 month old son and have been married to my amazing husband for 5 years.
I have always struggled with my weight and have continually made short-term efforts to lose those extra kilos. As with a lot of women, getting married motivated me to lose weight and I felt terrific on my wedding day. But after all of that hard work I got back to my old bad habits of over-eating, eating too much junk food and not doing enough exercise. The kilos stacked back on and I fell off my healthy eating plans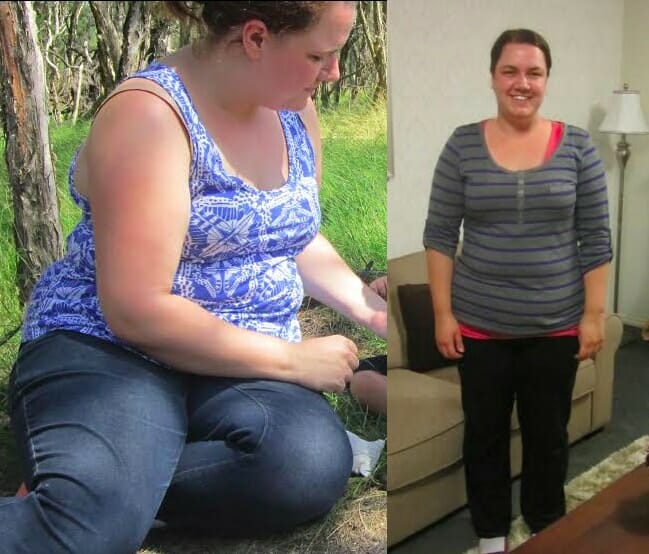 After trying for two years to fall pregnant, we were so excited when we received the amazing news that we were going to have a baby. At the time I weighed 94kgs and was told by the hospital that I was just under the BMI cut-off they had for intake as a low-risk patient. I was told to not put on anymore than 6-7 kilograms and at the end of my pregnancy I was happy with having only put on 4kgs.
The birth of our gorgeous son saw me lose nearly 15kgs and I felt fantastic, I was nearly as light as I was on our wedding day! But then as always, I gave in to temptation and within a short amount of time, and now not keeping busy anymore as a primary school teacher, I had regained those 15 kilos plus a few more! I call it 'Stay At Home Mum' weight, I can't blame being pregnant, I only have myself to blame. The temptation to eat the wrong things, often from boredom, and the lack of exercise from not moving enough, has resulted in me weighing over 100kgs.
So at the end of last year I decided enough was enough. I had a gorgeous little man who was now on the move, I had a wonderful husband who always supports me, and I felt like I was letting them both down by being so overweight and not being healthy enough. I was finally motivated to do something about the weight that was keeping me from being truly happy. My Mum and I joined the Healthy Mummy weight loss plans, and using the 28 Day Plan I was able to lose 6 kilos.
I have a long way to go in this journey. My first goal is to lose at least another 15 kilograms, and my overall goal is 30 kilograms. Although those numbers may seem a distant future at the moment, I know that with the 28 Day Plan & smoothies as well as an increase in the amount of exercise I do every day, it is possible. Instead of trying a fad diet and only getting short-term results, this program is a complete change in the way you look at eating. If I don't fuel my body with the right kinds of foods, how can I expect to chase an energetic 16 month old around all day?
There are some big things happening in my life this year, and losing this weight is the key to making sure I achieve them. We are hoping to add another member to our family, and I cannot imagine being this heavy & gaining weight during a pregnancy, while chasing around our toddler.  I've told my husband that I don't want to start trying for another baby until I've lost at least 15 kilos, which would bring me back to just under the pre-pregnancy weight from our first child. Goal number one!
In August I will be turning 30 and I would love to have lost at least 20kgs by then, so I can feel proud of the way I look in photos, rather than hiding behind the camera whenever a family event is on. Goal number two!
Enough excuses. Enough giving in so easily. This is the year I will change my life for good! I will lose this weight and become the happy & healthy mum and wife I'm supposed to be. I hope some of you reading this will find my story relatable, and if you do then I hope I can make you proud by achieving my goals and inspiring you to walk this path with me. Using the people around you, as well as the amazing team at The Healthy Mummy (and all of it's followers) we can go on this journey knowing we have a huge amount of support behind us!
Krista Mountford
GET YOUR 10% DISCOUNT
If you are ready to lose weight then The Healthy Mummy plans offer a healthy and safe exercise and diet plans that are safe if you are breastfeeding and you can use code LOYALTY for a 10% DISCOUNT at the checkout. Plus we have Cookbooks, Calorie Bibles, Exercise DVD's, Meal Replacement Smoothies and Our 28 Day Plan in our shop.