Laura Becomes A Motivating Mum
Hi my name is Laura and I'm one of the Healthy Mummy motivating mums for February.
I have a 4 month old son and have been using the healthy Mummy 28 day diet and exercise plan for the last 6 weeks. In that time I lost 10 kilo's!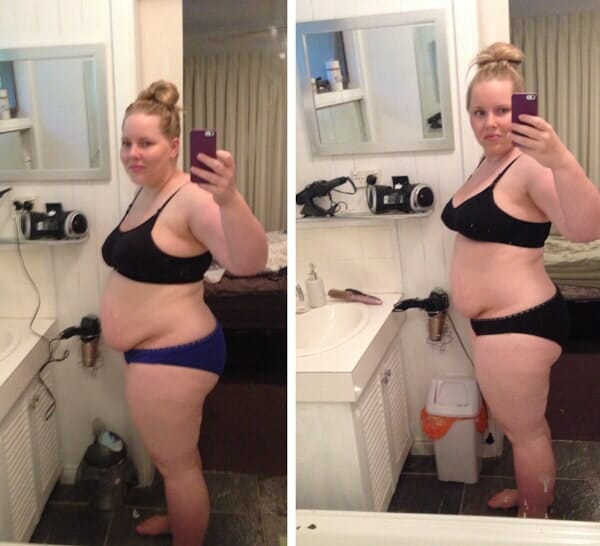 I have always struggled with my weight and was 104 kilo's when I fell pregnant with my son. During my pregnancy I put on 20 kilo's which was so depressing.
After that I hated looking at myself, I didn't just have pregnancy war wounds, I was seriously overweight. I saw a few friends had 'liked' the Healthy Mummy Facebook page so I decided to check it out. I mentioned to my hubby that I was thinking of buying the 28 diet and exercise plan and at first he was sceptical, it wasn't the first time I had tried a weight loss plan and they never lasted and had been a waste of money. I had used things like prescription weight loss medicine in the past and lost a lot of weight and then put it all back on and a bit extra for comfort (or un-comfort). I don't feel like I learned anything about nutrition, balanced eating and exercise on these diets, they were just fads.
I ended up buying the 28 day diet and exercise plan and without doubt it has been the best money I have ever spent on myself and my family. The food is so easy to make and yummy too. It doesn't feel like I'm on a diet plan, it feels like a new way of life.
Food was always my weak point, I love to eat! Whenever I would 'diet' in the past I felt hungry and deprived. Not anymore! I am energised, full and don't feel like I am missing out on anything. The smoothies for brekky are so yummy that it feels like I'm starting the day with a treat, for morning tea I like to have wholemeal crackers and hummus, I love the different salad wraps for lunch and tonight I am having chicken and pear salad for dinner, so yum!!!!
There are so many different snack idea's in the book too so I always have something to look forward to and the meal plans are so good that it hasn't affected my milk supply at all. My husband has also lost 10 kilo's eating what I eat and there is such a difference in him, I'm so proud of him and he looks fantastic!
After a few weeks of using the plan I decided I wanted to try the exercise DVD, the reviews on it were fantastic and because I was loving the 28 day diet and exercise plan so much I had a lot of trust in the brand. Well there was more money so WELL SPENT!!! I love the workout DVD, it's so easy to fit in with being a new Mum as I can do it in my pockets of time when J is asleep or happy playing. It is so easy to follow. I am normally such an unco when it comes to trying exercise but the exercises aren't complicated and they are very effective.
I still have 30 kilo's left to loose which I would love to do by J's first birthday in September. My shorter term goal is to be my wedding weight by my 30th Birthday in April. That's 10 kilo's in 2 and a bit months. I know that kind of weight loss is ambitious but I want something to really work for and to help keep me in line.
I also have my sister's wedding in November this year so that keeps me motivated as well. I'm so sick of being the fat sister; it would be fantastic to not be that for a change. The other thing that really motivates me to keep going and keep getting healthier is J. I don't ever want him to know me as being overweight.
How would I expect for him to be healthy if I don't set that example myself? I also find that being a mother to a 4 month old is hard work. I need the right food to fuel my body and give me energy, I can't overeat and take a nap or eat foods that make me sluggish, that is not an option.
It is so scary showing all of you my current before and after pics, flashing my underwear to the world is not something I would ever normally do but I think that the best way to see weight loss is with your clothes off! I'm also hoping that it will inspire other Mum's especially those who have quite a few kilo's like me to loose and remind Mum's that having a baby changes your body so much and it's not something to be ashamed of. I can't wait to share this journey with you all and I hope that I can encourage new Mum's to give the healthy mummy programs a go and keep going with them, if I can do this with a highly energized 4 month old boy anyone can!
Laura Flanagan
If you are ready to lose weight then The Healthy Mummy plans offer a healthy and safe exercise and diet routine that are safe if you are breastfeeding and you can use code LOYALTY for a 10% DISCOUNT at the checkout