It's really great to be writing a motivating mum update after taking a 2 month break. I'm pleased to say that I have now achieved my first goal of reaching 85.9 kilo's (down from 106) and am now concentrating on my next major weight loss goal of getting to 68 kilo's. This morning I weighed in at 82 kilo's which brings my total weight loss on the Healthy Mummy programs to 24 kilo's in 6 months!
The last couple of months the weight has been stubbornly sitting around the same point which can be very demotivating. I think after losing 20 kilo's your body feels the need to try and hold onto the remaining weight.
The Laura of the old days would have given up and accepted that the weight I have lost is pretty awesome and then probably would have eaten my way back to my starting weight. Being on the Healthy Mummy weight loss plans has changed that entirely. I joined the Facebook support group which has really inspired me and motivated me. Talking to other women who are doing so well has really kicked my mental state back into gear and I have gone from losing 2 kilo's in 2 months to 2 kilo's in 2 weeks.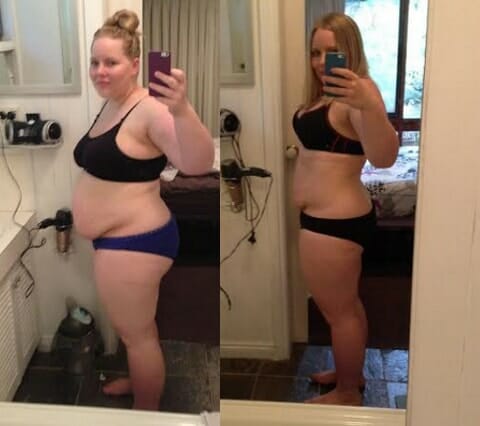 To push through the plateau I seemed to be experiencing I have done several things. I have started drinking more water, making sure I have a healthy morning and afternoon tea to keep the metabolism firing, swapped sugar for Natvia, increased my exercise from 30 mins to 50 mins, added in weight and resistance training to my workouts, made a point of doing the Healthy Mummy DVD twice a week, started using an aerobic stepper and had a 2 week dessert ban (as dessert had become a habit and addiction).
I also started paying closer attention to what a portion is in recipes and labels so I could make sure that I wasn't eating too many calories. Please whatever you do if you are experiencing a plateau DON'T GIVE UP!!! Experiment with what you are doing and keep pushing through with your healthy eating and exercise, you will get there!
I know there are a lot of mums out there just starting out who think that to lose weight that they have to join an expensive gym and become a gym junkie to lose weight. I'm here to tell you that I haven't stepped foot in a gym and have lost 24 kilos! I have a few staple items that I love using and can be bought cheap and be easily stored and used in the home.
I have an exercise bike, hand weights, aerobic stepper, fit ball, I use my hubby's punching bag from time to time and of course my Healthy Mummy DVD. By all means if you love going to the gym and can afford it do it but for me money is tight, I need to be able to workout with my son around and I can work up just as good a sweat at home.
A topic that seems to be discussed quite a lot on the Healthy Mummy Facebook page is how you can eat healthy on a budget. I am a stay at home mum and live off a single income and I'm here to tell you it can be done all it takes is some planning and playing with recipes with what you have on hand. Each fortnight I look through my Healthy Mummy books and recipes from their page and work out a menu. In a week I always make sure we have 1 egg dish, 1 vegetarian dish and 1 mince dish.
This helps keep the cost of meat down. I also buy what's in season and on sale, bulk up meals with beans and lentils and by shopping online I avoid going to the supermarket and impulse buying things I don't need. It also means if the shop is more expensive than our budget that I can play around with my shop more.
That's all from me this time but you will be seeing a lot more of me again in July when I come back on as a motivating mum again right in time for the fabulous winter challenge. I'm looking forward to talking to you lovely ladies more and being around to encourage you all (with me) to hit your weight loss goals.
Laura xx
GET YOUR 10% DISCOUNT
If you are ready to lose weight then The Healthy Mummy plans offer a healthy and safe exercise and diet plans that are safe if you are breastfeeding and you can use code LOYALTY for a 10% DISCOUNT at the checkout. Plus we have Cookbooks, Calorie Bibles, Exercise DVD's, Meal Replacement Smoothies and Our 28 Day Plan in our shop.