The incredible Laura Flanagan has lost an amazing 32kgs with The Healthy Mummy weight loss plans and is loving her healthy lifestyle change!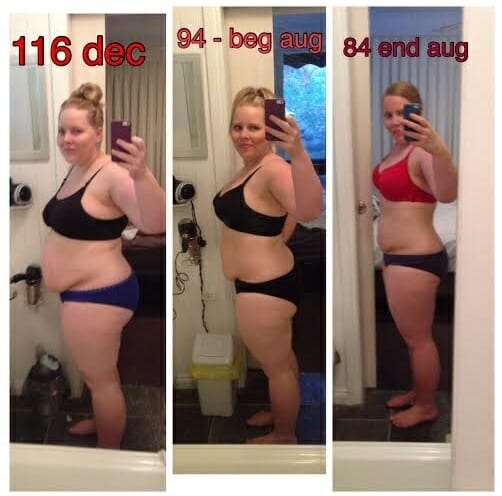 My name is Laura Flannagan and I'm a Healthy Mummy Motivating Mum.
I started on the 28 Day Diet and Exercise Plan at the end of December last year when my son was 3 months old and I was 116 kilos. During the 8 months on the plans I have lost 32 kilos and feel like my life has been changed forever.
August has seen the greatest effort I have ever put in and the results have spoken for themselves. From the beginning to the end of the month I lost 10 kilos! My weight loss journey hasn't been without its setbacks though. At the beginning of the month I bought a new set of scales to find out the set I had been using were out by 10 kilos – making me 10 kilos HEAVIER than I thought I was! Instead of crawling in a ball and crying (ok I did that briefly) I picked myself up and with the support of the awesome mums on the Healthy Mummy private forum decided that by the end of the month I would be back out of the 90's and into the 80's.
Over the month of August I set myself high goals never expecting to reach them but determined to fight for them all the same. The more determined I became the more weight I lost. I increased my exercise to 50 minute sessions 6 times a week and with the weather getting better in Melbourne added walking to my routine.
In the last week of August I hit a massive milestone and reached the 30 kilo weight loss mark. It was such an achievement and I rewarded myself by buying the baby carrier I wanted so my son and I could go for more walks in places that you can't always take a pram. I think it's so important to reward yourself with non-food rewards; they don't always have to be something expensive;  a new top, workout clothes, whatever it is, find something that you really want and work for it.
The biggest thing I have learned from my massive 10 kilo month is that positivity goes a long way. Don't let setbacks make you give up, use them to spur you on and achieve even greater things. I have been happier, more enthusiastic and more focused than I have ever been and I know that it's my attitude that has been the game changer.
With the 28 Day Challenge here I'm hoping I can back up August and have another cracking month. It's 100 days till summer and while it might be an outrageous goal I'd love to lose my last 20 kilos and reach goal weight in time for Christmas, I'd love to see us all have a Shrinking Spring.
Laura xx
Need to stock up on Healthy Mummy Smoothies? Then see our shop here
And join our 28 Day Weight Loss Challenges here