Little Girl Dresses As A 'Mum' For Halloween – And It's All Kinds of Awesome
It's pretty standard to arrive at school on Halloween to an array of Elsas, Darths and Ironmans (well, in America it is). But little Lainie dared to defy the traditional superheroes, princesses and cartoon character costumes.
Instead, Lainie decided to go as a mum.
What resulted is pretty much the best Halloween costume we've ever seen  – one that is so hilariously accurate that it has taken the social media world by storm.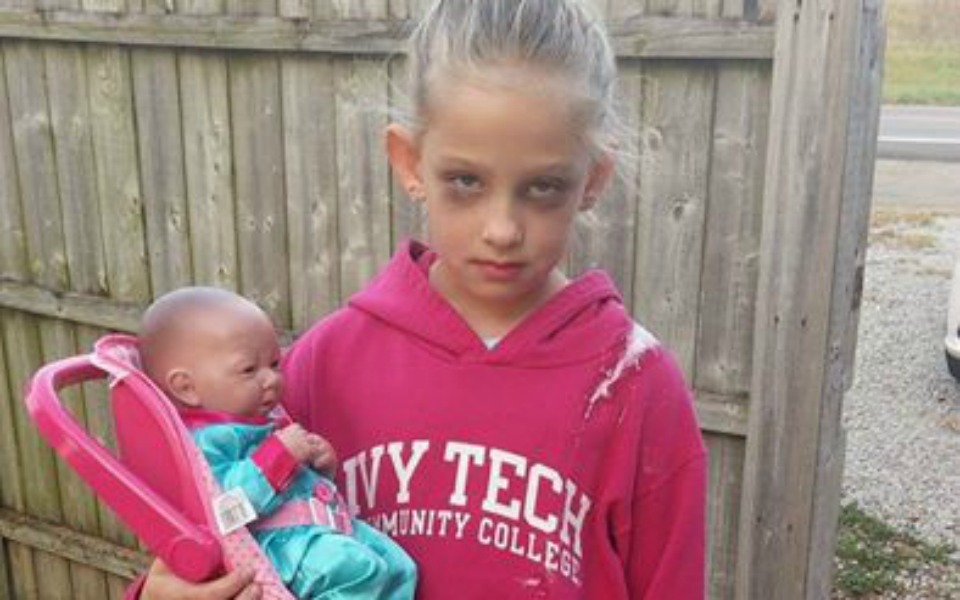 "Mombie" Makes for Pure Costume Perfection
Dark circles under the eyes. Spit up on her shoulder. A baby clinging to her leg. It's a look we all know too well. And while Lainie may only be in primary school, she has absolutely nailed the "tired mum" look, complete with the "kill-me-now-stare" and the wrinkled active wear.
While Halloween in Australia may be only half-heartedly celebrated, Halloween in America, where Lainie and her four siblings live, is almost as big as Christmas. And thus it is part of the parenting call of duty to help your children choose a costume idea and then hand craft it (or go to the American-equivalent of Spotlight and just pretend you made it).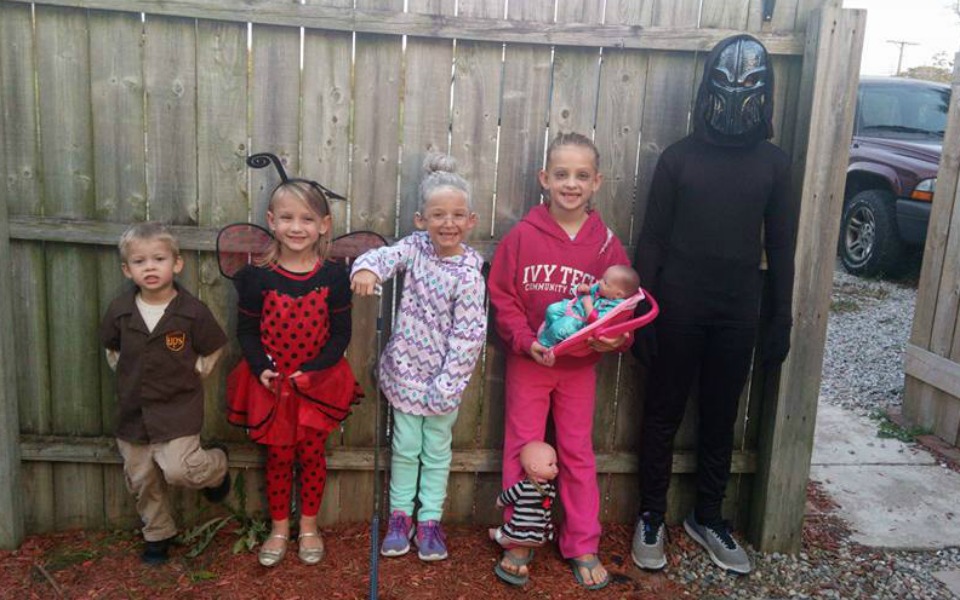 While Lainie's mum, Jess, helped her other children select their outfits (Lainie's siblings went as Darth Vader, an old lady, a UPS Driver and a ladybird), Lainie decided to think outside the costume closet and find her inspiration from reality.
A moppy mum bun, a ragged pink track suit, heavy black eye makeup, an old pair of thongs and (the tip of the accuracy iceberg), a doll clinging to her leg and voila – Lainie's 'mombie' outfit is complete!
Lainie's Look Goes Viral
Whether Lainie comes home with a Best Costume Award or not, she has certainly won the world over with her genius getup.
Jess' friend, Rachael, posted the hilarious photo on her Facebook and so far it has been shared more than 10,000 times with 150,000 reactions and counting.
Some of us love Halloween; others loathe everything about it. But we can all agree that little Lainie's sleep-deprived satire is sensationally accurate. We predict a sea of 'tired mums' for next year's Halloween festivities.
For more Halloween inspiration just in time for tonight's Trick or Treating adventures, check out these ridiculously easy DIY Halloween costumes. 
We have an AMAZING one day only Halloween special. Use code HALLOWEEN21 for a 25% discount on all non discounted stock. SHOP HERE.