Lose 5 kilos in just 4 weeks with the New Healthy Mummy Magazine!
The New Healthy Mummy Magazine is out NOW!  Available at newsagents and supermarkets,  the third Healthy Mummy magazine is bursting with AMAZING content and is full of inspiration, advice and tips for mums dedicated to transforming their health, lives and bodies.
For under $10, this magazine will help you lose 5 kilos in just 4 weeks!!!

Meet our inspirational COVER GIRLS!!!
The magazine is full of inspirational stories of mums who have transformed their lives with The Healthy Mummy, including Abby, Cicily, Amy and Elyce the four incredible women who between them have lost 178 kilos and grace the cover of the latest magazine.
Cicily Goodwin – Weight Loss Result 55 kilos!
Cicily Goodwin has said goodbye to a whopping 55kg and managed to achieve this in under 2 years!
The mum-of-two from Nambucca Heads reveals she struggled with hypothyroidism and often didn't see the results of her hard-work. But that all changed when she signed up to the 28 Day Weight Loss Challenge
"Having a community of women to rely on for support is absolutely amazing," says Cicily. "You are watching so many mums doing it with you and helping you along the way. You get to see their stories, their low and high points.
"I've lost a lot of weight with The Healthy Mummy. I cannot recommend it enough. It's a new world. But that's not the great part about it," says Cicily.
"It's not the number on the scales that makes me happy…it's walking past a mirror and not hating what I see!"
Amy Thompson – Weight Loss Result 44 Kilos!
Amy from Braidwood NSW said she needed to be better for her son when at the age of 20 she suddenly found herself a widow. The grief saw her weight balloon over the next seven years. After a health diagnosis of fatty liver disease, high blood pressure and polycystic ovary syndrome (PCOS) Amy decided to join The Healthy Mummy's 28 Day Weight Loss Challenge and in 17 months lost a huge 44kgs.
"The Healthy Mummy has not only helped me lose over 44kgs, but it has given me my freedom to be the REAL me! I remember seeing photos of myself, at my heaviest, and I just couldn't accept that my body was that big. I blamed it on terrible camera angles or the camera puts on kilos!"
"The main thing I absolutely LOVE about The Healthy Mummy is how it teaches you how to lead a healthy lifestyle."
Elyse Lavern – Weight Loss Results 42 kilos
Elyse Lavern is a mum of 4 kids from Toormina NSW and has been part of The Healthy Mummy community since 2015. After an initial weight loss of 28 kilos, in just 11 months, Elyse admits to losing herself for a few years.
She says "My mental health went bad I started smoking again and drinking way too much and too often. I hated myself and felt like I had no worth. Thank god in that time I didn't gain any weight I just went flabby. Thanks to all the healthy cooking habits The Healthy Mummy taught me."
Last year, Elyse was determined to get back on track. Even during Covid, she stepped her Healthy Mummy habits using the Healthy Mummy App and, along with giving up smoking and alcohol, she has now lost a whopping 42 kilos all up.
"My overall health has changed completely, I no longer wake up with sore joints or exhausted. My blood pressure and cholesterol are spot-on, I'm fit and healthy and love life."
Abby Curry Weight Loss Results 37 kilos
Mum of four from Wauchope in NSW,  Abby has not only revamped her body but also her confidence thanks to The Healthy Mummy. By making some small and consistent changes to her lifestyle she has gone from feeling anxious with low-self-esteem to losing 37kgs in under a year and feeling comfortable in her own skin.
"I've been using The Healthy Mummy Smoothies daily for breakfast and sometimes lunch, and my meals and snacks are from the Healthy Mummy App recipes. I started off with fit beginner workouts with Wendy and now do full-body workouts and Tabata from the App to tone up!
"I started by walking my dog – now we jog!"
"The Healthy Mummy has given me a whole new lease on life it is now my lifestyle!"
Food Glorious Food!
The Healthy Mummy magazine is packed full of 53 delicious recipes and covers what's in season, how to save money recreating healthier versions of your favourite take away food at home, tasty vegetarian recipes, 10 desserts all under 200 calories as well as a feature on protein with protein-packed recipes.
You won't believe what you can eat, and still lose weight! Here's a taster of what's inside!
Pepperoni Potato Pizza Bake – 380 calories per serve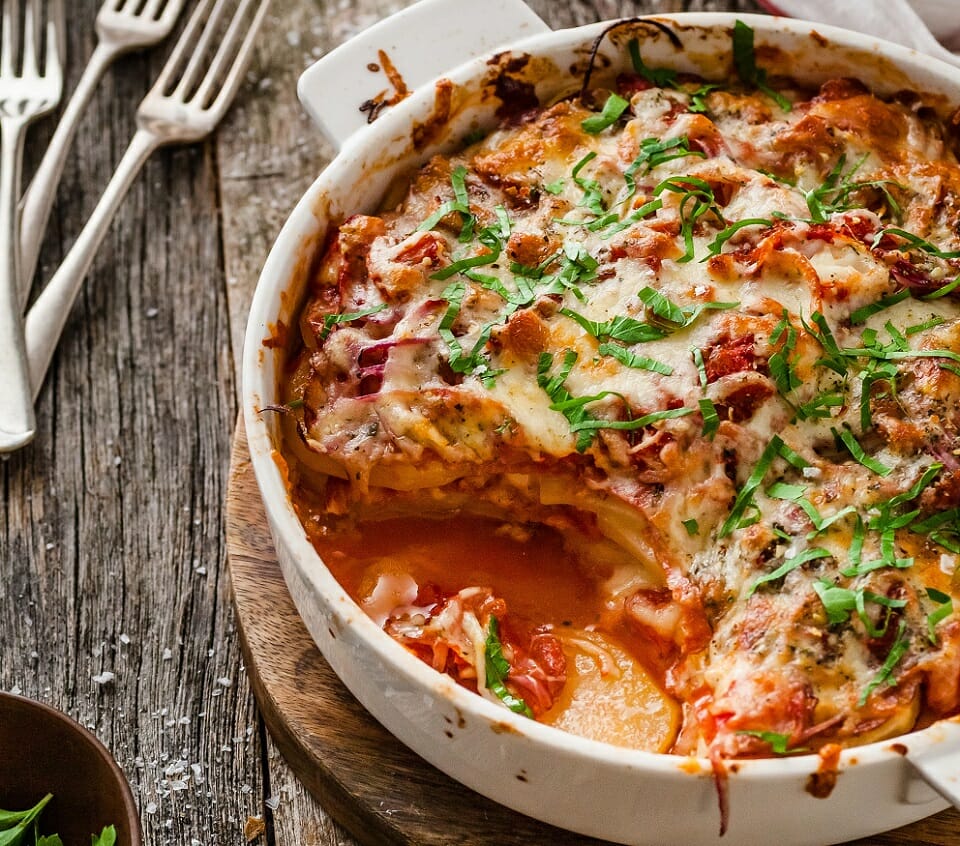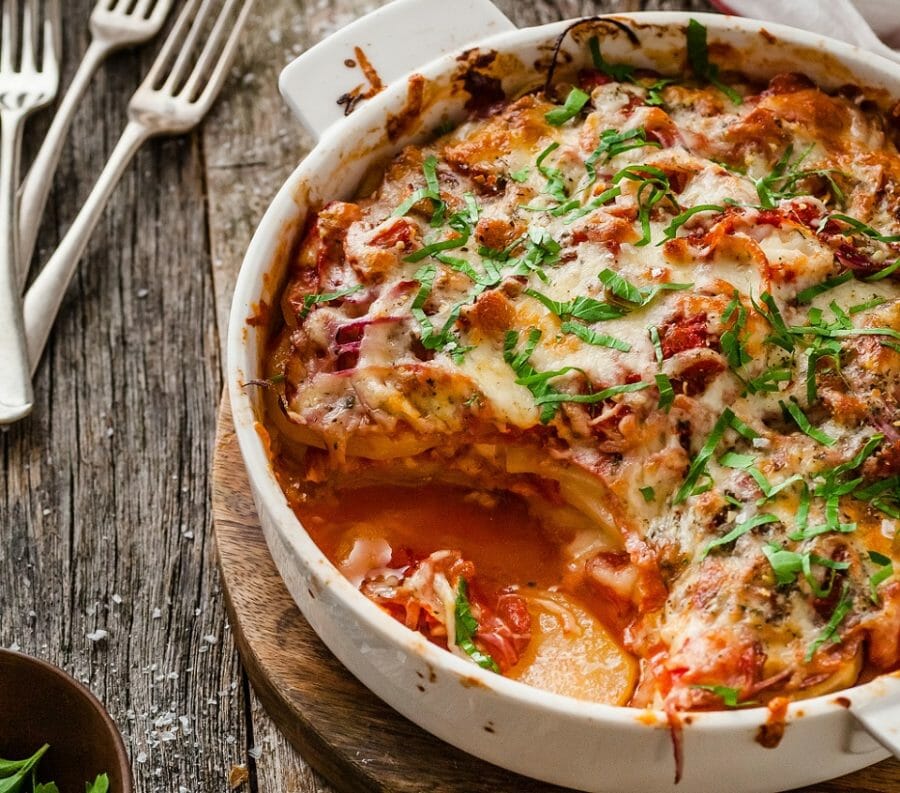 Serves 6, Prep Time 10 mins, Cooking Time 105 mins
Ingredients
8 medium potato, thinly sliced 15 slices pepperoni
1 red onion, thinly sliced
400g tinned tomatoes, diced
1 cups reduced-fat mozzarella cheese, grated
salt and pepper, to taste
1 tsp dried Italian herbs
Method
Preheat oven to 190°C.
Layer a third of the potatoes over the bottom of a baking dish. Top with a third of the pepperoni, a third of the onion, a third of the tinned tomatoes and a third of the cheese.
Repeat with the remaining ingredients to create three layers in total, with the final layer being cheese.
Season the top with salt and pepper and sprinkle over dried herbs.
Cover the dish with baking paper and then wrap tightly with foil. Bake for 60 minutes. Remove foil and paper, and return to the oven for another 10-15 minutes to brown the cheese on top.
Divide into 6 pieces, one piece is one serve.
Leftovers can be stored in an airtight container in the fridge for 2-3 days or freeze for up to 2 months.
Pasta Alfredo with Broccoli and Bacon – 337 calories per serve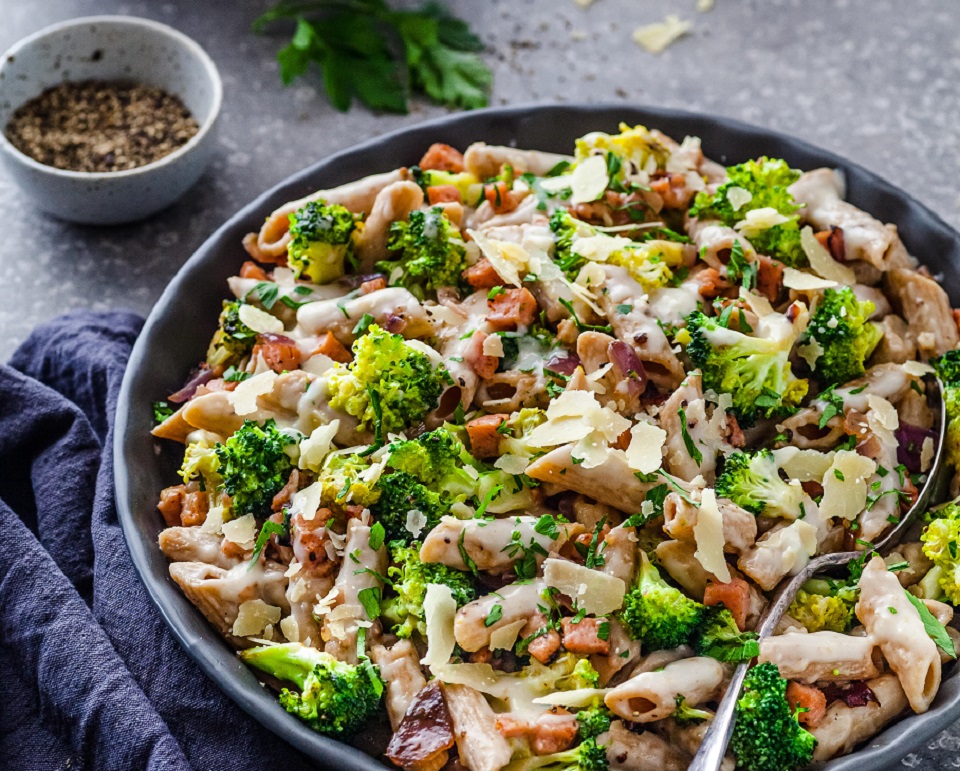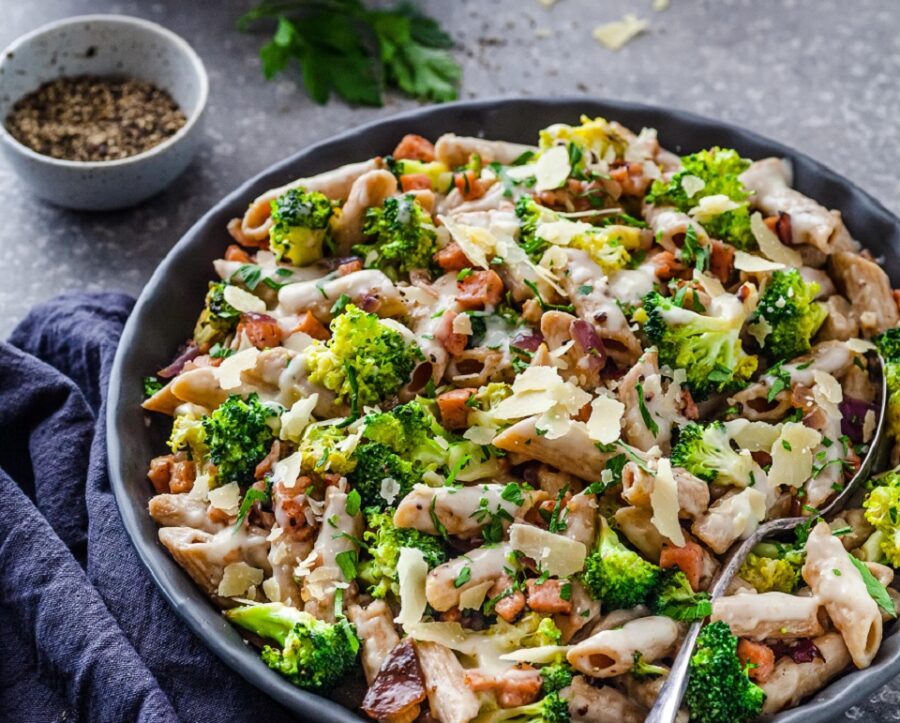 Serves 4, Prep Time 10 mins, Cooking Time 20 mins
Ingredients
100g wholemeal pasta, any shape
1 tbsp butter
2 tbsp plain wholemeal flour
1 cup liquid chicken stock, salt reduced cup reduced-fat milk of choice
cup reduced-fat Greek natural yoghurt
cup grated parmesan
1 tsp extra virgin olive oil
1 red onion, diced
2 cloves garlic, minced
4 lean bacon rashers, trimmed, diced 2 cups broccoli, cut into small florets cup fresh parsley, finely chopped
Method
Cook the pasta according to packet directions.
While pasta is cooking, melt the butter in a saucepan over a medium-high heat. Add the flour and stir for a few minutes until it becomes a creamier, golden colour. Add the stock and stir well to avoid any lumps. Add the milk, yoghurt and half the parmesan. Stir to combine well and simmer for a few minutes, until thickened. Set aside, keeping warm.
Heat olive oil in a frying pan over a medium-high heat. Add onion and cook for a minute or two to soften. Add garlic, bacon and broccoli and cook for a further 3-4 minutes or until bacon is crispy and broccoli is tender crisp.
Add the cooked pasta to the frying pan with the cream sauce and toss to combine well.
Divide pasta evenly between four bowls and sprinkle with the remaining parmesan and some fresh parsley to serve.
Hot Banana Caramel Creams – 190 calories per serve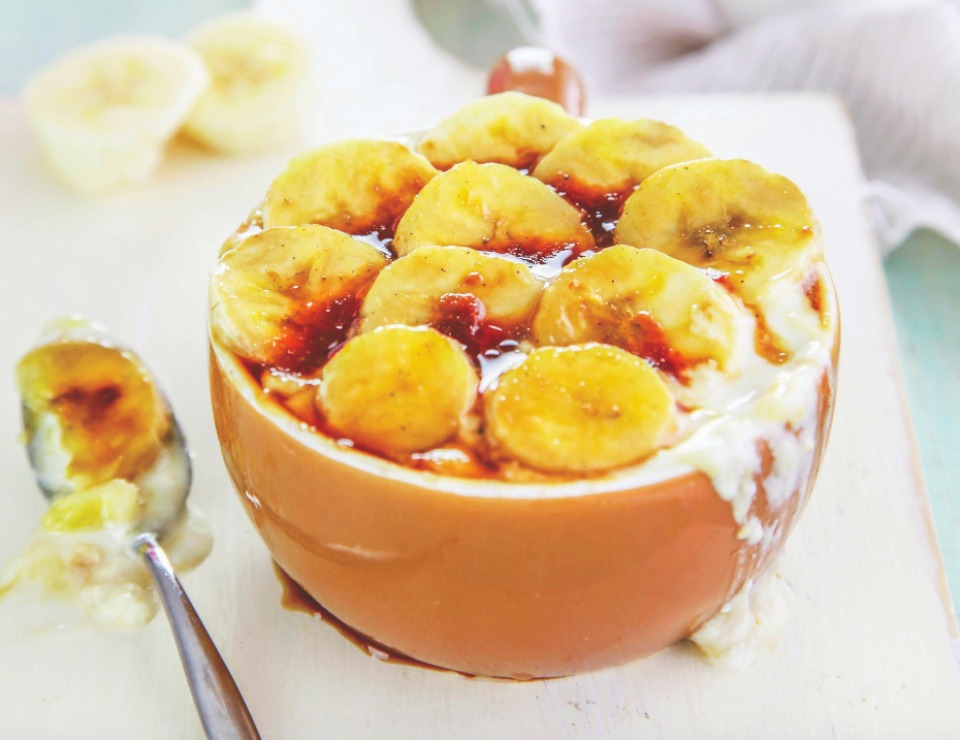 Serves 4, Prep time 10 mins, Cook time 2 mins
Ingredients
1 1/2 cups reduced-fat Greek natural yoghurt
1 tbsp maple syrup
4 small bananas
3 1/2 tsp coconut oil
2 1/2 tsp Natvia
Method
Preheat the grill to medium high.
In a mixing bowl, combine the Greek yoghurt and maple syrup.
Halve two bananas and mash, then add to the yoghurt mix and stir in well.
Spoon the yoghurt mixture into a small heatproof ramekin per person and level out the top (the mix should come almost to the top of the dish).
Thinly slice the remaining banana and arrange on top of the yoghurt mixture in the ramekin.
Melt the coconut oil in the microwave for 10 seconds on medium. Brush the melted oil over the top of the banana slices and sprinkle the sugar on top.
Place the dish under the grill so that the top is about 3cm from the heat and grill for approximately 1-2
minutes or until the sugar melts and caramelises.
You can eat this straight away or leave for a few minutes, by which time the sugar topping will have
hardened into a firm caramel.
The Healthy Mummy Magazine  – Lose 5 Kgs Meal Plan!
The Magazine also includes a Budget Meal Plan with 20 recipes so you can lose 5 kgs with ALL meals less than $2 per serve! The recipes and meal plan have been designed by qualified nutritionists and is family-friendly too.

Exercise, Features and a whole lot more…
The Healthy  Mummy Magazine is jammed with features to EMPOWER mums to live a healthier life. The founder of  The Healthy Mummy, Rhian Allen, is so excited to be the Editor of The Healthy Mummy Magazine third edition.
She says, "I am so happy to bring you our latest magazine with the stories of 16 inspirational mums and their weight loss journey's, who are now living happy, healthy and active lives.
The stories of our cover girls fill me with pride, when I see their incredible transformations and hear their awesome stories of the commitment and strength they have shown to become these healthy, happy mums, and all with the support of the 100,000's of real mums in The Healthy Mummy community, our App and the 28 Day Weight Loss Challenge."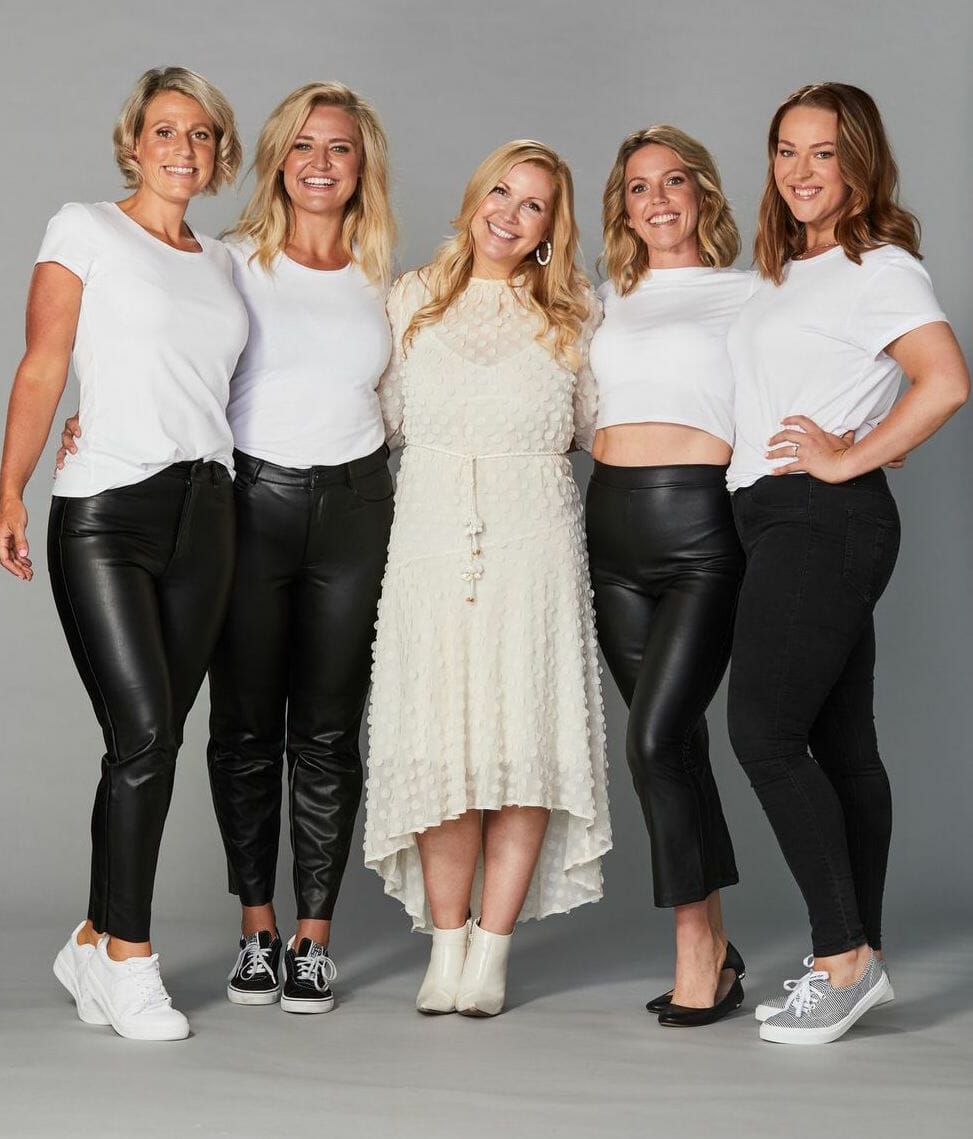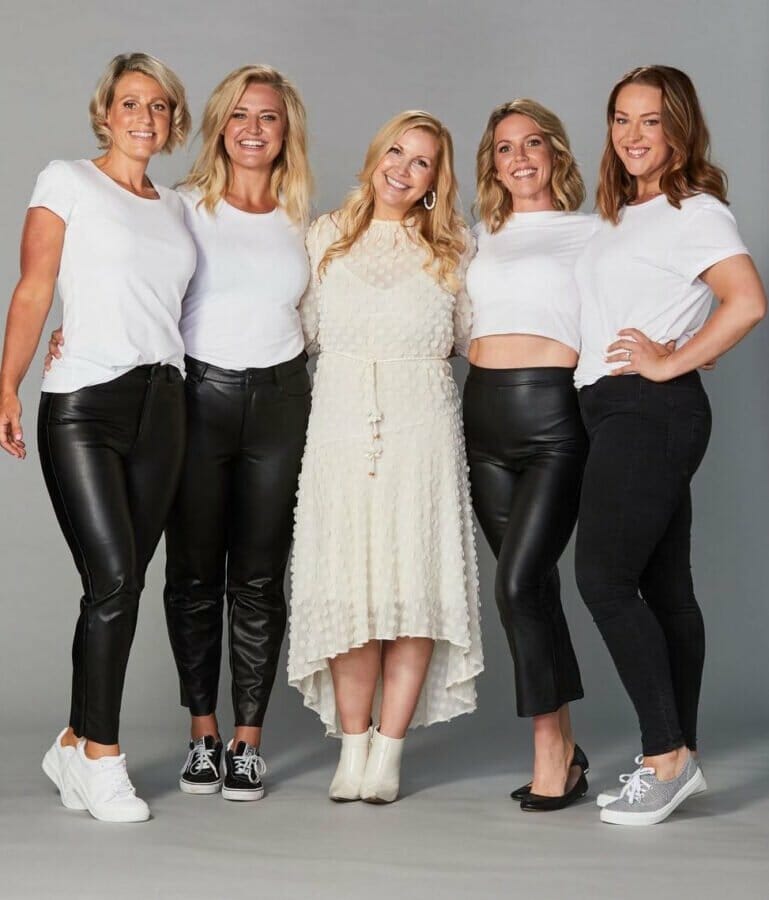 The Healthy Mummy has helped hundreds of thousands of mums lose over 3 million kilograms.
The phenomenally successful The Healthy Mummy website launched in 2010 with the aim of empowering mums to live healthier lives. With over 1.5 million members in The Healthy Mummy community, it has gone on to become the biggest mums only healthy eating and weight loss program, offering recipes, eating and exercise plans, and gorgeous products for mums.
Don't miss out! Get your copy in newsagents and supermarkets today!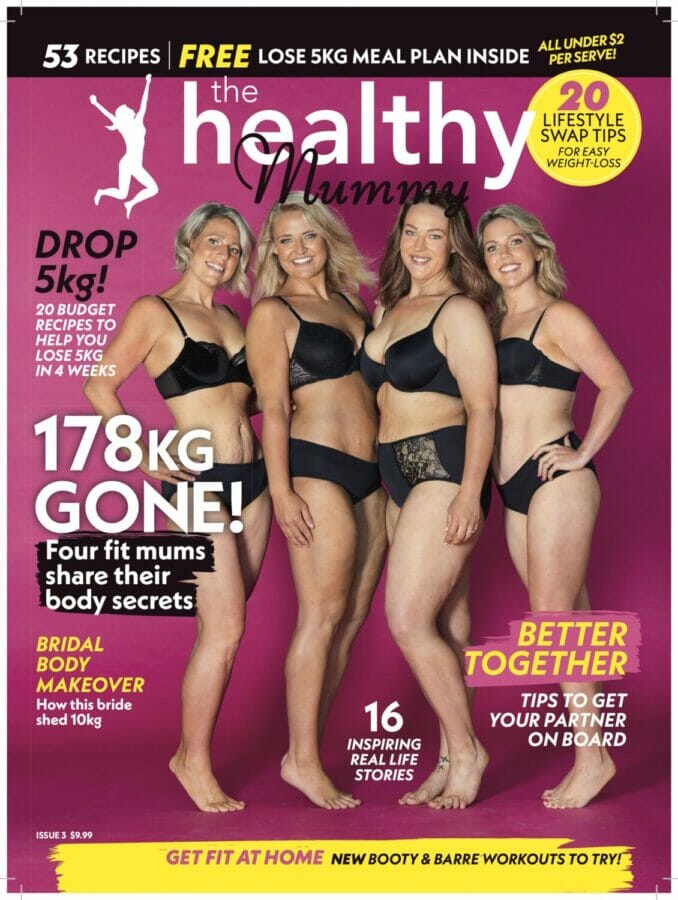 Find out more about the 28 Day Weight Loss Challenge and Healthy Mummy App here