Lose 5kg in 4 weeks – just in time for summer with The NEW Healthy Mummy magazine!
The latest edition of The Healthy Mummy Magazine is out NOW! Issue number 4!
This magazine is available at newsagents and supermarkets and it's bursting with incredible content and is full of inspiration, advice and tips for mums dedicated to transforming their health, lives and bodies… just in time for summer!
For under $10, this magazine will help you lose 5 kilos in just 4 weeks!!!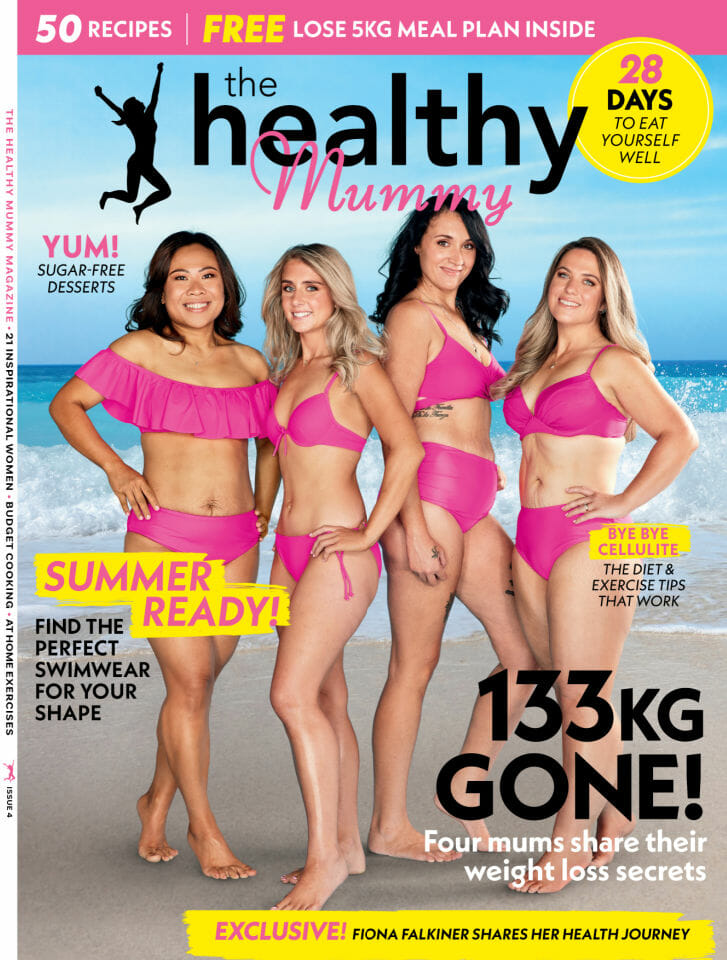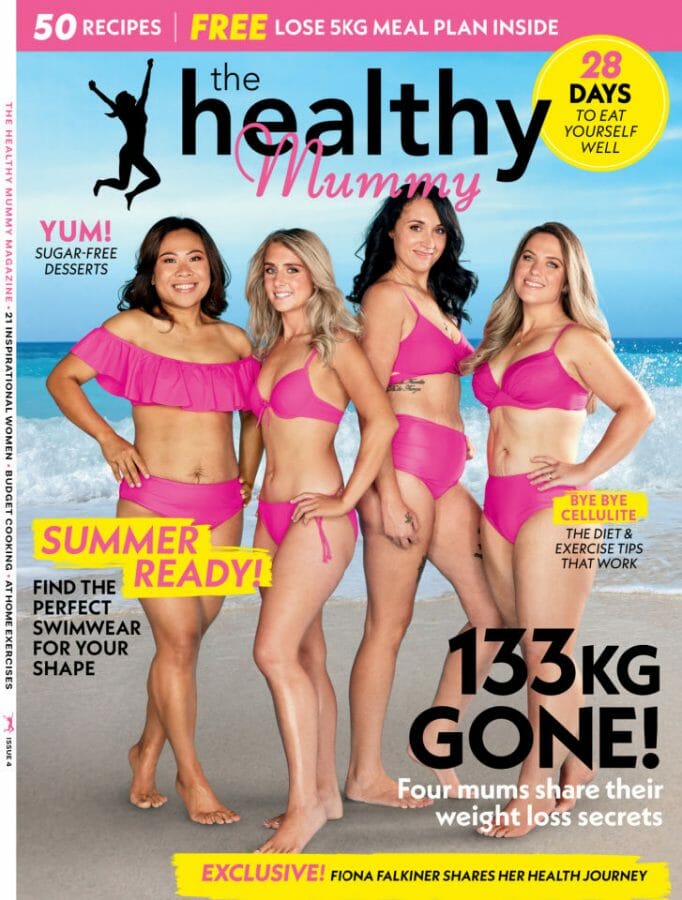 Our sensational and inspirational cover girls who stripped down to their bikinis and together lost 133 kilos!
Melanie Arnold Stem has lost 62kg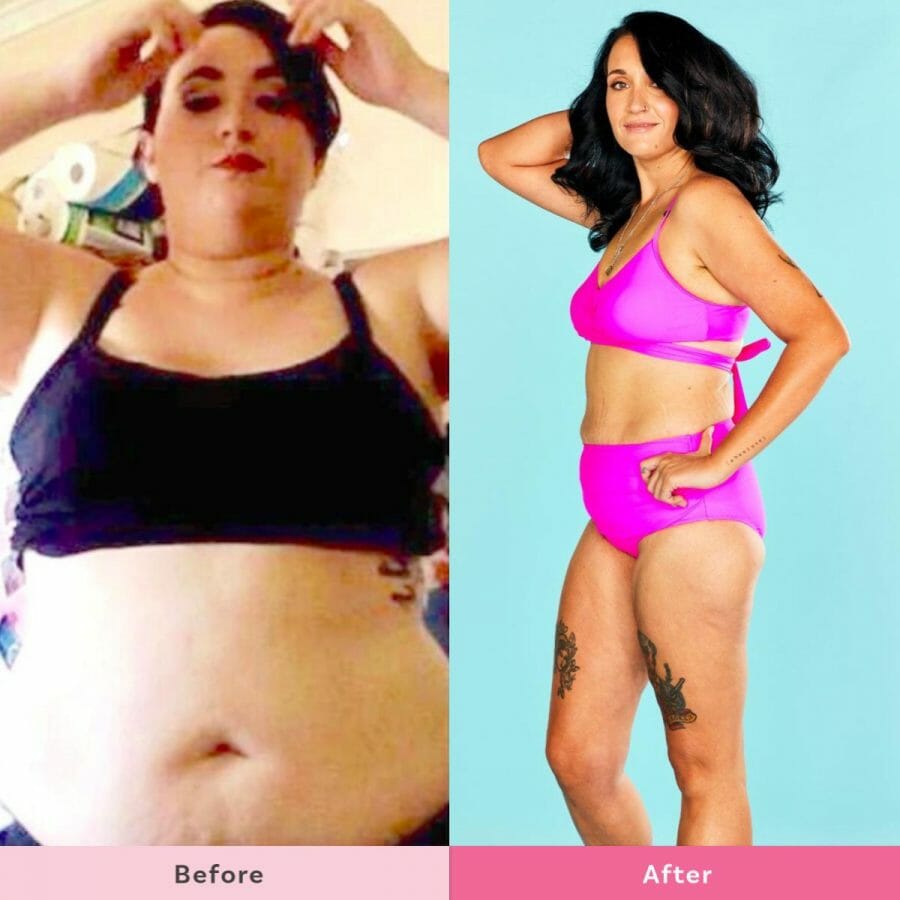 Melanie Arnold Stem has lost an incredible 62kg through the 28 Day Weight Loss Challenge!
The beautiful mum-of-one recently took part in a photoshoot for The Healthy Mummy and she looks incredible!
"Thanks to The Healthy Mummy I have lost so many kilos. I left a toxic relationship, I feel empowered and have gained confidence! I found me again!"
Melanie says she's a HUGE foodie and she loves the recipes on The Healthy Mummy app.
"I am a lover of good food, and cooking good food – which is why I completely LOVE being a Challenge Member," she says.
"This love for food has now even rubbed off onto my daughter, she loves it!"
Mum Cassie has lost 30kg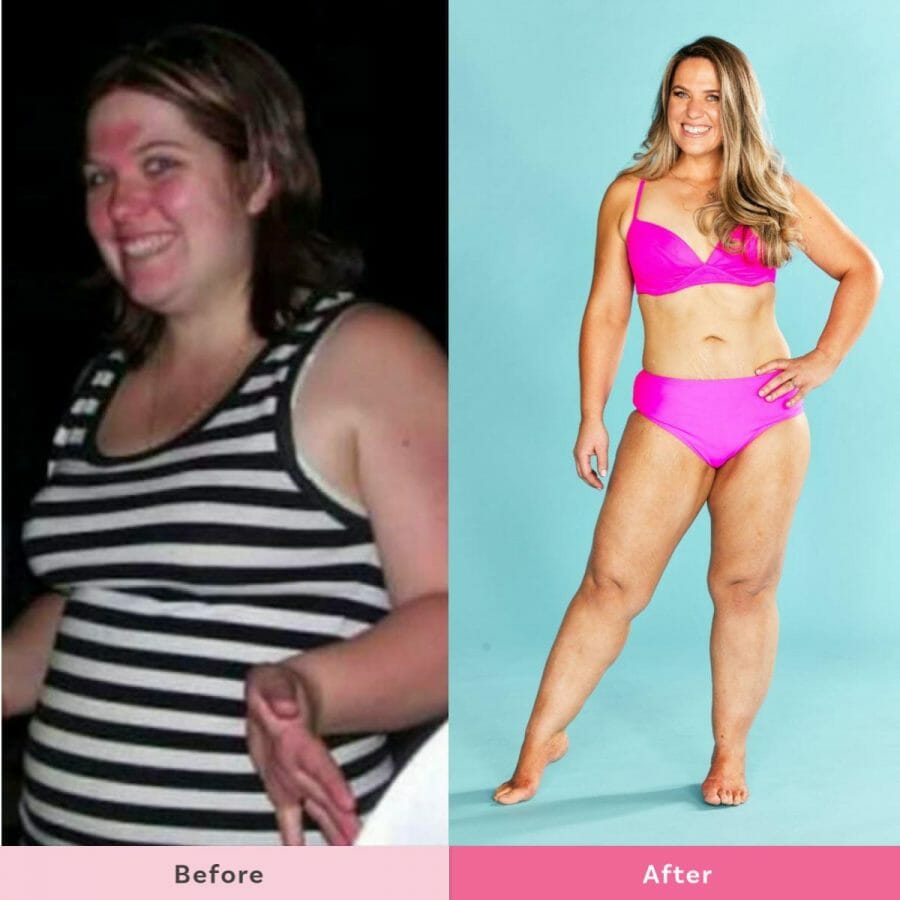 Cassie Ralis looks AMAZING!
The mum-of-two has dropped 30kg since signing up to the 28 Day Weight Loss Challenge and she says she now feels empowered!
"I have struggled with my weight since I was a teenager," she says. "But now I've said goodbye to the up and down dieting cycle I was once on."
But the gorgeous mum found that The Healthy Mummy app takes the stress out of losing weight.
"I love how there are so many meal choices and exercises and the way that it is easy for me to customise to suit my family," she says.
"I didn't have to cut out anything. In fact I had to eat more than I was used to. The Healthy Mummy has taught me how to look after myself and that I don't need to miss out on anything.
Emma White has lost 20kg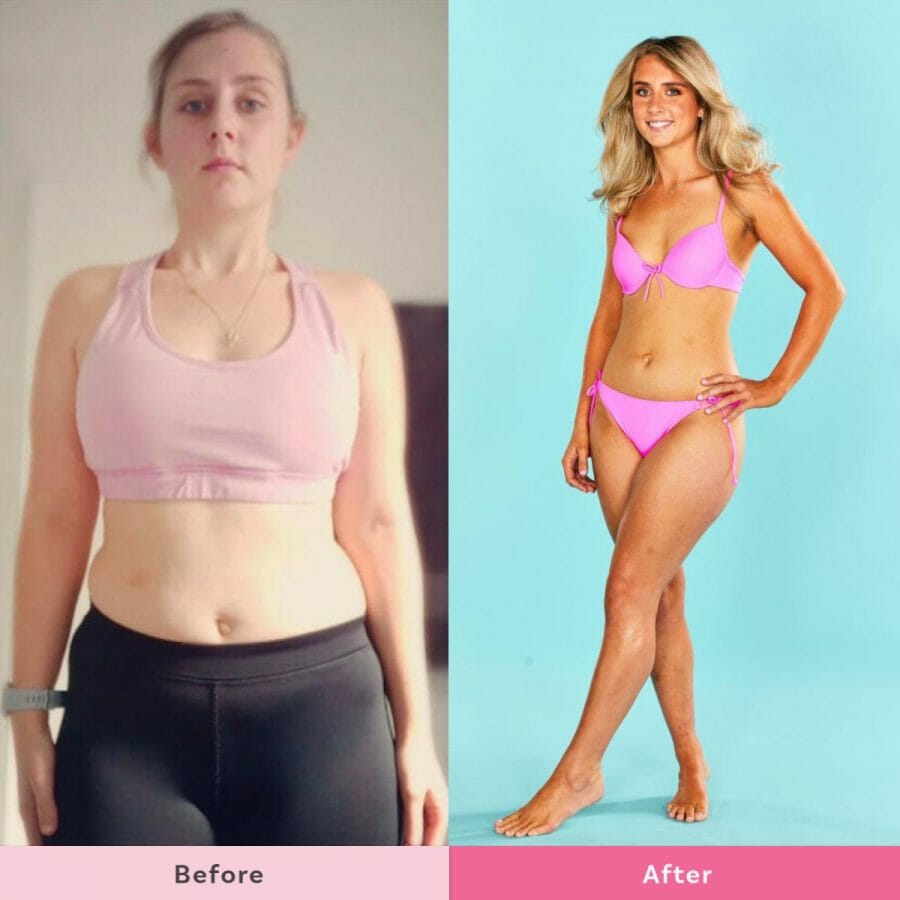 Emma White has lost 20kg through the 28 Day Weight Loss Challenge and the beautiful mum-of-three looks sizzling in a photoshoot she did for The Healthy Mummy!
"I now have more energy than ever before, toned my whole body and I've maintained this weight loss for over a year," she says.
The 25-year-old beauty signed up to The 28 Day Weight Loss Challenge two years ago, she also is a big fan of The Healthy Mummy products, such as the smoothies, Control X and metabolism support tablets.
In fact, Emma signed up to The Healthy Mummy app when she realised that she had no energy and none of her clothes were fitting.
"I put my foot down and worked so hard transforming my mindset on eating and exercise," she says. "The community kept me going, it's amazing how much every supports each other.
"Thank you so much for transforming me!"
Lina Adams has lost 21kg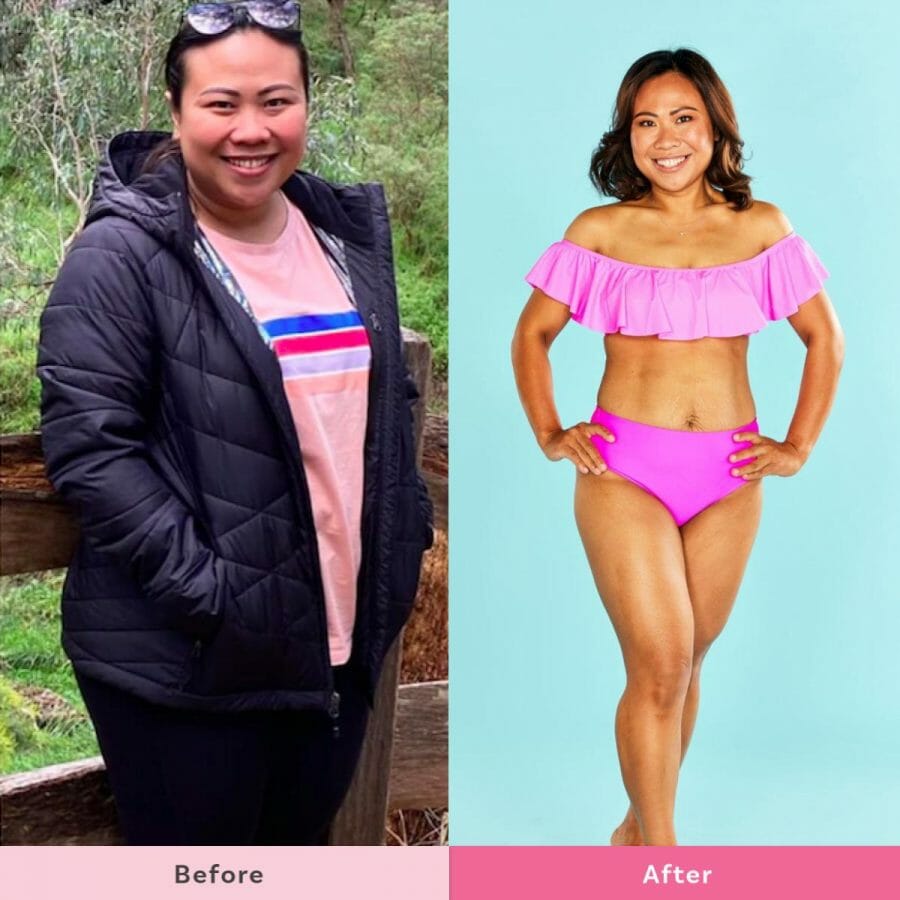 Lina Adams has lost a HUGE 21kg in JUST seven months!!!!! How incredible is that?!!
The mum-of-two signed up to the 28 Day Weight Loss Challenge in October last year and now she says she's never felt healthier in her entire life!
"I've gained control, a routine, more energy but most importantly HAPPINESS," she says. "I'm so thankful that I found The Healthy Mummy."
Lina recently took part in a Healthy Mummy photoshoot and boy did she sizzle!
Lina started off with walking on the weekend then doing Dance Cardio from The Healthy Mummy app.
"For meals, I replaced my breakfast and lunch with The Healthy Mummy smoothies," she says. "Dairy products don't really agree with my body so it was great to find that the smoothie don't contain any milk powder like many others on the market and I love the taste too – it's so yummy.
"My favourite flavours are original vanilla and chocolate. My favourite recipe from the Healthy Mummy app are mocha wake up protein smoothie and green booster smoothie."
Sneak peek of the delicious recipes inside our magazine
The Healthy Mummy magazine is packed full of delicious recipes – there are HEAPS that are perfect for summer picnics or to bring to a barbecue like the Roast Veggies with Za'atar Dressing and Asian Chilli Beef Skewers with fried rice.
We also reveal what's in season, how to plan your week, food to eat on the go as well as readers favourite recipes.
Vegan Mango & Passion Fruit Cheesecake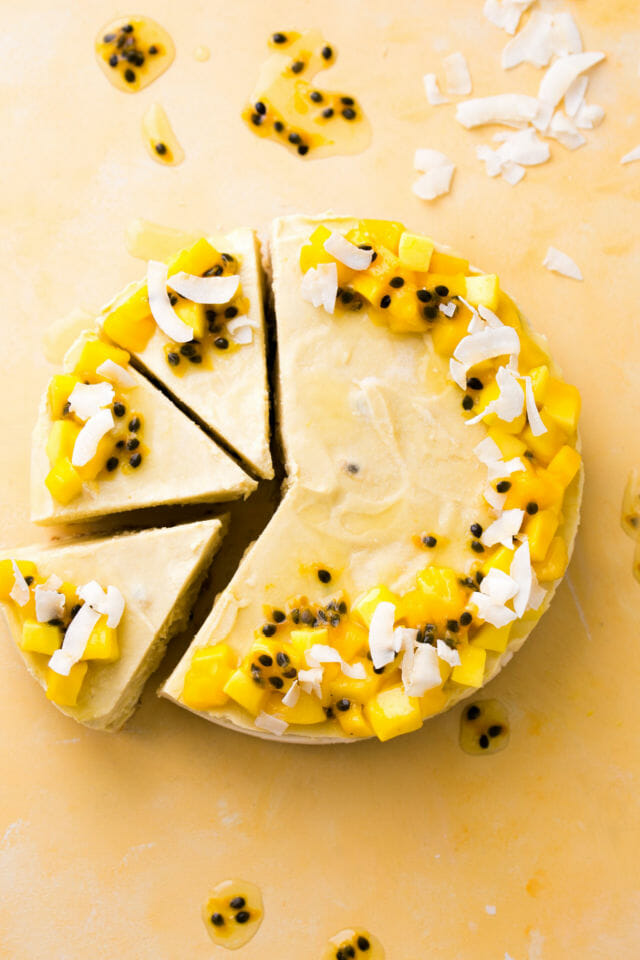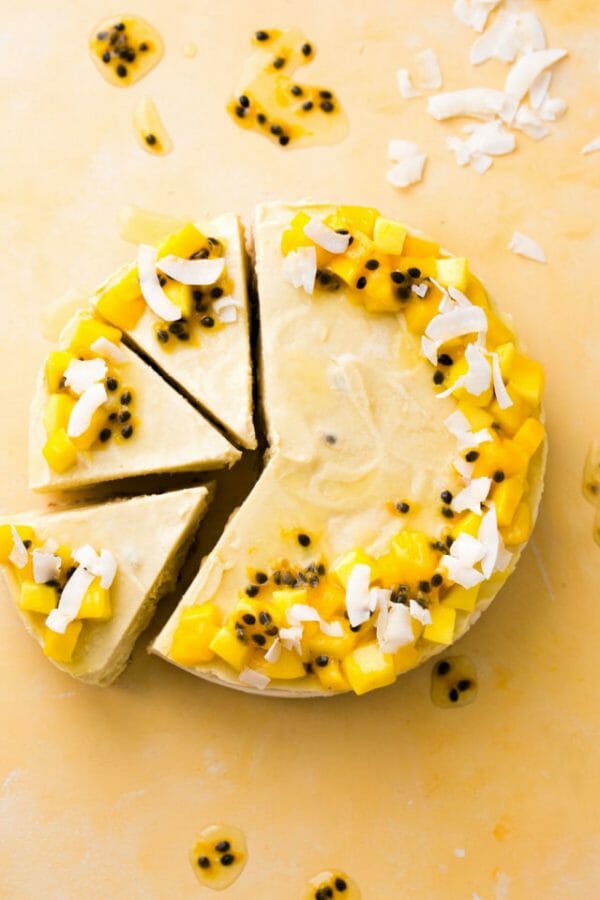 Serves 12, Prep time 10mins
Setting time 1hr
Ingredients
100 grams Vegan cookie of your choice
1 tbsp coconut oil
1 cup cashew nuts, unsalted
200 grams frozen mango chunks
1/3 cup passionfruit pulp
225 grams firm tofu
1/2 cup coconut cream
Method:
Line a round cake tin with baking paper.
In a food processor blitz the biscuits into a thick crumb, add coconut oil and pulse for 10-20 seconds to combine.
Firmly press the crumb mix into the prepared cake tin to form a base.
Place the frozen mango, cashews, tofu and coconut cream into the food processor and combine until smooth.
Stir in the Passion fruit pulp into the cheesecake mix.
Carefully pour the cheesecake mix on top of the prepared biscuit base.
Place in the freezer for around an hour or until firm.
Remove from the freezer and slice into 12 serves with a hot knife.
Store in an airtight container in the fridge for up to 3 days.
Chicken Fajita Tray Bake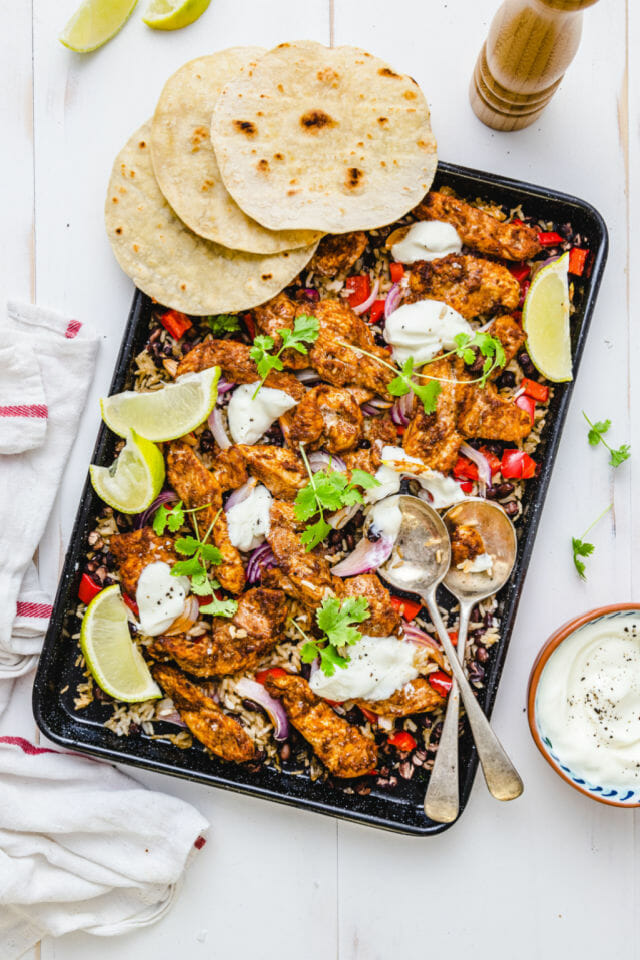 Serves 4, Prep time 10mins
Cook time 10mins
Ingredients
400 grams chicken breast fillets, cut into strips
1 tsp extra virgin olive oil
1 cloves garlic, crushed
1 tsp smoked paprika
1 tsp ground cumin
1 tsp ground coriander
1/8 tsp cayenne pepper
250 grams microwavable brown rice
200 grams tinned black beans, drained
1 red onion, sliced
1 red capsicum, sliced
8 small corn tortilla
4 tbsp reduced-fat Greek natural yoghurt
1 bunch fresh coriander, chopped
1 lime, cut into wedges
Method:
Preheat oven to 220c, prepare a large baking dish and line a baking tray with baking paper.
In a bowl coat the chicken with oil, garlic and spices.
In the large baking dish lay out the precooked rice, beans, red onion and capsicum.
Top with marinated chicken strips and bake in the oven for 5 minutes.
Remove the tray from the oven, turn the chicken strips and return to the oven to cook for a further 5 minutes or until cooked through.
While the chicken is finishing, lay out the tortillas on your lined baking tray and place in the oven until warmed through.
Remove from the oven, drizzle the greek yogurt over the chicken tray, top with coriander and lime wedges.
Scoop the chicken mix into tortillas to serve. Leftovers can be stored in an airtight container in the fridge for 2-3 days.
Bacon, Chilli & Cheese Scrolls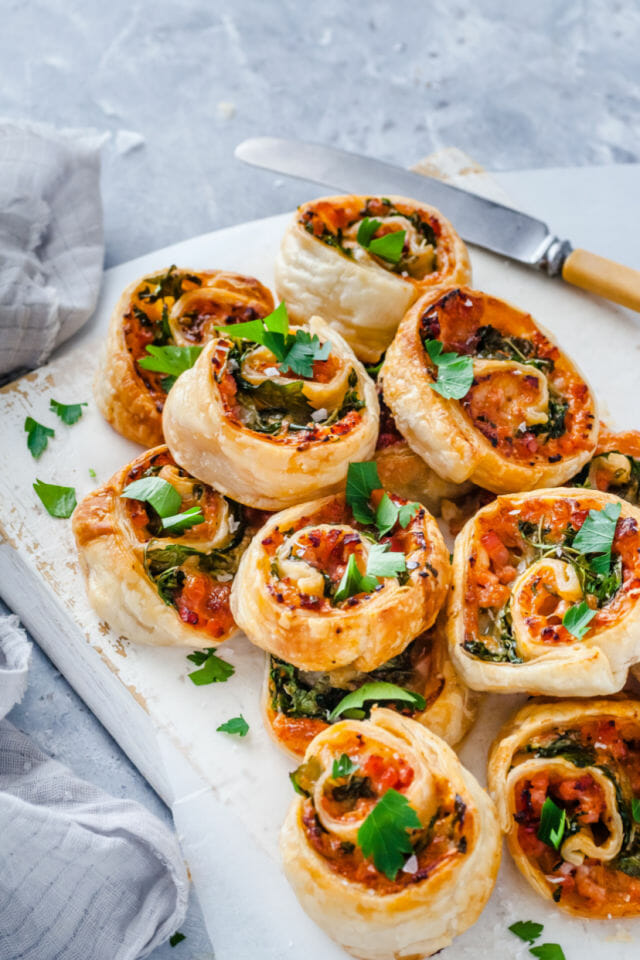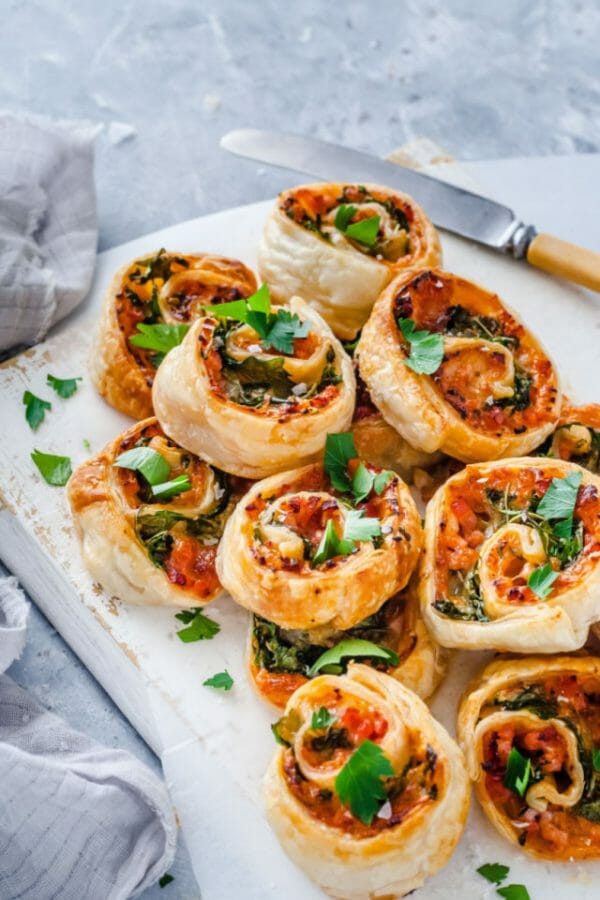 Serves 6, Prep time 20mins
Cook time 15mins
Ingredients:
2 sheets reduced-fat puff pastry
1 tbsp hot chilli sauce, e.g. Tabasco or Sriracha
4 bacon rasher, lean & trimmed, diced
2 cups rocket lettuce
1 cup reduced-fat cheddar cheese, grated
cooking oil spray
Method:
Preheat oven to 200C and line a baking tray with baking paper.
Roll out puff pastry on the bench until a couple of millimetres thick.
Spread chilli sauce over the pastry sheets. Top each sheet with an even amount of diced bacon, rocket and cheese.
Roll each pastry sheet up to form two long rolls. Slice each roll into 3 scrolls.
Place the scrolls on the prepared baking tray and lightly spray with cooking oil spray.
Bake 15-20 minutes or until golden brown on top and pastry has puffed up. Cool on a wire rack.
One scroll is one serve. Leftovers can be stored in an airtight container in the fridge for 3-4 days or freeze for up to 2 months.
The Healthy Mummy Magazine  – lose 5 kgs meal plan!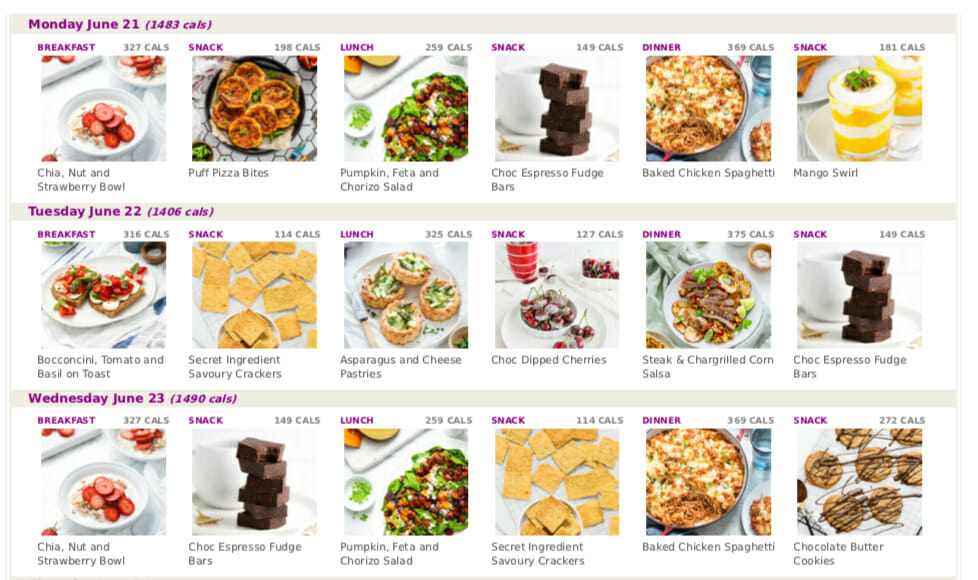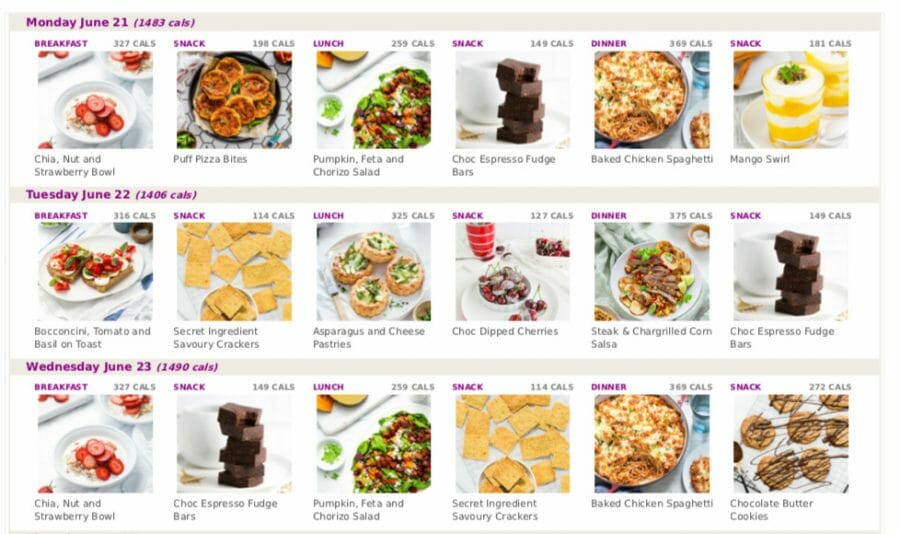 The Magazine also includes a Budget Meal Plan with recipes so you can lose 5 kgs! The recipes and meal plan have been designed by qualified nutritionists and is family-friendly too.
Exercise, Features and a whole lot more…
The Healthy  Mummy Magazine is jammed with features to EMPOWER mums to live a healthier life. The founder of  The Healthy Mummy, Rhian Allen, is so excited to be the Editor of The Healthy Mummy Magazine FOURTH edition.

She says, "I am honoured to be the editor of yet another magazine, with incredible transformations, meal plans, healthy and delicious meals. It's all packed in our latest Healthy Mummy magazine! 

"We want to share with you our incredible weight-loss advice and meal prep for both working and stay at home mums, plus some of our amazing success stories."
The Healthy Mummy has helped hundreds of thousands of mums lose over 3 million kilograms collectively.

The phenomenally successful The Healthy Mummy website launched in 2010 with the aim of empowering mums to live healthier lives. With over 1.5 million members in The Healthy Mummy community, it has gone on to become the biggest mums only healthy eating and weight loss program, offering recipes, eating and exercise plans, and gorgeous products for mums.

The Healthy Mummy was also launched in the UK in 2018 and in the USA in 2019. Last year, The Healthy Man was also launched.
Join the 28 Day Weight Loss Challenge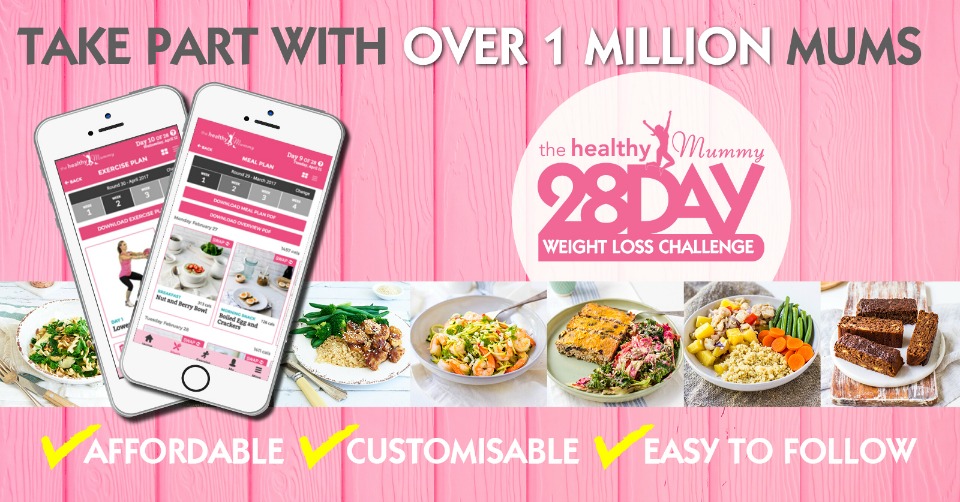 If you are wanting to lose weight and improve your energy – not to mention – help improve your overall health and wellbeing – our 28 Day Weight Loss Challenge is an awesome program to check out.

Our 28 Day Weight Loss Challenge includes:
28 days of at home exercise routines (no gym needed) – with video instruction
Customisable and breastfeeding friendly meal plans (including 7 Day Cleanse)
Time-efficient exercises for busy mums – under 30 mins
Challenge combines Pilates exercises with interval and circuit training (HIIT)
Suitable for basic to advanced fitness levels
Home to thousands of EASY-TO-MAKE recipes!
To learn more about our 28 DAY WEIGHT LOSS CHALLENGE CLICK HERE or purchase our Smoothies.