Lose up to 6 kilos a month with The Healthy Mummy Magazine!
The Healthy Mummy Magazine has hit the stands!  Available at newsagents and supermarkets,  The Healthy Mummy magazine is bursting with AMAZING content and is full of inspiration, advice and tips for mums dedicated to transforming their health, lives and bodies.
For under $10, this magazine will help you lose up to 6 kilos a month!!!

Meet our inspirational COVER GIRLS!!!
The magazine is full of inspirational stories of mums who have transformed their lives with The Healthy Mummy, including Julie, Samara, and Stephanie, the three incredible women that grace the cover of the magazines 1st edition.
Julie Banham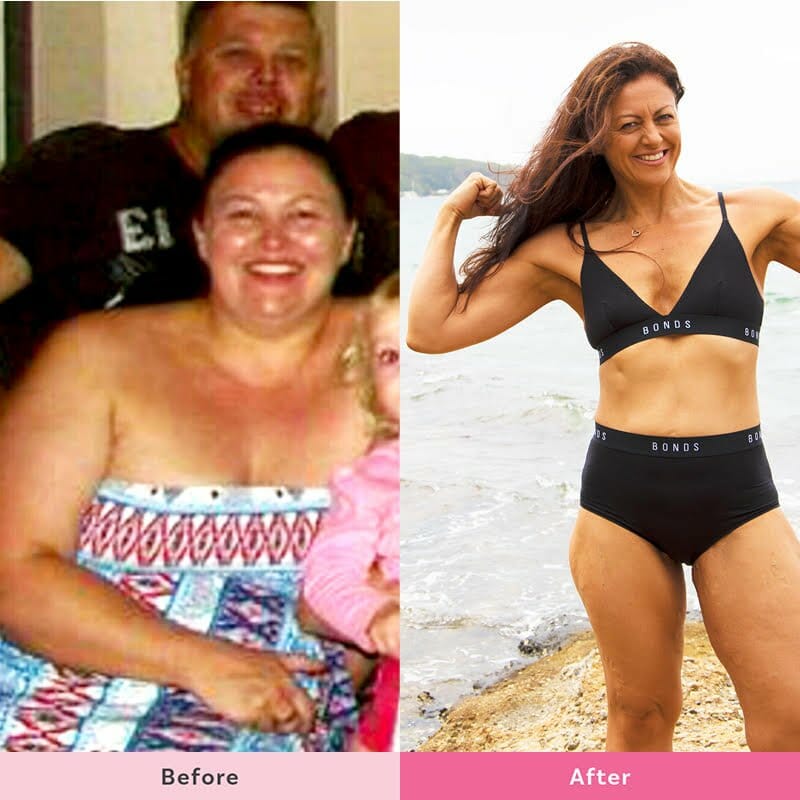 Julie is a 46 year old  mum to three gorgeous daughters, aged 24, nine and four. She has lost a whopping 48 kgs with hard work, determination and amazing support from The Healthy Mummy.
"In January 2017, I weighed 120kg and I was rarely in family photo's which meant I missed out on so much," Julie says, "I was never able to wear anything nice and never felt comfortable. I found people treated me differently because I was overweight. I didn't involve myself when I wasn't happy with myself".
Today, Julie weighs 72 kgs and feels like a completely different person. Since being on The 28 Day Weight Loss Challenge and losing the weight, Julie's health has been transformed.  Julie wants everyone to know that they are capable of finding healthy, motivation and the reason to change. "Health is important, and the healthier you are the healthier your family is. But most importantly, do this for yourself, nobody else, try to put yourself first (for once) because you're worth it!!"
Samara Syed
Samara is mum to two beautiful girls, aged six and three. She has been at odds with her weight for years and has experienced bouts of depression, anxiety and also postnatal depression.
I have struggled with my weight most of my life, and had postnatal depression with my second daughter," Samara says. It was during this time that Samara discovered The Healthy Mummy and her whole life changed forever! She found something that she could grasp onto and it seemed that overnight, she became stronger and more determined than ever before to overcome her struggles and face the world head on.
Through The Healthy Mummy, Smara says she was "suddenly introduced to a completely new way of thinking. I could still have my chocolate treats and lose weight!"
Samara has lost 17 kg with The Healthy Mummy and has maintained it for more than two years.
Stephanie Marriott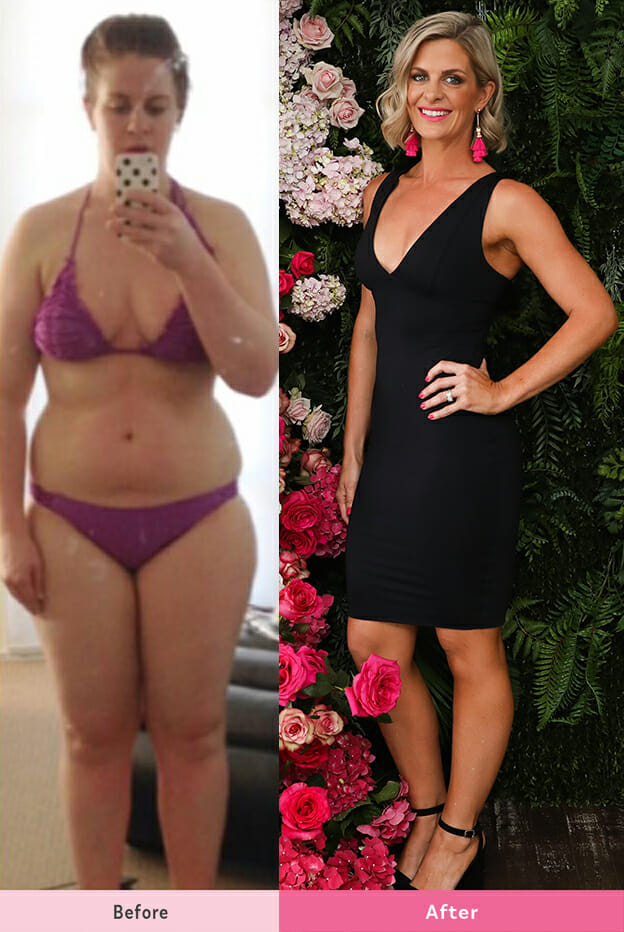 Stephaine has three young children, aged six, four and three.  After being overweight for most of her adult life, the turning point came after her third child was born. She was weighing in at 77 kg and was incredibly uncomfortable and embarrassed in her own skin. She had no energy and found it difficult to play outside with her kids. She was constantly exhausted and found herself sitting on the lounge a lot.
Steph was introduced to The Healthy Mummy by a friend who had incredible success with the programme.
"I told my husband that if I didn't see any results within the first three months, I'd stop and try something else – safe to say I will never NOT be a Challenge member", Steph says, three years later.
She now weighs in at 60 kg and is maintaining her weight just by eating the 28 Day Weight Loss Challenge meals and drinking The Healthy Mummy Smoothies.
"The Healthy  Mummy has completely changed my life. I am now more confident, I enjoy exercise and I love going out and meeting new people."
Food Glorious Food!
The Healthy Mummy magazine is packed full of delicious recipes, including 70 that are under 350 calories! It covers what's in season, how to plan your week, food to eat on the go as well as 20 quick meals and readers favourite recipes.
You won't believe what you can eat, and still lose weight! Here's a taster of what's inside!
SPANISH RICE WITH CHORIZO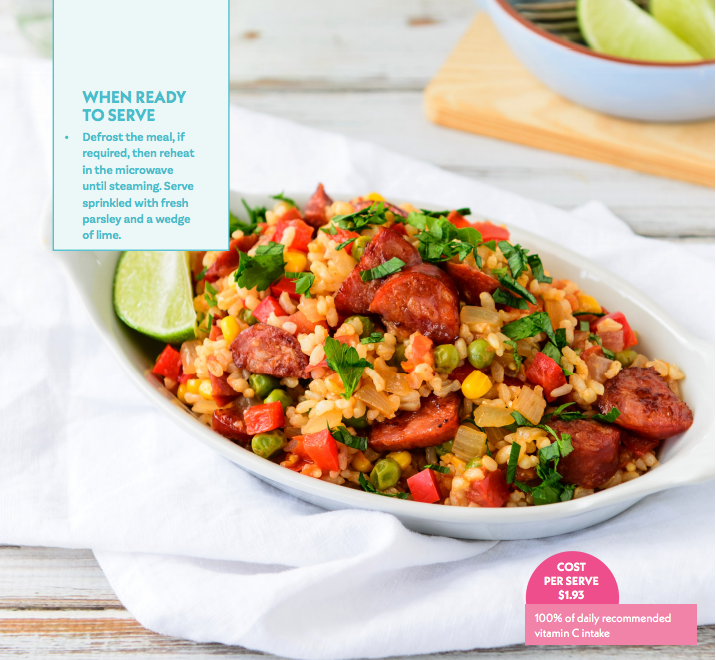 Serves 4, Prep time 10 mins, Cook time 25 mins
INGREDIENTS
1 cup brown rice,
uncooked 1 chorizo sausage,
sliced 1 brown onion,
diced 4 tomatoes,
diced 1 cup frozen peas
1 cup corn kernels,
fresh or tinned ½ red capsicum,
diced 1 tsp smoked paprika
1 tbsp fresh parsley (for serving)
1 lime (for serving)
MAKE-AHEAD METHOD
1 Cook rice according to the packet directions.
2 Place a non-stick frypan over medium heat and cook chorizo slices on both sides for approximately 3 minutes or until edges are crisp. Transfer to a plate and set aside.
3 Add onion to the pan and cook for 2 minutes or until it starts to turn golden. Add tomatoes, vegetables and paprika. Toss to combine. Cook for 3 minutes, until vegetables are lightly tender.
4 Add the cooked rice and return the chorizo to the pan, then toss everything together.
5 Divide evenly between four airtight containers and refrigerate for up to 3 days, or freeze for up to 2 months.
NUTRITIONAL INFORMATION PER SERVE Energy 1869kJ/445 cals Protein 23g Fibre 7.5g Total Fat 18g Carbohydrates 43g Saturated Fat 6.2g Total Sugar 8.8g Free Sugar 0g
SLOW-COOKED MEDITERRANEAN PASTA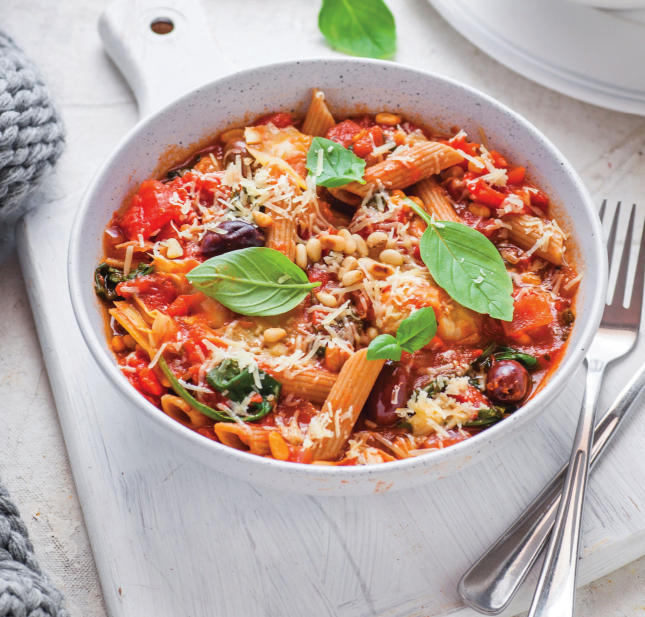 Serves 6, Prep time 10 mins, Cook time 1 hour 10 mins
INGREDIENTS
1 tbsp extra virgin olive oil
½ red onion, sliced
800g tinned tomatoes
½ cup kalamata olives, pitted
1 tsp balsamic glaze
400g tinned artichokes
1 tbsp fresh basil leaves,
shredded 3 tbsp pine nuts
1 cup water ½ tsp dried oregano
2 cups baby spinach
300g wholemeal penne
2 tbsp grated parmesan
METHOD TO COOK ON THE STOVETOP
1 Heat olive oil in a large saucepan over medium-high heat. Add the onion and sauté for a minute or until onion is translucent.
2 Add tinned tomatoes, olives, balsamic glaze, artichokes, basil, pine nuts, the water and dried oregano.
3 Stir to combine well and break up the tomatoes. Cover and cook over low heat for an hour.
4 Fifteen minutes before the end of the cooking time, add the baby spinach and stir to combine and wilt.
5 When ready to serve, prepare pasta according to packet directions.
6 Toss the pasta through sauce and divide evenly between six bowls.
TO COOK IN A SLOW COOKER
1 Add all ingredients to the slow cooker bowl, excluding the spinach and parmesan, and mix well.
2 Add an extra cup of water, then cover and cook on high for 3 hours. Add more water if sauce is thickening too much once pasta starts to cook.
3 Fifteen minutes before the end of the cooking time, add the baby spinach and stir to combine and wilt.
TO SERVE 1 Sprinkle with parmesan to serve. Garnish with extra basil leaves, if you like.
TIP Leftover sauce can be stored in an airtight container in the fridge for 4-5 days, or freeze for up to 3 months.
NUTRITIONAL INFORMATION PER SERVE Energy 1710kJ/409 cals Protein 11.2g Fibre 10.9g Total Fat 21.8g Carbohydrates 36.3g Saturated Fat 2.7g Total Sugar 5.6g Free Sugar 0g
STRAWBERRY & CREAM CREPES
Serves 2, Prep time 10 mins, Cook time 10 mins
INGREDIENTS
½ cup plain wholemeal flour, sifted
1/3 cup reduced-fat milk of choice
1 free-range egg
1 tsp extra virgin olive oil
2 tbsp light cream cheese
½ tsp vanilla extract
¼ cup desiccated coconut
½ punnet strawberries, hulled and sliced
METHOD
1 In a mixing bowl, whisk together flour, milk and egg until you get a smooth batter.
2 Heat half the oil in a small frying pan over medium-high heat. Pour in half the crepe batter. Swirl around to form a thin layer over bottom of pan. Cook for 1-2 minutes on each side or until set and golden. Set aside to keep warm.
3 Repeat with the remaining oil and batter so you have two crepes, one per serve.
4 While the crepes are cooking, combine the cream cheese and vanilla. Spread the vanilla cream cheese over each crepe and sprinkle with an even amount of coconut.
5 Place strawberry slices over the crepe filling and roll up to serve. Sprinkle with extra coconut, if you like.
Serve one filled crepe per person.
NUTRITIONAL INFORMATION PER SERVE Energy 1329kJ/316 cals Protein 11g Fibre 6.8g Total Fat 17g Carbohydrates 26.4g Saturated Fat 11g Total Sugar 6.2g Free Sugar 0g
The Healthy Mummy Magazine FREE 7 Day Meal Plan!
The Magazine also gives you a snapshot of the 28 Day Weight Loss challenged by including a Free 7 Day Meal plan that has been designed by qualified nutritionists.  The recipe serves are based on meal plans, so readers have enough for the week. Plus the Dinners are suitable to serve a family of four.

Exercise, Features and a whole lot more…
The Healthy  Mummy Magazine is jammed with features to EMPOWER mums to live a healthier life. The founder of  The Healthy Mummy, Rhian Allen, is so excited to be the Editor of The Healthy Mummy Magazine first edition.
She says, "I am honoured to be the editor and to be able to bring everything Healthy Mummy to life in a magazine! 
Through this magazine, we want to share with you our incredible weight-loss advice and meal prep for both working and stay at home mums, plus some of our amazing success stories."
The Healthy Mummy has helped hundreds of thousands of mums lose over 3 million kilograms collectively.
The phenomenally successful The Healthy Mummy website launched in 2010 with the aim of empowering mums to live healthier lives. With over 1.5 million members in The Healthy Mummy community, it has gone on to become the biggest mums only healthy eating and weight loss program, offering recipes, eating and exercise plans, and gorgeous products for mums.
The Healthy Mummy launched in the UK in 2018 and in the USA in 2019.
The Magazine also includes special offers plus an AMAZING competition where one lucky mum has the chance to WIN a day with our Meal Prep Queen + a NEW chest freezer (prize valued at $3000)!