Low Fat Chicken Parmigiana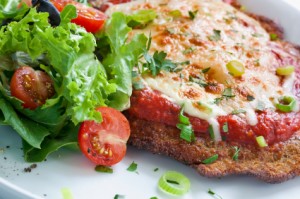 Chicken Parmigiana is traditionally a high fat, high calorie food.
This chicken parmigiana recipe is fabulous as it is lower in fat and one which you can enjoy on a healthy eating plan or weight loss diet. Perfect for these cooler evenings as well.
Prep time: 10 minutes
Cook time: 15 minutes
Serves 4
Ingredients
4 x 150g skinless chicken breast fillets
¾ cup of wholemeal bread crumbs
¼ cup of parmesan cheese
Dried Italian herbs
Oil cooking spray
400g tomato passata
1/2 cup grated reduced fat mozzarella 25% less fat cheese
Salt and pepper to season
Directions
Lightly spray your chicken fillets on both sides and season with salt and pepper.
Mix the breadcrumbs, parmesan cheese and dried herbs together and place each chicken breast fillet in the mixture to cover in crumb. Press it into the chicken.
Then place each breaded fillet into heated pan and cook for 3 minutes on each side.
Place the cooked fillets into a lined baking tray.
Spoon out the tomato passata onto the top of each fillet and lightly sprinkle with mozzarella cheese.
Place in a preheated 180 degree celcius oven and cook for around 5 minutes more until the cheese is melted. For more chicken recipes try this delicious five-spice chicken recipe!
Serve with a side salad.
The Chicken Parmigiana is 350 calories per serve.
Special Offer & 10% Discount
If you are ready to lose weight then The Healthy Mummy plans offer a healthy and safe exercise and diet routine that are safe if you are breastfeeding and you can use code LOYALTY for a 10% DISCOUNT at the checkout