While I was pregnant I was so unmotivated and exhausted that my lack of energy really depressed me. I gained 18 kilos due to ice cream and to my surprise, only 6 of those cam off when I had my baby!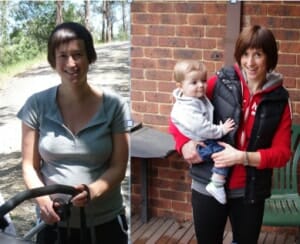 While I was still pregnant I came across the Healthy Mummy Range through Google and was thankful for the information online about combining breastfeeding with safe weight loss. Just a few days after my son was born I slowly started with one Healthy Mummy Smoothie each day. I also followed all the great advice and healthy meal suggestions.
After my birth I had a few fingers of separation in my stomach muscles so was not allowed to complete any high impact exercise. Long pram walks and pilates with a physio were my exercise. I lost my pregnancy weight quite steadily for a few month but then hit a plateau. That is when I introduced a second Healthy Mummy Smoothie each day.
The smoothies are so delicious and ridiculously convenient. As a busy mum it is great not having to think about your lunch and breakfast every day. I never had any issues with milk supply either as my boy was a guzzler.
My little boy is 8 months now and although I have not been on the Healthy Mummy plans all that time, I do still love all the posts and tips. As I was about to return to work I was anxious about putting on weight when I gave up breastfeeding that I went back on the smoothies and now I weigh one kilo less than my pre pregnancy weight.
I feel amazing and thankfully have all my energy back. Thank you so much Rhian! xx
The pictures are of me about 3 days after the birth and then with Dominic at 8 months.
Cheers, Martha Tudor
This Spring with every order over $75 you will receive a FREE pedometer  A great incentive to get started now!!