Meet the Mums who will help you smash your goals this August!
Throughout this month's 28 Day Weight Loss Challenge, these mums (and many more!) will be here to give you advice, guidance and some great motivation tips when you need it.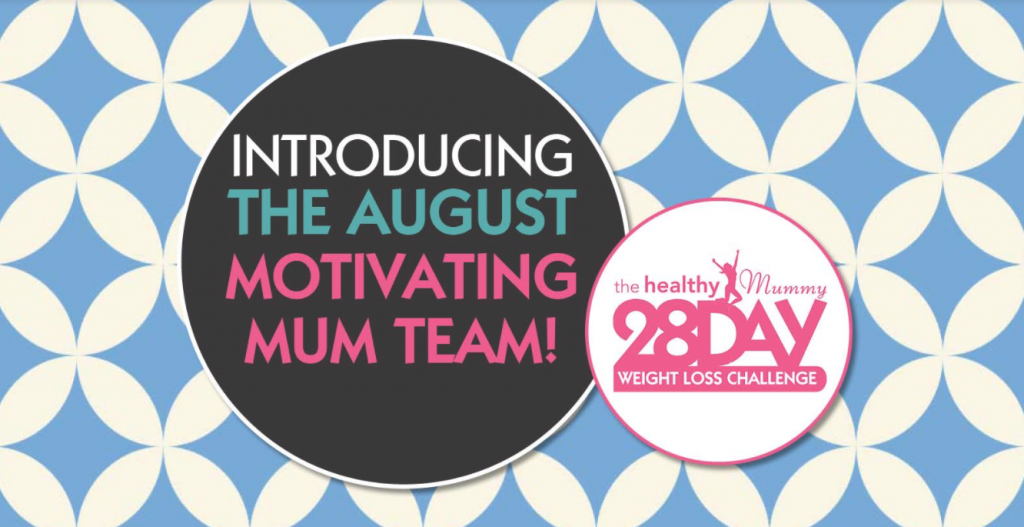 Whether you're starting out on a new weight loss journey, or whether you just need an extra bit of motivation and guidance to help keep you on track, you'll find so much support in The Healthy Mummy Community. 
Today we'll meet four of these amazing women who share their own weight loss stories and give invaluable advice to help you smash your goals this August.
Meet Lauren Buckley
"Hi. I'm Lauren. I'm 40 with two little ones keeping me on my toes (Fussy Miss 5 and Mr I'm-ready-to-knock-out-my-day-sleep 3!) We live in some pretty unique times here in Melbourne – and look forward to sharing August with you. Especially my Melbourne and Mitchell shire mummies.
I've been with The Healthy Mummy for almost three years this September. I gave myself a month to try it when my son was little and I was breastfeeding. I'm still here nearly three years later and over 20kgs lighter. 
Weight has been a factor of life since childhood. But I yo-yo'd my entire life. Going from extreme calorie restriction (which was never long term sustainable) – to portion distortion. After my son was born I decided to give Healthy Mummy a shot.  I had great success dropping from a size 16 to size 10 while I was on maternity leave. But I went back to work and the grind of working and small kids left little time or attention to myself. I never stopped Healthy Mummy but some weight crept on and back up to a large size 12 I went.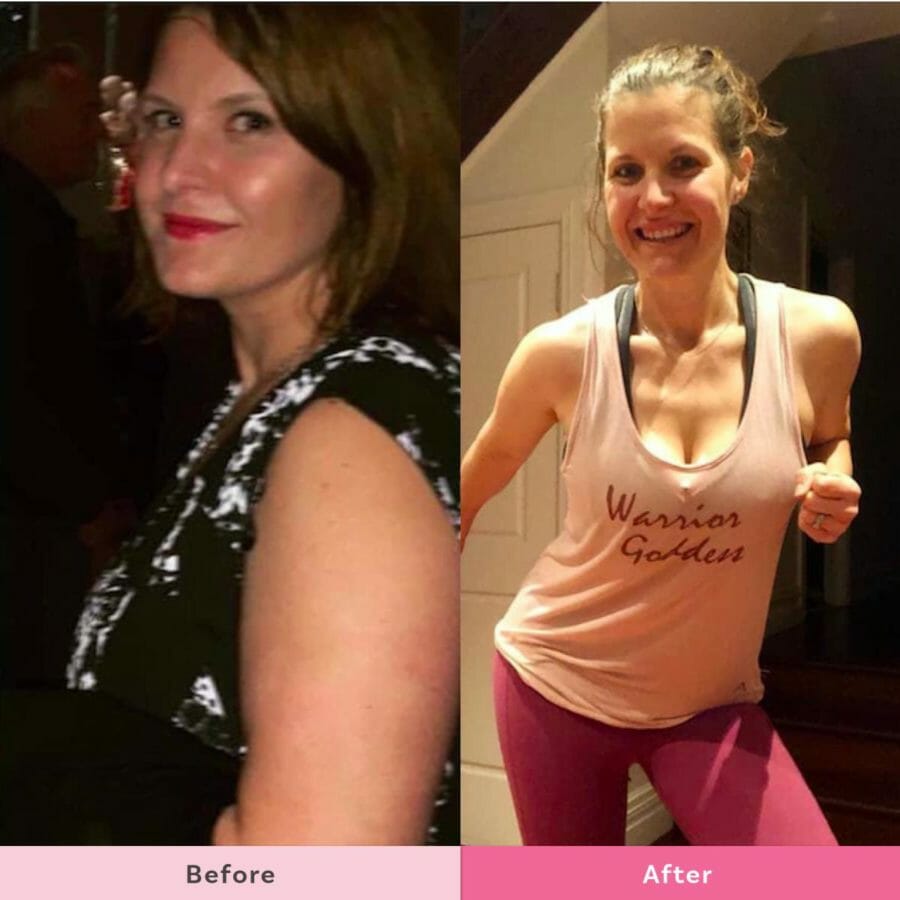 Last November I decided it was time to make me a priority again. I was turning 40 and darn it – I was determined to be nothing short of fabulous! It was time for me to make space for myself.  I turned 40 in February and just kept going. I feel strong, powerful and confident – and have realized that this is all about finding balance and consistency vs approaching this as a diet. 
Whipping on the size 10 bikinis on my 40th birthday felt amazing! 
This August it's  ISO2.0 and I always make my goals about what I can control. Not the scales. So it will be a lot of focus on: Water!  Not picking from the kids' plates or during prep!  Fighting the long and sedentary hours at my home office desk!  
Along the way, I've learned it's important to find the balance and make the program work for you. Find the space for self-care and self-love.
But most importantly – and I will preach this until I'm blue in the face – Perfect days are like unicorns. They are rare and exhausting to maintain. Chase consistency and balance. Let each day be your fresh start. Every workout and meal where you are consistent far outweigh those moments where maybe you aren't quite perfect. 
We can do this together! 
Get your water bottle ready
Join me for app workouts
Make the meal plan work for you and your family
Embrace the online community – I've met the most wonderfully warm, generous and kind ladies here. Connect and find your girl squad 
Let's get off the sidelines and claim August as our month together!"
Meet Kerrie Anne Rowe
"Hi my name is Kerri-Anne, I am 40 years old and mum to 5, ages 24,21,17,11,9. I am from Ipswich. So far, I have lost a total of 13.5kgs using The Healthy Mummy.
My goals for the month are:
Keep a food diary
Exercise more
Complete a 30-day butt and thigh challenge
I've been doing the 28 Day Weight Loss Challenges on and off for about 2 two years, but never really put much effort into it as I was always able to find an excuse as to why it just wasn't going to work for me so why bother? I have finally stuck to it this time and have been going strong for the last three months and I have not looked back since.
Since starting The Healthy Mummy, I am finding I am about to think a lot clearer, I have so much more energy, and I have noticed I have not had any headaches, except for the initial withdrawal ones which lasted a couple of days.
The reason I am doing the 28 Day Weight Loss Challenge is to increase my fitness and health. I got sick of having trouble even getting out of bed, or struggling to get up off the floor, as I just did not have the energy.
My goal is to get to about 60kg but I'm not too worried about the number on the scales, just using it as a guide really. I just want to get to a point where I'm 100% happy with my fitness level and make sure I'm setting a good example for the family.
Tips on getting started that I would like to share with you are:
Start slowly and pick just a few simple meals/snacks to make each week. You'll be surprised just how quickly your freezer stash will build just by making that one change.
Remove all the temptation food from the house. If there's a particular food that you absolutely love and struggle to say bye to, search The Healthy Mummy App for an alternative, there's always something there!
Remember WHY you're doing this; each day is a day closer to your goals
I love eating so I generally stick to the food but when I'm needing to get more calories in or when I'm in a rush, I'll whip up a Healthy Mummy Smoothie and, in a few minutes, I have everything my body needs. Win/Win!
My favourite Healthy Mummy meal at the moment would be the Italian Meatloaf, I could just eat this every night!
My favourite snack that I just can't get enough of, are the Bounty Cupcakes! Yummmmm!"
Meet Samantha Jane Pederson
"Hi, my name is Samantha I'm 29 years old and I'm a mum to three beautiful children aged 4, 3 and 18 months. I'm a dairy farmer from Gippsland, Victoria.
I first joined The Healthy Mummy in 2018 after having my second child, I needed an online exercise program to motivate me to lose weight. My husband works long hours which meant I needed something I could do with the kids by my side. I lost 20kg with the 28 Day Weight Loss Challenges after my second child and after my third child, I lost 15kg. With 10kg still to go to my goal weight after putting a bit back on.
This month my goals are.
To drink at least 2L of water a day.
To try at least 3 new recipes a week.
To do one new workout a week from the app that I haven't done before.
To do a food diary every day this month.
Since starting The Healthy Mummy I have had so much more energy and been an all-round happier person. The Healthy Mummy has made me realise it's not selfish to put me first for once. If I'm not happy with myself how can I live a happy life?
I use The Healthy Mummy Smoothies for my 4am breakfast when I have to milk the cows or just for a quick snack. My favourite meal is Peanut Butter Granola or Stovetop Lasagna and my go-to snack is banana cake.
3 tips I would give mums on getting started
Make small daily goals, I make 3 daily goals to help keep me motivated on a short term.
Tomorrow is a new day. Don't give up on your dreams if you have a small slip up.
Plan. Plan meals ahead of time, prepare snacks/ meals ahead of time and have a weekly exercise plan. Every little bit helps."
Meet Eirini Trajcevski
"My name is Eirini, I am 33, live in Melbourne with my family (hubby and 3 daughters aged 6, 5 and 3).
I have been on my Healthy Mummy journey since 2015, when I had my second daughter. Between having her and my third baby, I lost 15kg using The 28 Day Weight Loss Challenge and Smoothies to replace my breakfast each day (did someone say easy peasy one-handed brekky!?). My third pregnancy was a Healthy Mummy one, and I switched over to using the Pregnancy Smoothie. It was my healthiest of all pregnancies and I loved the support I got from The Healthy Mummy community throughout. Since her birth, I lost 10kg using the Healthy Mummy, and over the past few months I found a few of those kilos! Since the start of July, I have lost 3kg and the centimetres keep on going down!
My goals for the month of August are;
complete an entire months worth of Healthy Mummy app workouts, really looking forward to the dumbbell workouts!
Eat to my BMR
Keep on top of daily supplements
The health benefits from The Healthy Mummy have not only been physical, but losing my bloated tummy is a very welcome change, but mentally, having hundreds of thousands of woman here to help at every second of the day, who are going through the same parenting and health and fitness journey makes me feel like I am part of that "village" everyone talks about.
Why do I love the 28 Day Weight Loss Healthy Challenge? How long have we got!? The easy to use meal planner, the thousands of recipes for every family members taste, the variety of the workout videos and the community are only a few of the things I love!
Three main tips for those starting out:
Make small changes to each meal.
It's ok to repeat meals through the week if it makes your life easier.
Involve the family if you can. Either in planning, preparing or exercising.
I love the convenience of the Healthy Mummy Smoothies. In a rush? Have a smoothie. Don't feel like eating a heavy meal? Have a smoothie. My fave smoothie, the sneaky snickers, makes it feel like I'm having something naughty when I'm fact, it's full of essential vitamins and minerals!
My favourite meals on the 28 Day Weight Loss Challenge have to be the Weetbix slice as a snack (which I always need to make double of as it's a family favourite!) and the curried cauliflower parcels for lunch."
Join Lauren, Kerry, Samantha and Eirini on The 28 Day Weight Loss Challenge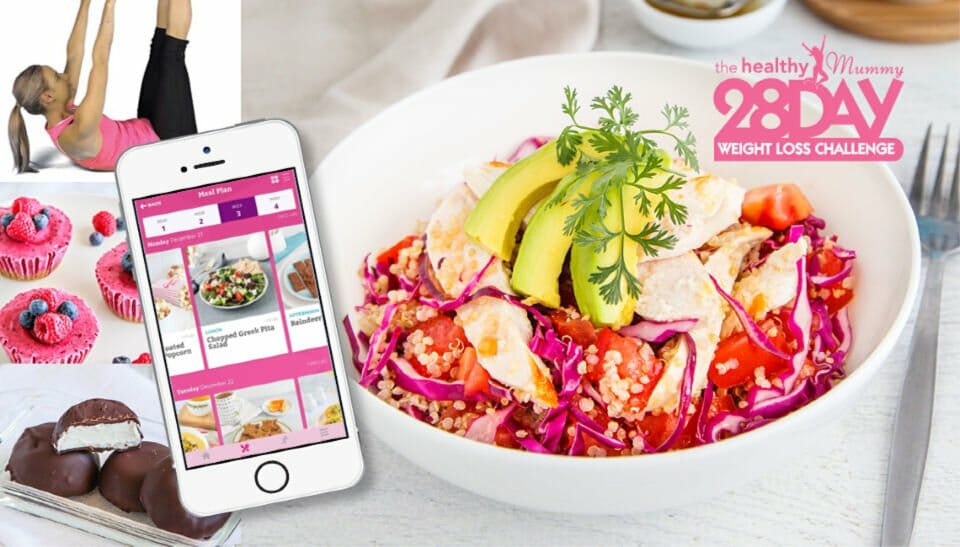 The no.1 mums only weight loss program
Take part now in The 28 Day Weight Loss Challenge
You get unrestricted access to :
● Over 400 AT HOME WORKOUTS
● Nutritionist designed weekly meal plans
● Personal Trainer crafted At-home workouts
● Daily Motivation from My Coach
● Personalised Shopping lists to make life easy
● Over 4,000 healthy and delicious recipes at your fingertips
Click here for more information and to join now