Men Can Now Experience Their Baby Kicking With A New 'Smart Bracelet'
Dads will never know what it's like to carry a baby – but now thanks to a new 'smart bracelet' they will be able to personally experience some aspects of pregnancy.
Both Parents Can Experience Their Baby Kicking!
The Fibo bracelet, which is currently being developed by Danish startup First Bond Wearbles, is a thin metal 'watch' with moveable beads shaped like a baby and helps expectant dads experience their baby kicking while he or she is still in the womb! (Mind blown).
#Fibobracelet #Wearable Lets Fathers Feel Their Unborn Babies Kicking. https://t.co/RFVo0lhWea

— L Dabydeen (@flaxmeal) February 18, 2017
Yep, the revolutionary new band – which claims to be able to accurately imitate the movements of an unborn child -works by transmitting the baby's position in the womb through the wearer's wrist, which is connected wirelessly to mum's tummy monitor patch.
When the baby moves, a signal is sent to the bracelet, and if the child goes to the right, the beads do the same, similarly if the baby moves downwards.
The bracelet that lets dads-to-be feel their baby kicking: They will never know what it is like to be pregnant – but at least men can now… pic.twitter.com/o4iKMHcKt4

— FOCUS Health & Live (@FOCUSINGhealthy) February 21, 2017
"While the mother gets the first-hand feeling of the little one growing in her belly, the dad can feel a bit left out," Sandra Pétursdóttir from First Bond Wearables told Newsweek.
"The mama is wearing a kick monitor patch-a technology produced by another startup-which detects the baby's actions."
Parents Sharing The Experience
Fibo use rotating beads that create a natural movement and the company claims the movements happen instantly.
The watch was designed for both parents to 'share the same experiences' even when they aren't physically together.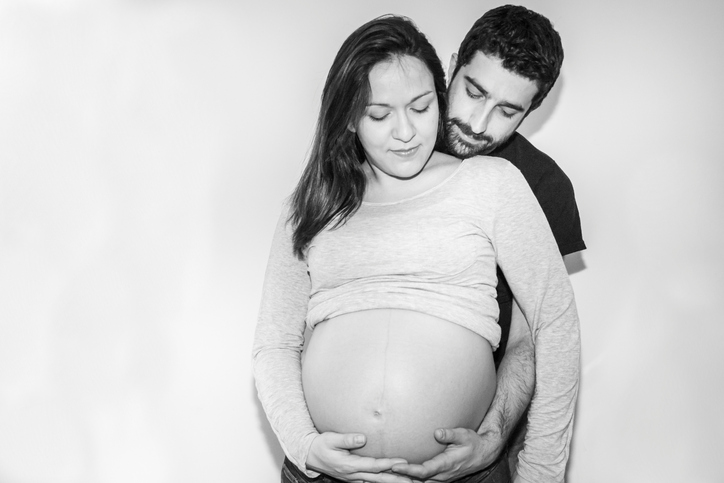 "The sharing happens instantly so the person wearing the wristband will feel the movement in real-time," Sandra adds.
"We're focusing on shared experiences and the shared economy. By making Fibo, a device the parents rent during the pregnancy, an up-to-date technology and high-quality product can be guaranteed."
It's not known when the product will be released, but Fibo hope the device will be ready next year.
Meanwhile, here are five ways dads make great support partners during labour.
Check out this mind blowing picture of a baby's legs outside it's mother's uterus!