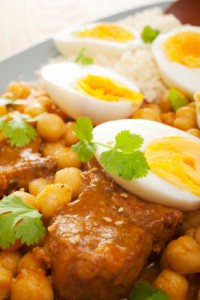 This warming tagine/casserole dish is perfect for this winter. Delicious, hearty and a healthier option then some of its friends on the recipe reel.
Prep time: 20 minutes
Cook time: 1 ½ hours
Serves 6
Ingredients
1 tablespoons olive oil
400 grams of lean lamb backstrap
2 onions, chopped
2 cups of salt reduced stock
1 tablespoon tomato paste
Juice of 1 orange
1 thumb of fresh ginger grated
1 teaspoon ground cinnamon
½ teaspoon ground coriander
1/3 cup of pitted dates chopped
2 × 400 g cans chickpeas, drained and rinsed
4 eggs
Fresh coriander to serve
Directions
In a large oven proof casserole dish, add in the oil and brown the diced lamb. Take it out and then add in the onion and spices. Fry for 5 minutes until soft.
Add in the stock and juice of the orange and bring it to the boil. Pop the lamb back in, cover and cook on a low simmer for 1 hour.
Remove the lid and add in the dates and chickpeas and simmer uncovered for 15 minutes, stirring occasionally.
Top with some eggs.
For more  Lamb recipes try our delicious leg of lamb recipe!
Each serve is 380 calories
Special Offer & 10% Discount
If you are ready to lose weight then The Healthy Mummy plans offer a healthy and safe exercise and diet routine that are safe if you are breastfeeding and you can use code LOYALTY for a 10% DISCOUNT at the checkout