Motivating Mum Jacinta's Update
Each month, the Healthy Mummy team are going to be bringing you a Motivating Mum who is on our plans and is losing weight to bring you an extra dose of motivation to help you in your own weight loss efforts.
If you would like to be one of our Healthy Mummy Motivating Mums please send us your name and details to i[email protected] Please note you to have already lost weight on our plans to be selected.
Today we meet Jacinta King who has lost 18kg on our Healthy Mummy Plans and over November will be showing us how she is staying healthy and motivated to reach her goal weight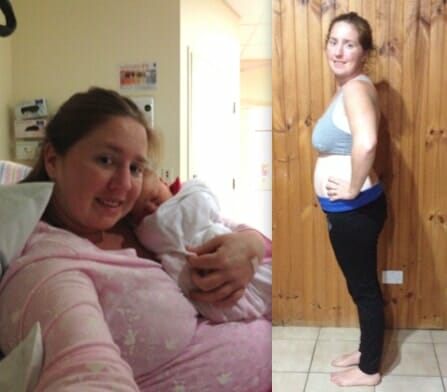 Jacinta's Update
So over the last fortnight life has been a little Chaotic at the best of times, the one thing I love about the healthy mummy plan is how easy it is to follow and how easily it can fit into what I am doing.
What was that I hear "do we want to come to a BBQ? Yeah sure, oh I know I'm on a diet but I'm sure there is plenty I will be able to eat." Now that I have committed to the BBQ lets pop online and check out the recipes and ideas as I know there is a healthy version of most things…. voila there it is, sure it's no steak or sausage but man is it delicious.
I must say that this week has been busy and by busy I mean I didn't have much room to breathe let alone write a shopping list of healthy things to buy for my healthy meals that I'm going to make during the week. That is one of the best things about being on the 28 day diet and exercise plan, I don't have to sit down and write a list as it is all done for me. Here is a quick preview of some of the things that you will find
My exercise plan and what I actually do during the week differs somewhat depending on the weather, my children and also when hubby is home/working. Juggling three crazy, but beautiful, children and trying to manage to keep the house reasonably clean and keep them all fed and clothed can sometimes feel a little overwhelming.
But, exercise doesn't mean running like a crazy lady as fast as I can and as far as I can to get the biggest sweat patches I can! It sometimes means that instead of looking for the park closest to the shop that I park the furthest away or taking my shopping bags inside one at a time! It may take some extra time but it does mean that little bit more exercise that I can cram in my day.
When the kids were out the back earlier today I'm sure they thought Mummy had lost her mind! I was running, jumping, hoping, skipping and walking around the yard cause I knew today was one of those days when I wasn't really going to be able to get out and about to do anything else.
Some days when I know the only chance I'm going to get is when little miss 15 months is sleeping so I walk up and down the stairs for ten minutes or fifteen minutes and listen to music while I do it that way it doesn't get boring. The next morning/day I wake up and feel muscles in my legs and think oh yeah that's why I don't do it that long normally, but when you're having fun who wants to stop?
On the weekends between parties and visiting family I don't really have all that much time to think about what we are going to eat for dinner so just to know that I don't have to ponder what we are going to have that night for dinner is fantastic, it is all there written for me.
Sometimes I look at the recipe and think hmmm the kids probably won't eat San Choy Bow so let give them a soft taco instead of the lettuce leaf. The kids love the varied meals they get to have and when we have similar things they always get excited about having those things. Although I'd have to say my favourite recipe would have to be the chicken and Pear salad which is a lunch option and it is delicious. My kids also love it when I have this as they know that when I have it that there is always spare pear cut up so that they can have some too.
So far this fortnight I have gone from 69.9 kilos to 68.3 to 70.2 and then back down to 69.4. some days I weigh more and some days I weigh less, but it is usually the days when I do exercises that would build muscle that I tend to weigh more, I just kind of figure this is due to the fact that I have in fact gained muscle which weighs more than fat.
Since starting this healthy eating plan I have gained energy and lost my waistline, I have gained confidence and lost a dress size (or two); I have lost my old shopping habits and gained muscle.
Hopefully other Mums can look at the progress of myself and other Mums and be able to be encouraged and urge others to continue or even start on their weight loss journey.
GET YOUR 10% DISCOUNT
If you are ready to lose weight then The Healthy Mummy plans offer a healthy and safe exercise and diet plans that are safe if you are breastfeeding and you can use code LOYALTY for a 10% DISCOUNT at the checkout.
Plus we have Cookbooks, Calorie Bibles, Exercise DVD's, Meal Replacement Smoothies and Our 28 Day Plan in our shop.