Mum-of-5 is conquering her depression and teaching other mums to do the same
Things are definitely looking up for this mum-of-5! Before finding the The Healthy Mummy Kellie says she was in a downward spiral of depression.
Fast forward to 2017 and she's traded in her old habits for some newer and much healthier ones and is now teaching other mums how to do the same!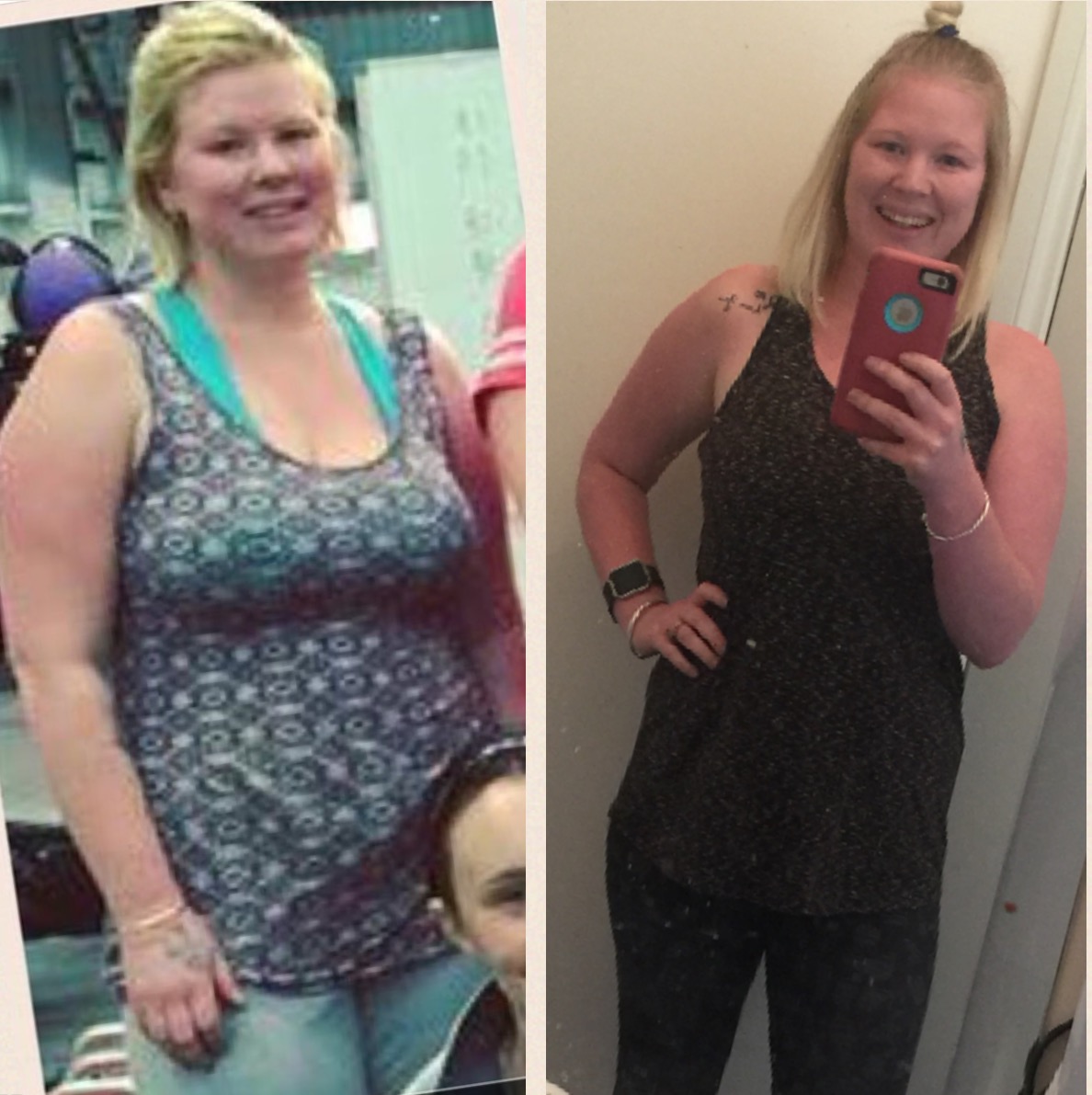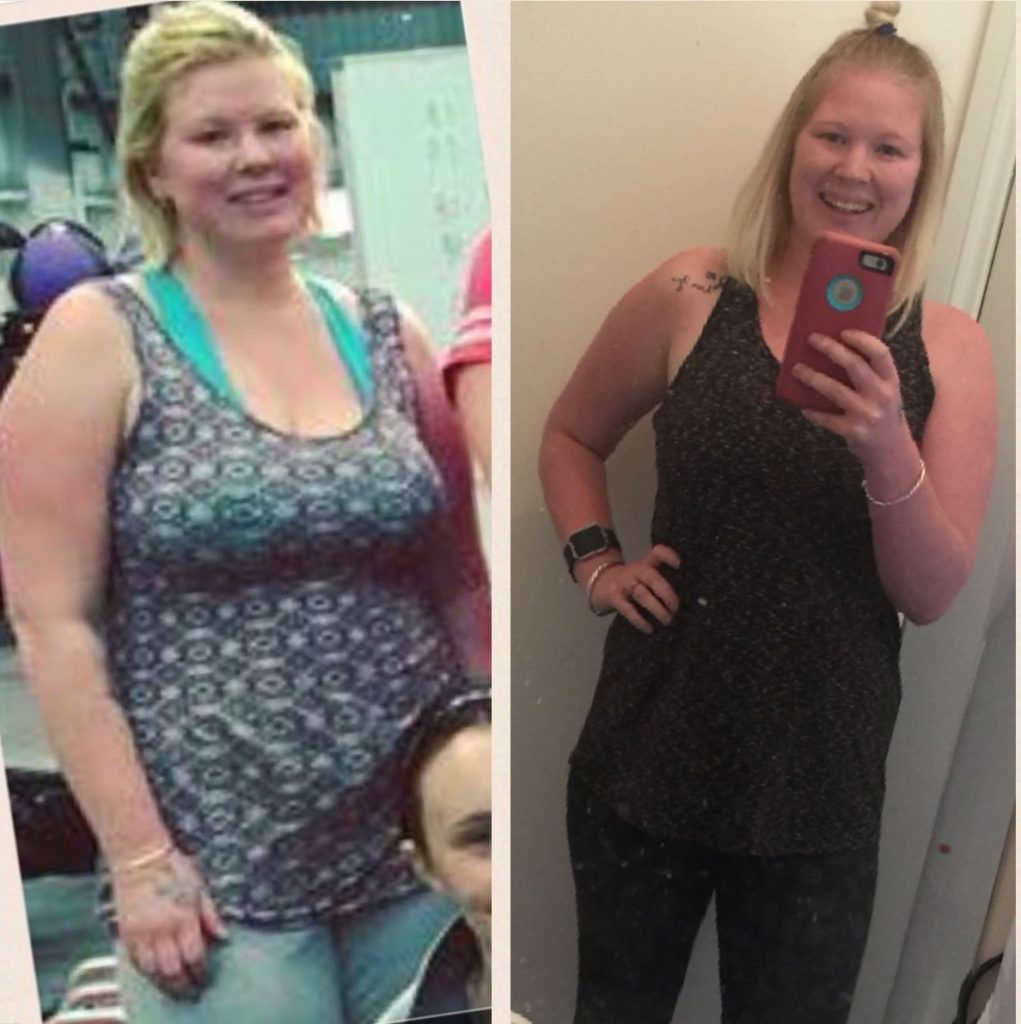 Image Source: Supplied
Mum-of-5 is conquering her depression and teaching other mums to do the same
Kellie says, "Before starting The Healthy Mummy I was in a downward spiral of depression. Even though I had everything I could dream of, I wasn't happy. My marriage was struggling, not because we didn't love each other but because I was distant, moody and snappy at hubby even when he was just trying to help."
"I wouldn't have attempted anything unless it involved staying inside and watching a movie. I didn't want to leave my house, I didn't have clothes that fit and if they did I looked like I was wearing a tent. I was scared that people I knew would judge me for how I'd let myself go and scared that people I didn't know would judge me for my size."
"I remember on holidays our friend asked if we wanted her to take a family photo of us. I declined and said no thanks. I regret this massively. It's memories we don't have to look back on. I could barley walk to the shops with out huffing and puffing so would always drive everywhere."
Image Source: Supplied
After finding the Healthy Mummy
Kellie says, "I started the smoothies in May 2016, and I finally tried the 28 Day Weight Loss Challenges on July 2016 and have never looked back! I have lost 20kgs* and over 116cms* so far and I'm not done yet!"

"I feel amazing now, I have so much more energy (even with the lack of sleep from kids), I am confident and there's no more crying when I get dressed. I'm happy to go out and meet up with friends as I'm not so self conscious about the way I look. I am the fittest I've ever been (even before kids)!"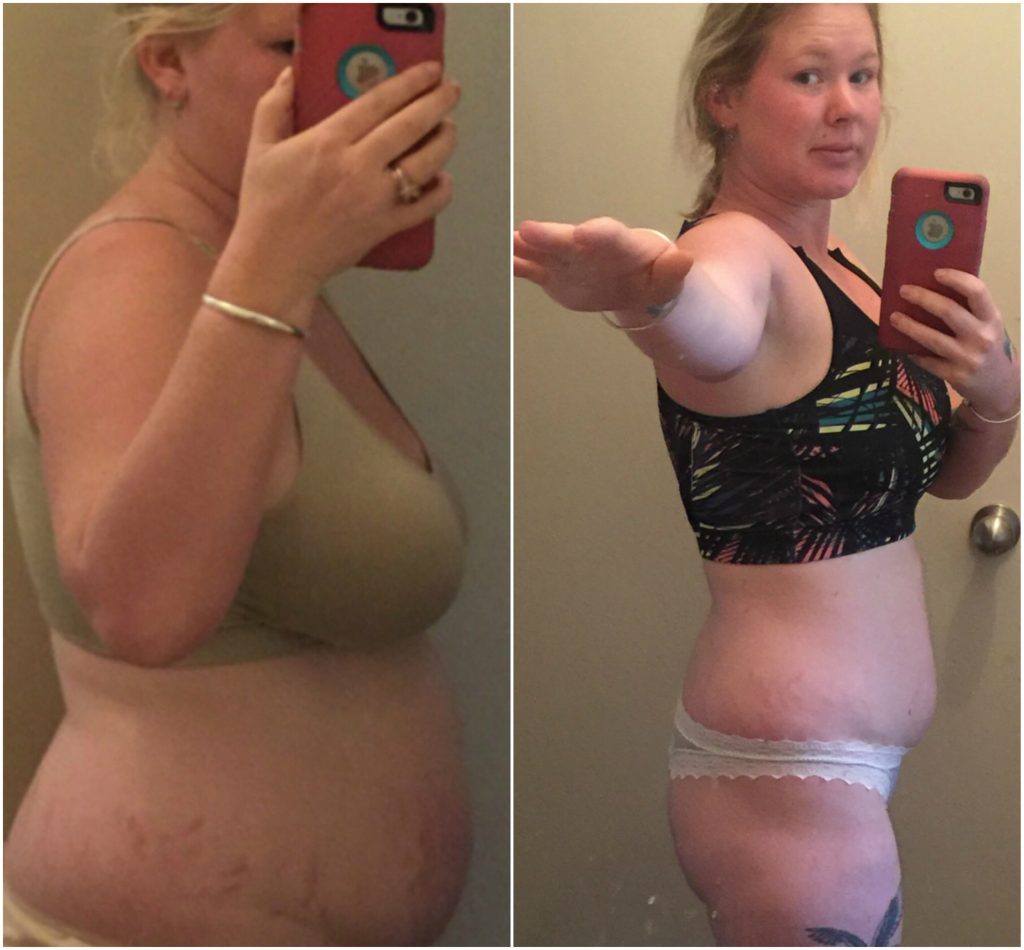 Image Source: Supplied (Kellie's before and after photos)
No more staying indoors
"We now get out of the house a lot. We go to the park where I run around and play with the kids, we go to mums and bubs classes, not only can I walk to the shop, I can run to the shop!"
"One of my goals for this year is to finish a 5km fun run. I'm also about to take on my first park run where I will go each week to improve my running times. Who would have thought?"
Kellie's advice for other mums suffering with depression
Kellie says, "With my depression, I didn't seek medical help and at times I actually thought I might be crazy. I was angry for no reason, I was crying in my room alone even with a beautiful new baby. I didn't understand how my hubby could love someone so hideous."
"Clearly looking back I can see that even though I was bigger than I'd ever been, my weight shouldn't have defined me. I don't want other women to have to feel like this. I am determined to help and support anyone who needs it."
If you or someone else you know is suffering from depression or are experiencing similar thoughts and feelings to Kellie, we suggest speaking to your doctor.
Kellie says, "I still have my down days now and it usually rears its ugly head when I haven't been as active. It is amazing what those endorphins can do for your mind. Breathe that fresh air in and feel it circulating your body. Try and have some me time. Even if it's a child free shower or actually washing your hair. Looking after yourself isn't selfish. If you don't look after you, you can't look after anyone else."
Kellie's goals for 2017
"I'm aiming to get to my goal weight of 60kg this year. I have just become a Healthy Mummy consultant which just blows me away! Never ever would I have dreamt that I would be helping other ladies get to where they want to be. If you had have told me that I would be doing this a year ago I would have laughed in your face!"
"I will complete a 5km fun run this year! And one of my goals is to get my whole family more active."
The best of the Healthy Mummy
"How do I choose just one thing! I love the whole Healthy Mummy community for its advice."
"The biggest tip that I believe everyone needs to read up on is the BMR calculator and how it works. Everyone has been told for so long that we need to eat less to lose more, which is so far from the truth. I had my doubts of eating more at the beginning but it just works."
What is Kellie's advice for her former self?
"Be kind to yourself, don't compare yourself to the other ladies in the group. Everyone is at a different stage of their lives and weight loss journeys. Every step gets you closer to your goal."

Even Kellie's chef husband loves the challenge!
Kellie says, "My husband is a chef and when I said I was joining the 28 Day Challenge he didn't think it was necessary as we both know how to cook. The challenge has won his heart. He now chooses from the recipe hub himself! The variety we now eat is amazing."
Get Body Confident With The 28 Day Weight Loss Challenge
Regain your body confidence, like Kellie, with The Healthy Mummy's 28 Day Weight Loss Challenge.
Our Challenge is designed by mums FOR MUMS – to help them reach their goal weight and tackle their health and fitness.
The Challenge is home to customisable meal plans, 24/7 social support and realistic exercises mums can do AT HOME.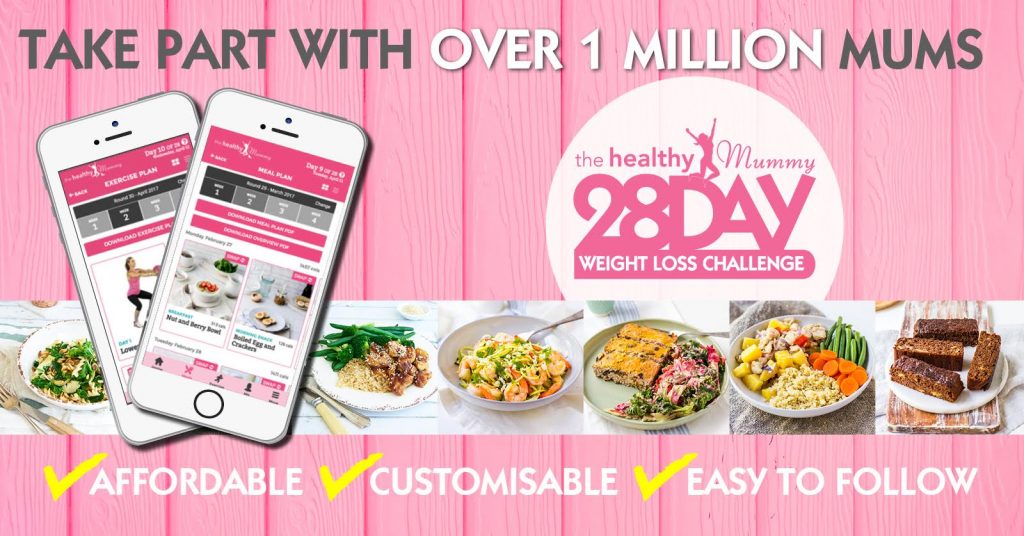 To find out more on the 28 Day Weight Loss Challenge click here.
*Images and references to kilograms lost are as supplied by the individual in the story. The Healthy Mummy assumes information and photographs supplied to be true in nature and is not responsible for any false misrepresentations or claims relating to their programs or products.