Here at Healthy Mummy HQ, we love hearing stories from mums who are experiencing their healthiest pregnancy.
Melanie Vernon, who is soon to be a mum-of-two has lost nearly 30kg with the 28 Day Weight Loss Challenge and this pregnancy is totally different to her first!
Here's her story…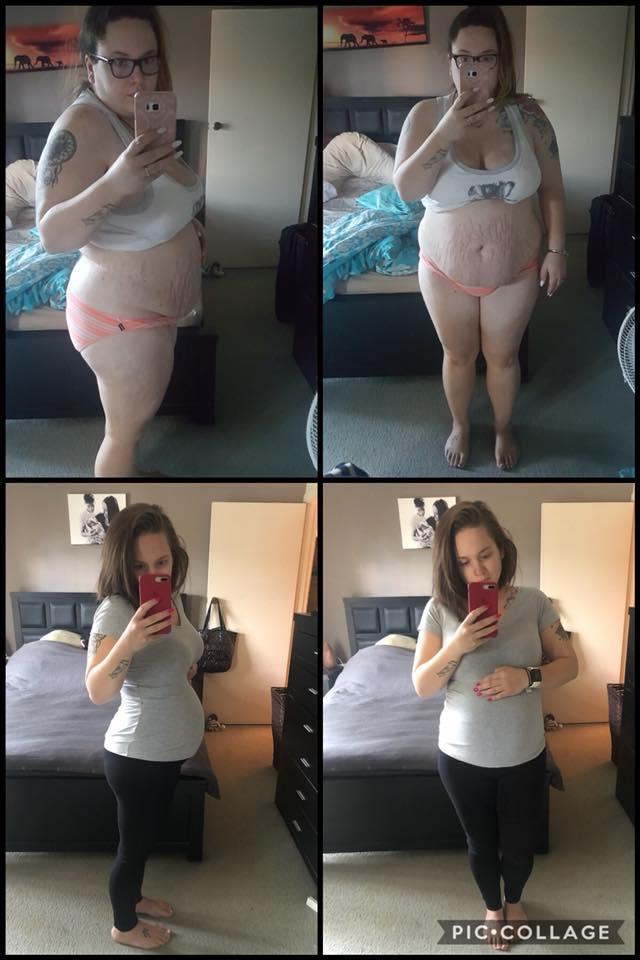 Melanie's healthiest pregnancy!
The above photo shows Melanie in January 2017 and now in April 2018. In the time between these two photos, she has gone from 108.9kg down to 80kg and from a size 16-18 to a size 10-12. Plus she's lost over 100cms from her whole body!
This mum-to-be says, "Today I am 20 weeks along and have gained only 7kgs since December last year! I started my pregnancy at 73kgs and now I am weighing in at 80kgs!!"
Though she admits she's struggling with the weight gain, she knows that once the baby is here, she'll be able to lose it quite quickly!
"I still exercise 7-9 times per week and eat like crazy to keep this baby growing and to make me not feel so nauseous! Yes I still have treats but I balance out the treats and don't eat them every single day like I used too before I found The Healthy Mummy!!"
Melanie adds, "This pregnancy is an amazing healthy one but still cannot accept my weight gain even though it's baby, fluids and placenta mainly!"
Well done mama! Congratulations on experiencing your healthiest pregnancy!
You can join Melanie on the 28 Day Weight Loss Challenge to kickstart your own health and weight loss goals!
With more than 4,000 delicious (and healthy) recipes, 350 exercises & 24/7 support – the 28 Day Weight Loss Challenge  is designed (and proven) to help busy mums like you lose weight!
To learn more about our challenge OR to join – click here.
YOU CAN EVEN TRY THE FREE 7 DAY MEAL AND EXERCISE PLAN TO HELP GET YOU STARTED.