Mum makes 90 school-approved muffins for $14 – that works out around 16 cents per muffin!
Finding healthy and nutritious snacks for your little one's lunchbox – that are
a) school-approved and
b) something your kid actually wants to eat
Isn't the easiest thing in the world. But what if we told you, you can make a heap of HEALTHY snacks that your kids will LOVE and that costs only 16 cents per serve?!
No, it's not witchcraft… there IS a way, as this lovely mama has discovered!
This mum will 'stop at muffin' to give her kids healthy lunchbox snacks
Healthy mummy, Stefanie Kilner, has shared how she made a batch of kid-friendly muffins from the 28 Day Weight Loss Challenge recipe hub.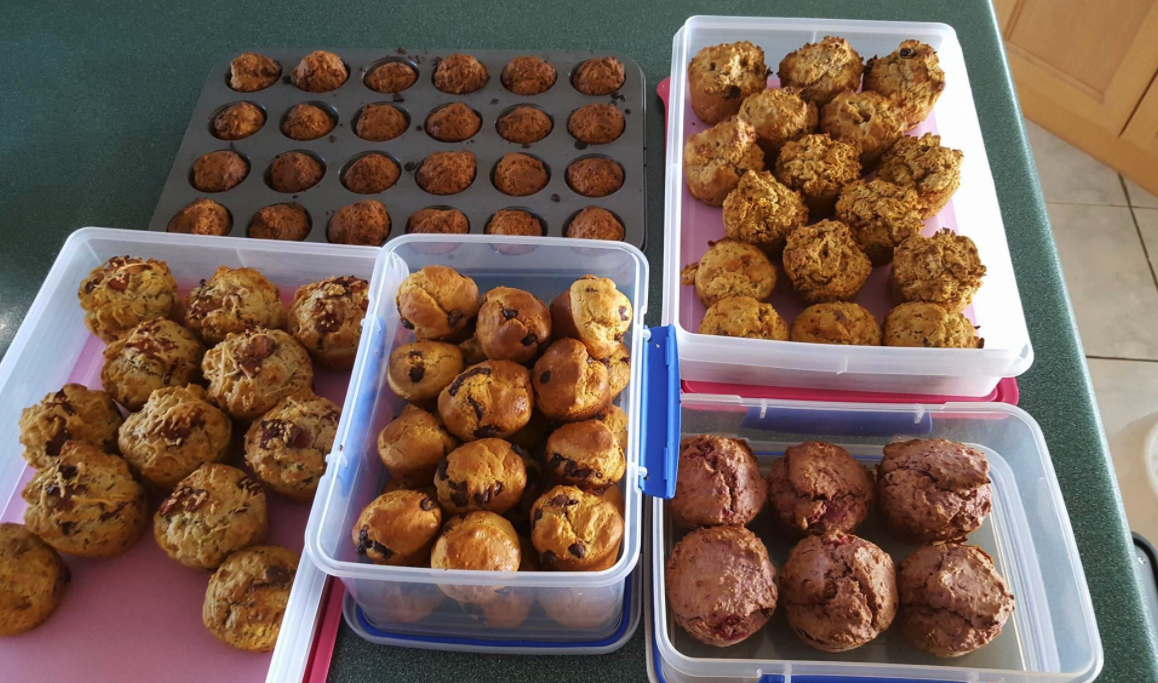 In fact, she's made 90 different muffins and it only cost her $14 – that works out at 16 cent per serve! How AMAZING is that?!
"My boys absolutely love muffins. It's one snack I have to never worry about coming home uneaten in the lunchbox," she says.
"Plus, due to the different varieties on the 28 Day Weight Loss Challenge recipe hub, I know they won't get bored."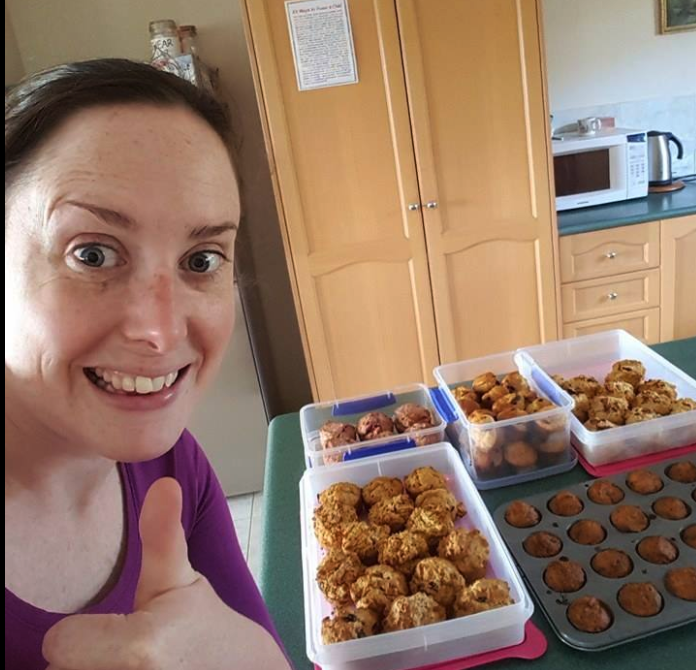 What Stephanie made:
x12 Zucchini and Bacon Muffins
These muffins are perfect to make when you need something healthy for to your little ones and are in a rush. This recipe is accessible via the 28 Day Weight Loss Challenge recipe hub.
x6 Pear, Date and Zucchini Muffins
These muffins are high in fibre. Again, this recipe is available to Challenge members on the 28 Day Weight Loss Challenge. 
x6 Raspberry Muffins
Like all of the other recipes Stefanie has made, these muffins are are nut free, making them perfect for the lunchbox, while also being ideal for adults as a healthy morning tea. For more Muffins recipes, try our delicious banana muffin recipe!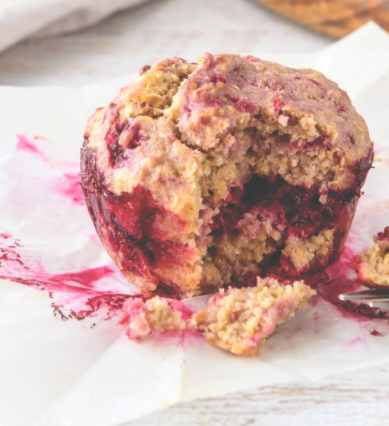 You can grab this recipe here.
x24 Wholemeal Choc Chip Mini Muffins
With dark chocolate bits, these healthy muffins are a great snack or lunch box treat. They're perfect for the whole family.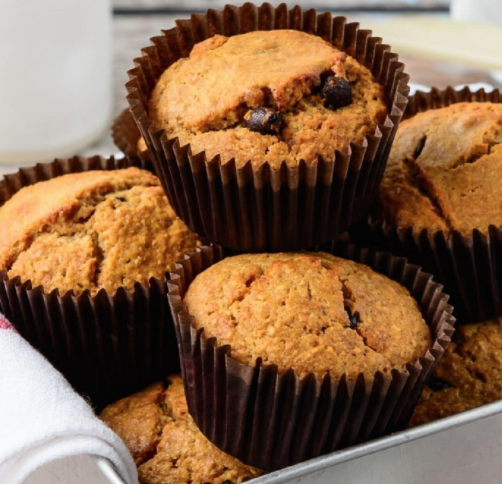 x12 Spiced Apple and Sultana Muffins
The apples, spices and the sweetness of sultanas combine to make these delicious muffins. Your kids will LOVE them. If you wish to access this recipe, along with other healthy family-friendly recipes – sign up to our 28 Day Weight Loss Challenge HERE. 
x24 Sticky Orange & Poppy Seed Mini Muffins
These yummy muffins are quick, easy and PACKED FULL of healthy nutritious ingredients- perfect for a healthy treat for kids. Again, this recipe is available to Challenge members on the 28 Day Weight Loss Challenge. 
x6 Carrot & Date Wholemeal Muffins
An ideal treat for the whole family as well as lunch boxes! Stefanie has adapted this recipe to make it her own. You can check out the original recipe here.
Making affordable and healthy school snacks
"For only $14, I made enough muffins for a month for two kids. That means school lunch boxes are organised for the next 30 days," says Stefanie.
"All up I made 42 large muffins and 48 mini muffins. Thats less than 16c per muffin – so much cheaper than a bag of chips or a chocolate bar.
"Plus I know what's in these snacks, a few of them actually have vegetables in them, so that's a double score!"
And while Stefanie says her kids sometimes help out, they often get impatient and want to eat their treats straight away. For more yummy and healthy lunch box snack ideas check out our Healthy Kids Lunch Boxes Cookbook for over 100 great lunch box ideas.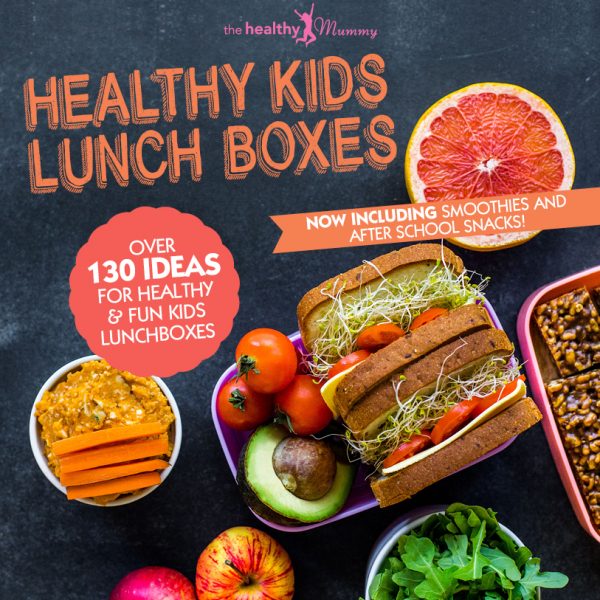 We are certain this cookbook will make preparing lunch boxes a breeze. To learn more about this cookbook or to PREORDER your copy click here.
What is the 28 Day Weight Loss Challenge?
The 28 Day Weight Loss Challenge is a weight loss program created to help mums lose their post-pregnancy baby weight and tackle their overall health and fitness.
The 28 Day Weight Loss Challenge provides mums with a weekly meal plan, delicious recipes options and a exercise program. The best part about the Challenge is that all recipes, treats and snacks USED are specifically created to benefit the whole family (and be able to exercise around the family schedule).
As mums, we are doing our best to help other mums, take charge of their health while having access to THOUSANDS AND THOUSANDS of recipes – not only they can enjoy – but their family too.
You can learn more about the 28 Day Weight Loss Challenge here.